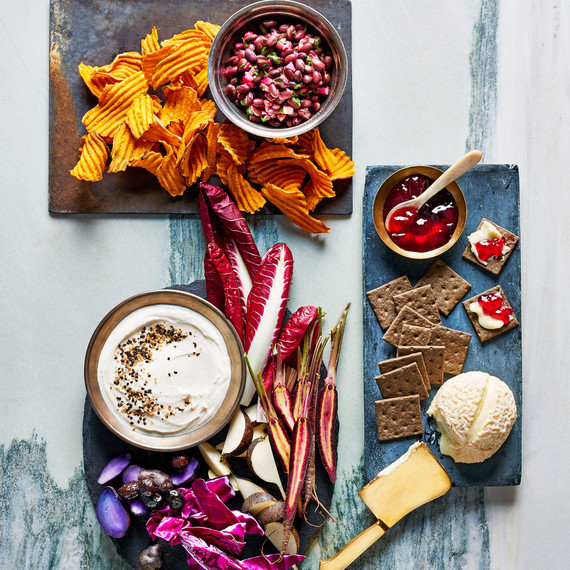 One sign you're not at the kids' table anymore: The Halloween-party apps are as haute as they are horrific. Our eerily elegant snacks include black-bean salsa with orange sweet-potato chips, a crudites tray that's crossed over to the dark side, and a fromage specimen that's as chilling as it is ooey and gooey -- as well as mind-bendingly quick to arrange. The best part? You don't even have to turn on the stove! All three require zero cooking.
Spooky Smoky Black-Bean Salsa 
A touch of chiles in adobo adds smokiness and depth to this salsa made with canned beans, fresh lime juice, red onion, and cilantro. Serve with sweet-potato chips to get that classic Halloween orange-and-black color palette. 
Get the Smoky Black-Bean Salsa Recipe
Bloody Brains with Midnight Crackers
Plate a wrinkly bloomy-rind goat cheese, such as Bijou or Coupole, with charcoal crackers (we like the squares from The Fine Cheese Co., available at specialty food stores and bklynlarder.com) and currant jelly or lingonberry jam. For an extra ew factor, use the back of a knife to split the brain into two "hemispheres." Serve at room temperature.
THE DETAILS: Jayson Home brass cheese cleaver, $45, jaysonhome.com.
Creepy Crudites with Miso-Yogurt Dip
An array of dark vegetables, including purple carrots, red cabbage, and black radishes, makes this crudite platter as sinister as it is appealing. Throw in some black olives for good measure, and serve alongside a funky (thanks to the miso!), ghost-white yogurt dip.
Get the Crudites with Miso-Yogurt Dip Recipe