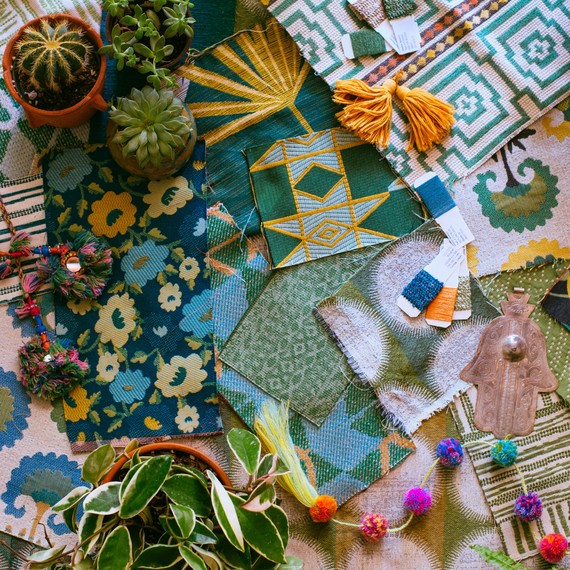 Designer Justina Blakeney is known for her bold, eclectic style on The Jungalow. As a matter of fact, our editors love her personal style so much that she was a featured tastemaker in Martha Stewart Living earlier this summer. So needless to say, we were thrilled to hear about her newly released sustainable performance fabrics available exclusively at Calico Corners. The new upholstery range, which features industry-leading Crypton Home technology for added stain and liquid resistance, is bursting with elements of Blakeney's signature aesthetic: bold prints, vibrant hues, and cozy textures. 
The collection — made in America by Valdese Weavers — consists of 13 blended fabrics ready to be mixed and matched. "My design aesthetic is all about mixing and matching," Blakeney tells Martha Stewart Living. "So it's almost more about how the patterns play together than how each one sits by itself." One of her favorites? "Hypnotic. It manages to feel simultaneously global and traditional and it goes with everything."
[LEARN: The Personal Items Justina Blakeney Cannot Live Without]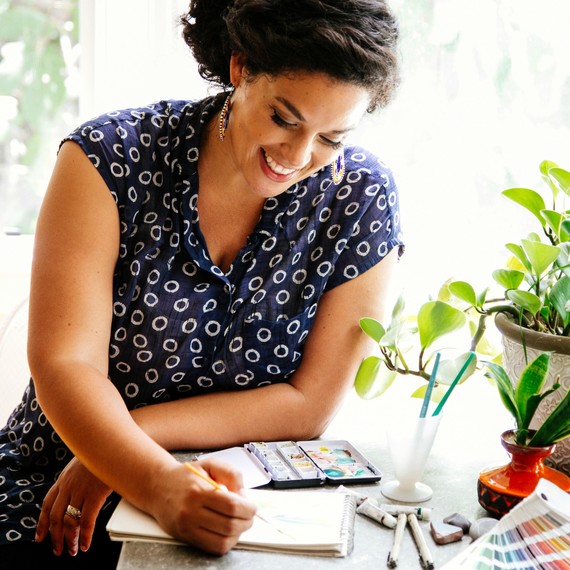 That personalization element is key. It's fun to play with interiors trends like leaf prints and geometric patterns, but the end result should still feel personal — like an extension of yourself as it does for Blakeney. "My inspiration comes primarily from my travels and from botanicals — both right here in my home city of Los Angeles and also faraway places," she says. "The 'Euc' pattern was inspired by a Eucalyptus tree that's outside of our storage facility! Every time I went to go retrieve something, I'd sit for a few minutes under the tree noticing all of the delightful components."
Part of achieving a personalized touch is discovering the patterns, textures, and colors that speak to you. Once you have a color palette, don't shy away from adding those decorative elements. According to Blakeney, it's all about curating a cohesive yet collected vibe. "Each pattern is based on my original artwork," Blakeney explains. "I worked extremely closely with the talented folks from the creative team at Valdese weavers, and even went to North Carolina to visit the mill, and watch the whole process of the fabrics being woven."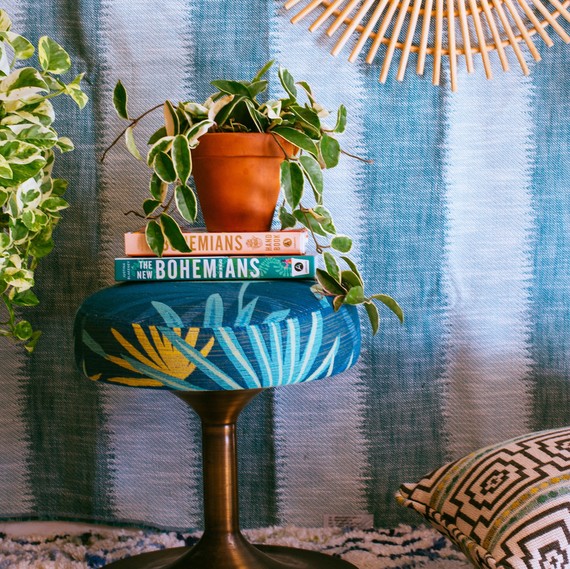 The do-it-yourself possibilities are endless: You could reupholster a stool, for example, or craft a custom throw pillow. Regardless of how you choose to use them, you can feel confident that they'll seamlessly fit into your lifestyle and be super easy to clean. Blakeney — with a young child at home — made it a priority to ensure that her performance fabrics with Crypton were resistant to stains, moisture, and odors. "This means that any investment made in reupholstering remains clean (and feeling fresh) for years to come."
If you're unsure how to reupholster furniture or need general fabric-choosing guidance, Calico Corners offers helpful services including reupholstery and custom orders like window treatments and furniture. And yes, they can create them with Blakeney's fabrics if you're after her enviable bohemian vibe. In the meantime, channel your inner designer and browse through the fabrics in stores and online.
Feeling inspired? Watch how to assemble a handy mason jar sewing kit: