The Dashboard
Our adjustable wall unit keeps cooking essentials in reach and off countertops. Hand these directions off to a pro or DIY it.
Elfa shelves, in Sand, $18 each, containerstore.com. Santimetre Lara striped glass, in Black and White, $70; Milkmaid mini pitcher, in Yellow, $60; Lab flasks, in Black and White, $75 each; and Large Garbo mug, in Yellow on Cobalt, $70, mosantimetre.com. Chemex 3-cup coffee- maker, $37, crateandbarrel.com. Hawkins New York simple storage containers, from $35 each; and simple round oak cutting board, from $70, food52.com. Sir/ Madam Baker's Dozen wooden spoons, in Large, $160, shopsirmadam.com. HomeStories industrial counter chair, in Dark Varnish, $369, shop.homestories.com.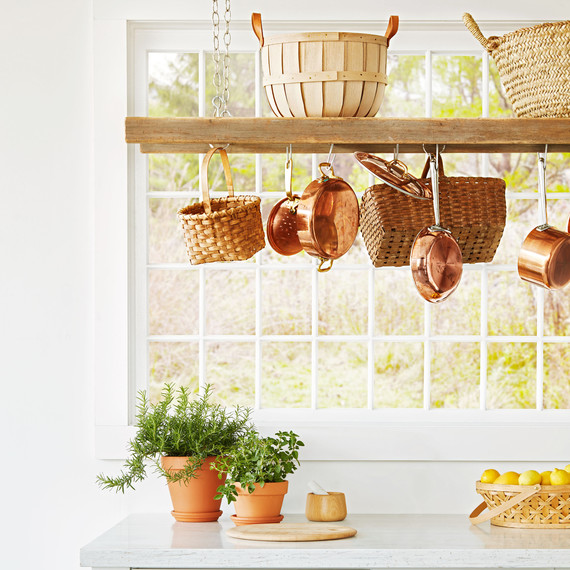 The Up and Away
Give a vintage wooden ladder a second life high above a counter, and it'll give you double the storage: You can hang pots, pans, and baskets from its rungs and place additional decorative containers above it.
A Rustic Garden Old 5-Rung Rustic Vintage wooden ladder, $60, arusticgarden.com.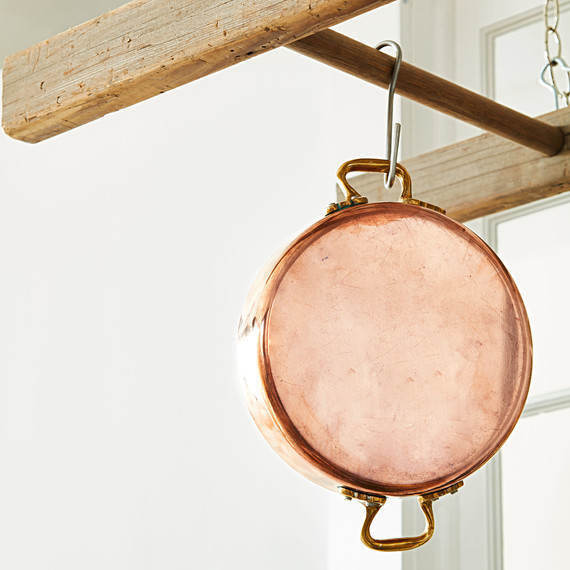 Hooks and Ladders
Standard pot-rack hooks fit most rungs. Chrome ones contrast nicely with copper pots. Rogar long pot-rack hooks, $19 for 4, kitchensource.com.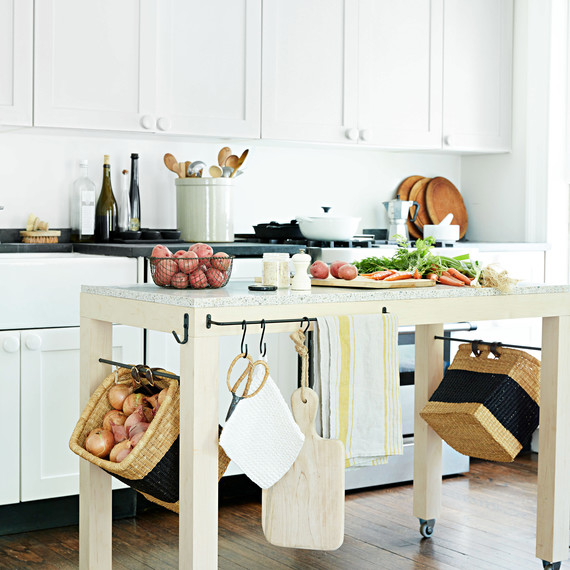 The Floating Island
You may not have room for a built-in island or central bar. But you can repurpose a smaller table into a turbocharged workstation on wheels.
Urbangreen Parsons rectangular table, in Maple, $419, urbangreenfurniture.com. Everbuilt rigid non-marking rubber casters, 2", $3.50 each; and Home Depot steel round rods, 3/8" by 48", $7 each, homedepot.com. County Ltd. iron towel bar, in Long, $45; and iron C-S hook, in Black, $32, countyltd.com.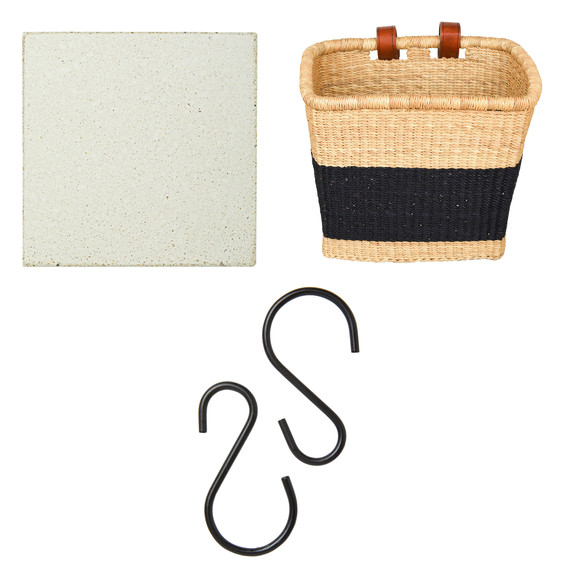 Trick it Out
Countertop
Poured concrete is durable and heat-resistant. (Concrete Collaborative Ivory Solana slab, $45 per sq. ft., concretecollaborative.com)
Hand S-Hooks
Sturdy hooks keep small items close. (Panacea black extender steel S-hooks, $4 each, acehardware.com)
Deep Storage
Woven bike baskets stash produce in plain sight. The Basket Room Handcrafted Black Block bike basket, $88, thebasketroom.com.
From our vault -- Martha shares her favorite kitchen organizing tricks: