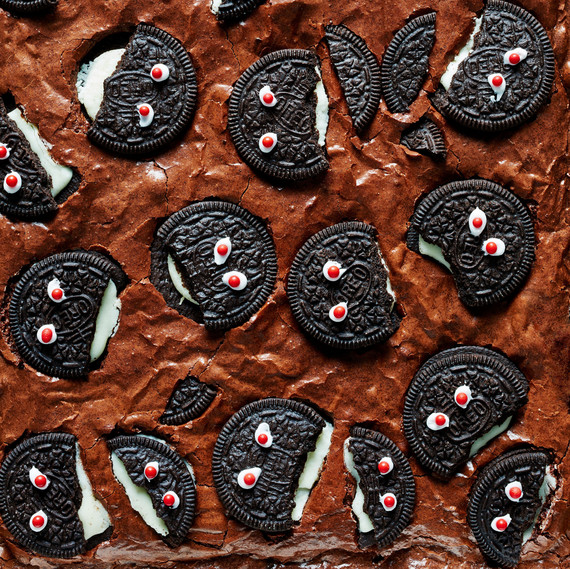 When you slice these brownies, you set loose a gaggle of red-eyed, chomping beasts -- and your mob of hangry partygoers are the only ones who can defeat them. If you're up to the challenge, gather your ingredients and follow the steps below:
1. Make a double batch of your favorite brownies to fit a 9-by-13-inch pan. Any of our brownie recipes will work beautifully, but if you fancy sneaking in some good-for-you whole grains, try our Dark-Chocolate Spelt Brownies -- trust us, the kids won't even notice! 
Get Our All-Time Best Brownie and Blondie Recipes
2. While they bake, break 16 cream-filled cookies, such as Oreos, in half. Midway through the cooking time, press in the cookie pieces. Let cool.
3. Make royal icing: In the bowl of a mixer fitted with the paddle attachment, combine 1/4 pound confectioners' sugar (1 spooned and leveled cup) and 3 3/4 teaspoons meringue powder on low speed. Add scant 2 tablespoons water, then increase speed to medium-high and mix until icing holds a ribbon-like trail on surface for 3 seconds when you raise paddle, about 10 minutes. Reduce speed to low and mix 1 minute more to eliminate air bubbles. (Icing can be stored in an airtight container in refrigerator up to 3 days. Stir well before using.)
4. Use royal icing to dot two "eyes" on each cookie, and add red nonpareils for pupils.