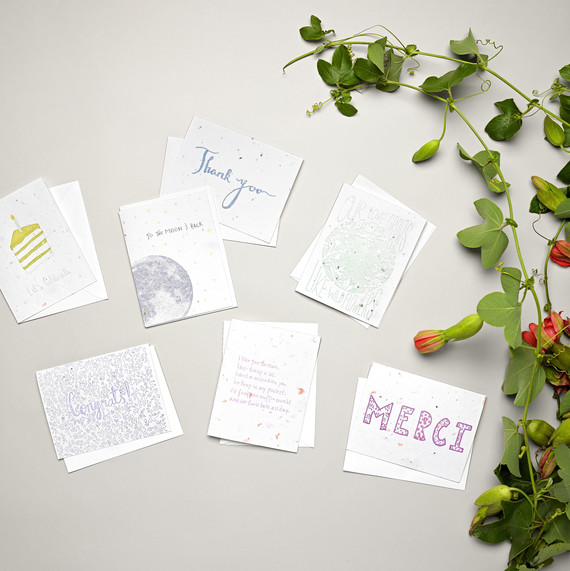 There's nothing more heartfelt than receiving a handwritten note in your mailbox, whether it's a cheery hello, a holiday greeting, or a missing-you memento from home. But if you really want to make that notecard last, consider sustainable stationery. From seeds cards that you can plant (talk about keeping the love alive!) to earth-friendly printing presses, here are some of our favorite stationery shops on a mission to brighten both your day, and the environment. 
1. Lovewild Design
This women-run Brookly print studio specializes in handcrafted and sustainable gifts, including their signature cards embedded with seeds. Made from recycled paper pulp, the seed cards, when planted and watered, quickly disintegrate letting the mixed wildflower seeds sprout. You don't even need to worry about packaging -- the card's "plastic" wrap is plant-based and compostable!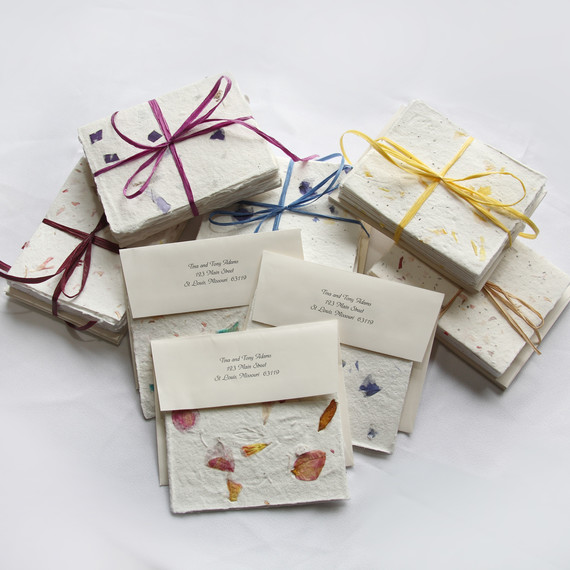 2. Cast Paper Art
Not only do these Missouri makers handcraft custom cards for every occasion, but they can also help you repurpose flowers from a special event. Simply snip off the stems from your buds and ship them (pre-paid postage included!) to the Cast Paper pros who will transform the blossoms in beautiful stationery sets. Every sheet of paper is made by hand using recycled fibers and other natural ingredients like plants parts and seeds, from all over the Southwest.
[SEE: How These 3 Companies Are Helping You Repurpose Flowers — And Spread The Joy!]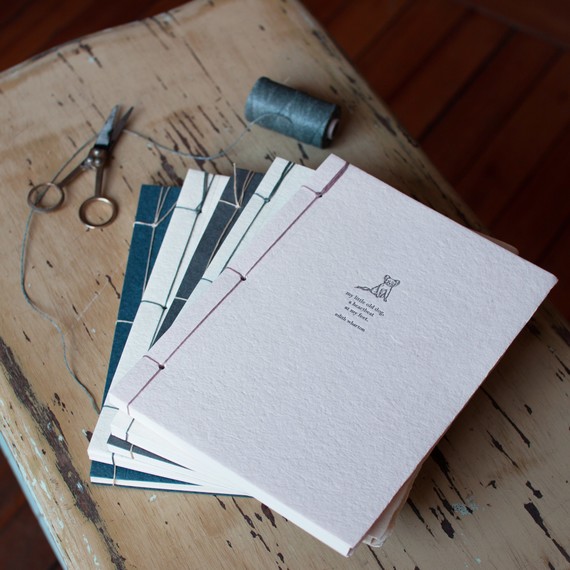 3. Oblation Papers & Press
By rescuing remnants from the garment industry, this Oregon paper mill makes quality stationery supplies (like these adorable inspiration journals!) and handcrafted cards using traditional acid-free cotton paper. In the print shop, you'll find old-school printing methods at work from raised type to inked images. Using a mix of soy inks, citrus solvents, and antique presses, the shop also offers optional envelopes and bamboo paper alternatives. 
[CHECK IT OUT: This Paper is Waterproof and Made of Recycled Stone]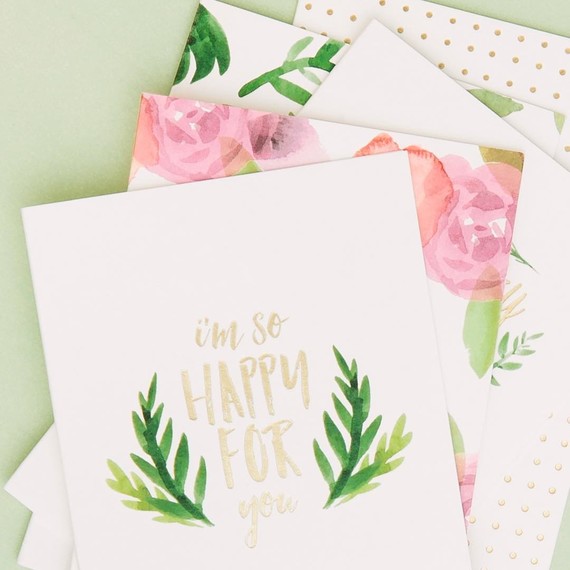 4. Smock
From their vegetable oil-based inks to recyclable photo supplies and film, this New York letterpress is eco-friendly from pen to paper. Working with a historic paper mill in New England, they craft their signature smooth cotton stock cards to create a variety of paper goods including custom invitations and pretty packaged notes for those "just because" moments. In the studio, the team ensures empty ink cans and old rags never end up in landfills, and that all packaging is reused or composted.
Feeling inspired? Watch below for some of Martha's favorite hand lettering tricks, the perfect special touch on any card you send: