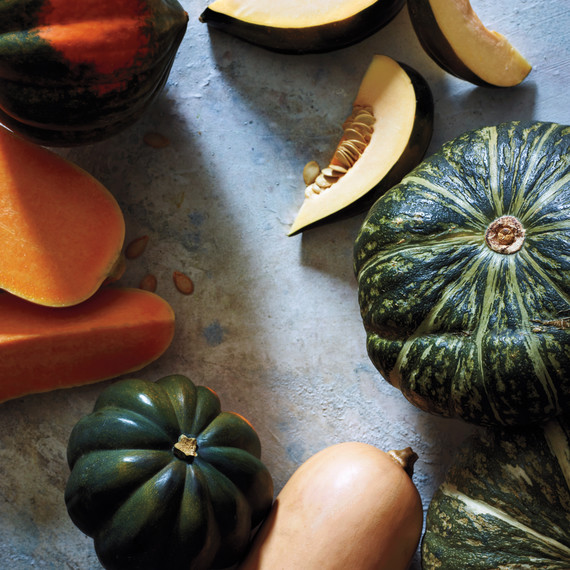 You know fall has arrived when the pumpkins emerge, appearing in pies and breads and on front porches everywhere. Meanwhile, their lesser-known cousins linger in the produce aisle, their hard skins and gnarled stems warding off even adventurous home cooks. But anyone who has ever tucked into winter squashes knows these are some of the sweetest, most delicious vegetables around. And their incredible range of quirky shapes, colors, and textures, whether shown off in a striped delicata or an elongated butternut, is part of their appeal. Though winter squashes are best harvested in fall, they're named for the coldest season because they can be stored through winter. Here's our primer on making the most of these delectable vegetables.
Health Benefits
Winter squashes are low in calories and contain plenty of fiber, which aids digestion, may prevent certain types of cancer, and may help lower cholesterol. They're also high in vitamin C, are a good source of potassium, and contain folate, which may prevent some birth defects. Like orange bell peppers and sweet potatoes, the deep-orange flesh of winter squashes signals that they're rich in beta-carotene, a nutrient that the body converts to vitamin A. Beta-carotene promotes eye health, protects against cancer (especially of the lung), reduces inflammation, and boosts the immune system.
To Buy
Select winter squash that feel heavy for their size, with firm skin; avoid any with soft or moldy spots. They don't require refrigeration; stored in a cool, dry, dark spot, they can keep for several months. Cut squash can be wrapped in plastic and refrigerated for up to 4 days.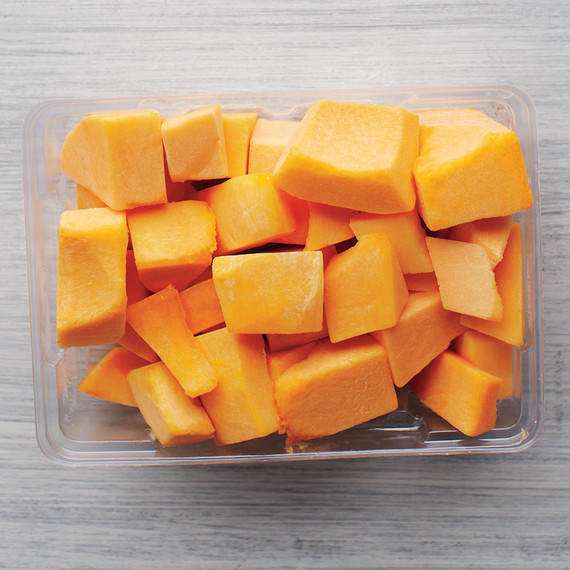 To Cook
To prep squash, carefully cut in half and scrape out the seeds. Whichever variety you choose, the vegetable generally takes well to steaming or roasting. Acorn and kabocha squash have edible skin, so they can be halved, stuffed, and baked. Delicata squash also has thin skin that doesn't require peeling -- the vegetable is wonderful roasted or simmered. Meanwhile, a peeler makes quick work of butternut's hard rind, and the cooked flesh is great for soups, mashes, or ravioli filling.
Get Our Butternut Squash Recipes
Sugar pumpkins, also known as pie pumpkins, have smooth skin that needs to be removed, then the sweet flesh can be roasted and served as a side dish or tossed into pasta, or steamed and pureed for gratins or desserts. From the outside, bright yellow, oblong spaghetti squash looks similar to other winter squash. But it's very different inside: Once cooked, its tender flesh separates into the spaghetti-like strands that give the vegetable its name -- try our foolproof roasting method.
Get Our Spaghetti Squash Recipes
Bonus: The seeds of any variety of winter squash can be scraped out and roasted into a scrumptious snack. They also provide protein, iron, and heart-healthy fat.
Watch our Kitchen Conundrums expert Thomas Joseph as he demystifies winter squash and shares his favorite ways to cook each variety: