It's true, autumn is officially here, well it will be on Friday. Already there's a subtle chill in the air some mornings and we feel like cooking, not grilling dinner. We haven't given up on eating tomatoes or corn just yet, but we're gradually, oh so gradually, moving toward butternut squash. Let us help you navigate the path to getting dinner on the table. The recipes here take less than an hour of mostly hands-off time, many cook much quicker than that but may require constant stirring. These are meals the whole family can enjoy. Join us every week for dinnertime inspiration.
Monday: Roasted Ratatouille and Eggs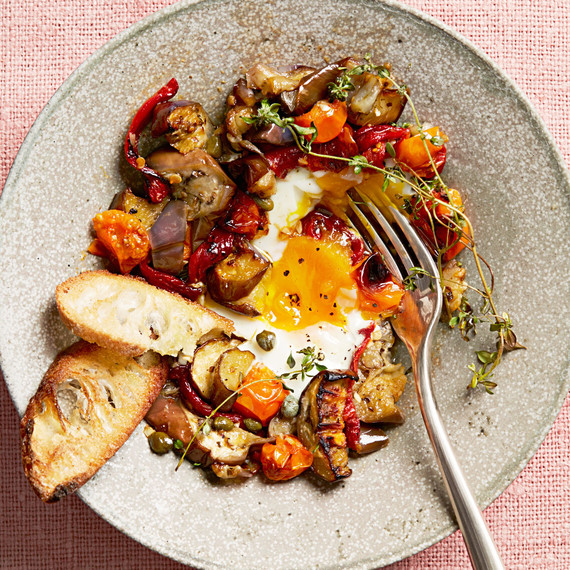 Yes, we're turning the oven on but the flavors of this meatless one-pan dinner are still all summer. Eggplant, bell peppers, and cherry tomatoes are transformed into a roasted version of ratatouille and the eggs cook right in the glorious vegetable stew.
Get the Roasted Ratatouille and Eggs Recipe
TUESDAY: BARLEY SALAD WITH CHICKEN AND CORN
Make this satisfying salad with a chicken breast you cook tonight or leftovers from a roast or grilled dinner. Either route leads to a main dish packed with summery flavors but also with the heft we need from fall fare. And use quick-cook barley if you need to save some minutes with prep.
Get the Barley Salad with Chicken and Corn Recipe
WEDNESDAY: Shrimp Scampi with Yellow-Squash Noodles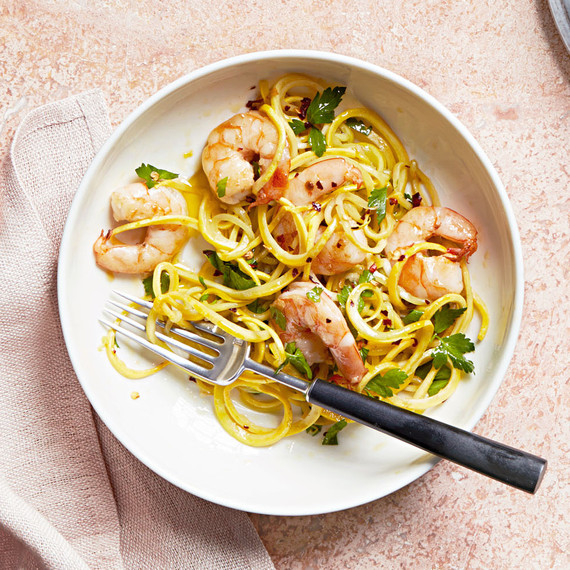 This is one fast dinner, it's on the table in 20 minutes but perhaps the best part about making scampi with voodles? No boiling! The yellow squash "pasta" simply joins the shrimp in the skillet for a quick saute.
Get the Shrimp Scampi with Yellow-Squash Noodles Recipe
THURSDAY: Bacon Pasta with Cheese Sauce and Thyme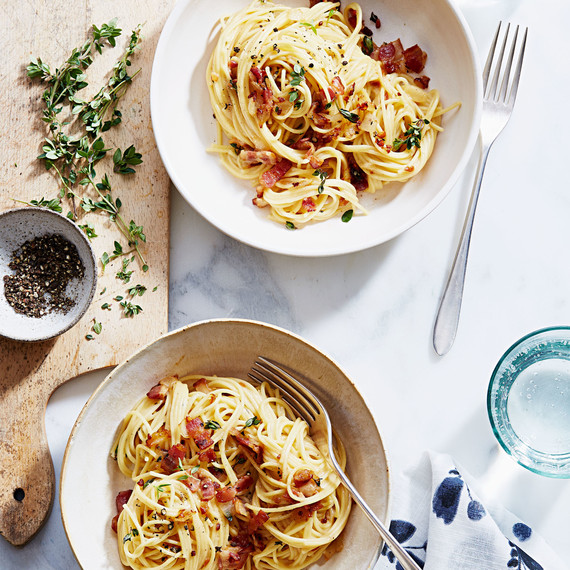 No spiralizing tonight, this is a real pasta dish made with spaghetti, cheese, and plenty of bacon. It's one of Jennifer Aaronson's back pocket recipes' and it's likely to soon be part of your weekly repetoire.
Get the Bacon Pasta with Cheese Sauce and Thyme Recipe
FRIDAY: Steak-and-Brie Sandwich with Chimichurri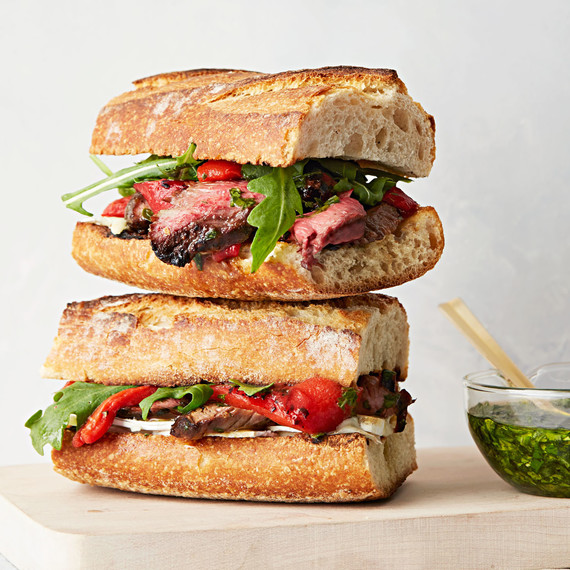 It's fall but we're still grilling! Love that flank steak, and when it's in a baguette sandwich with brie and plenty of arugula, who wouldn't? Plus there's chimichurri, that irresistible Argentinian sauce of parlsey, garlic, and oil -- in this version there's also arugula. That's just fine with us because arugula is everything.
Get the Steak-and-Brie Sandwich with Chimichurri Recipe
SATURDAY: Clam Pan Roast with Sausage and Fennel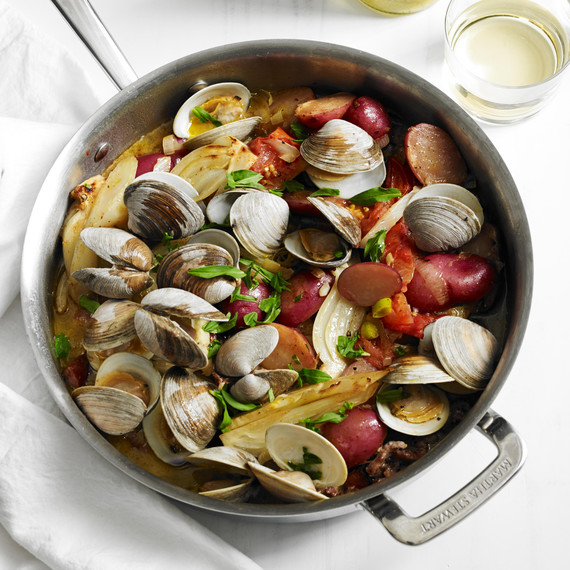 Smart enough for company, simple enough for a family supper, that's this delectable clam roast that also calls littleneck clams and for two kinds of sausage, potatoes, fennel -- plus a touch of Pernod. It's an elegant one-pan supper that needs just a green salad and some crusty bread to round out what's sure to be a magnificent meal.
Get the Clam Pan Roast with Sausage and Fennel Recipe
SUNDAY: Slow-Cooker Persian Lamb Stew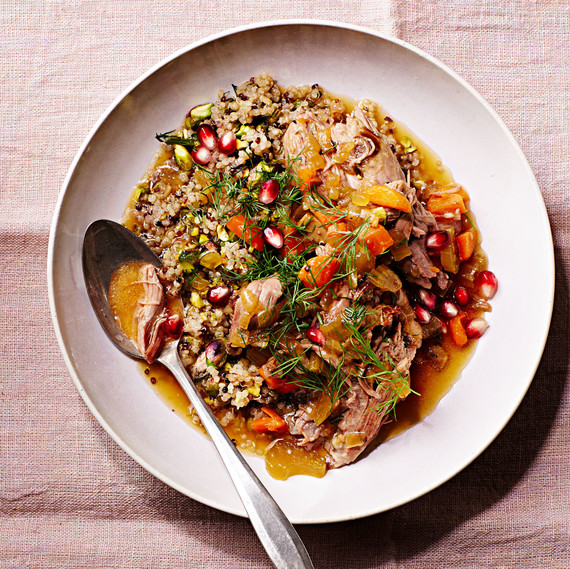 Because fall, we're embracing the new season with a slow-cooker lamb stew made with that forgiving and meltingly good cut, lamb shoulder. No everyday lamb stew this, it's amped up with dried lime and saffron and served with quinoa. Not only does it taste soooo good, it's a wonderfully hands off recipe, the slow cooker does all the work.
Get the Slow-Cooker Persian Lamb Stew Recipe