Let us help you navigate the path to getting dinner on the table. There are meals to grill, ones that cook on the stovetop, one-pot wonders, and all kinds of dinners the whole family will enjoy. Yes, there will be pasta. So join us every week for dinnertime inspiration.
Monday: Quinoa Salad with Zucchini, Mint, and Pistachios
By now you know all about protein-rich quinoa, and don't you love that it cooks quickly and makes a salad hearty enough to serve as a main? Likely you're always on the lookout for new, fabulous quinoa recipes like this one. Bonus points: It's another way to use zucchini!
Get the Quinoa Salad with Zucchini, Mint, and Pistachios Recipe
TUESDAY: Pork with Pears and Parsnip Mash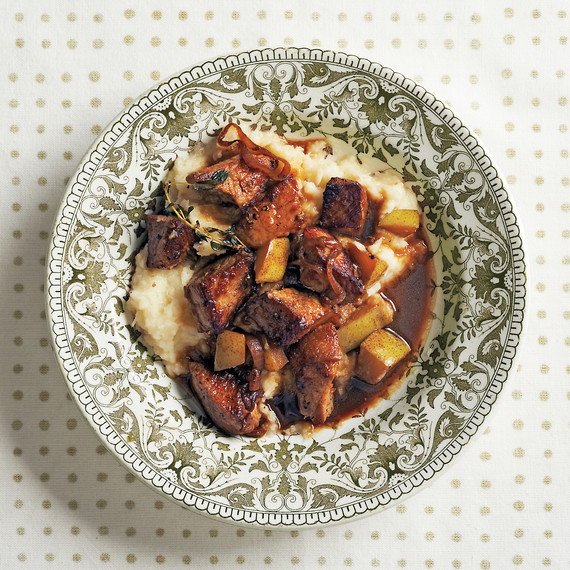 We're feeling a little fall-like tonight, anticipating the chill to come and feasting upon this classic with a twist -- meat and potatoes is just as comforting and twice as tasty in this quick pork stew served atop a mash of parsnips and potato.
Get the Pork with Pears and Parsnip Mash Recipe
WEDNESDAY: Pressed Chicken with Okra Succotash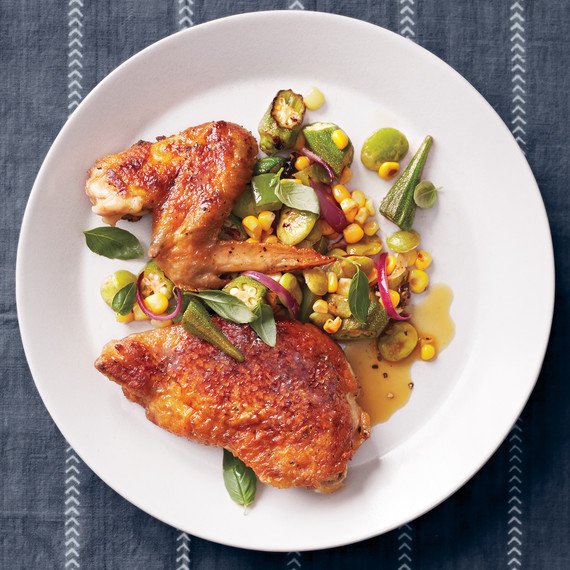 Take one whole chicken and have dinner on the table in 40 minutes. Really. This is another of our one-pot-wonder recipes, starring the trusty cast-iron skillet. (We're not counting the skillet used to press the chicken. That is covered in parchment and not used for cooking!)
Get the Pressed Chicken with Okra Succotash Recipe
THURSDAY: Spaghetti with Sicilian Pesto
This might not be how you think of pesto -- no basil or pine nuts here -- but Sicily is not Genoa. On the island, they make a pesto with roasted bell pepper, tomatoes, almonds, golden raisins, and cheese -- and boy, is it good. Dinner will be on the table in 25 delicious minutes.
Get the Spaghetti with Sicilian Pesto Recipe
FRIDAY: Grilled Snapper Sandwich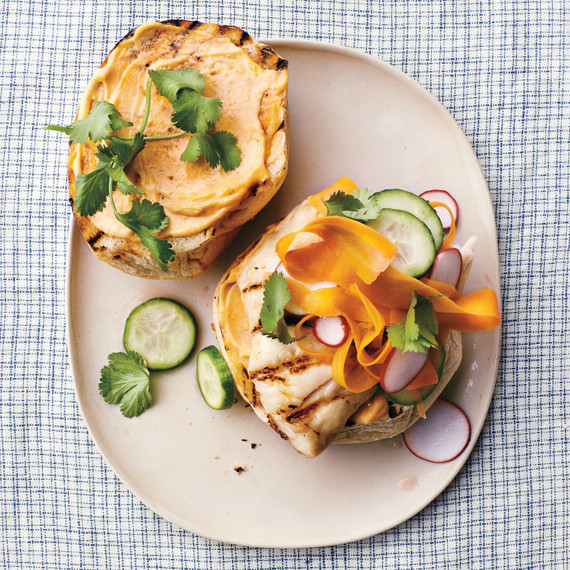 Think beyond the burger: This simply seasoned sandwich is worth flipping for. (We're still in grilling mode.) Red snapper fillets pair so well with quick-pickled vegetables on a grilled bun, and the meal comes together in 25 minutes -- just like yesterday ... and not like yesterday at all!
Get the Grilled Snapper Sandwich Recipe
SATURDAY: Late-Summer-Vegetable Minestrone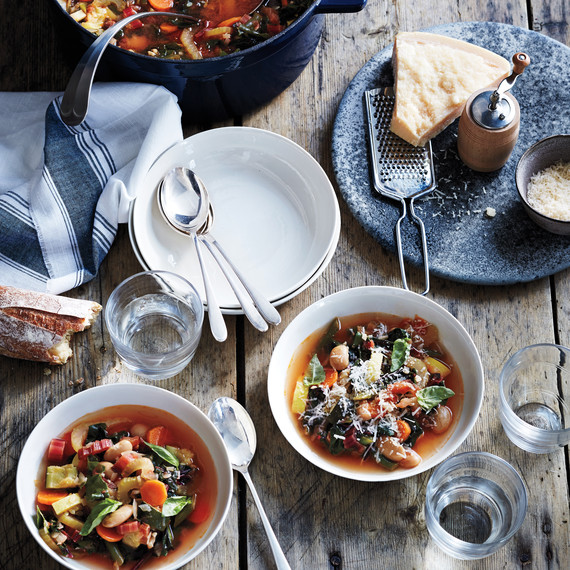 Consider this meal late summer in a bowl. A rainbow of produce  -- carrots, green beans, zucchini, and tomatoes -- plus beans in a rich vegetable broth. Slow cooked, immensely flavorful, and super healthy, this is a soup to love. Make a double batch and freeze the season for when it's cold outside and lush tomatoes are a distant memory.
Get the Late-Summer-Vegetable Minestrone Recipe
SUNDAY: Grilled Marinated Hanger Steak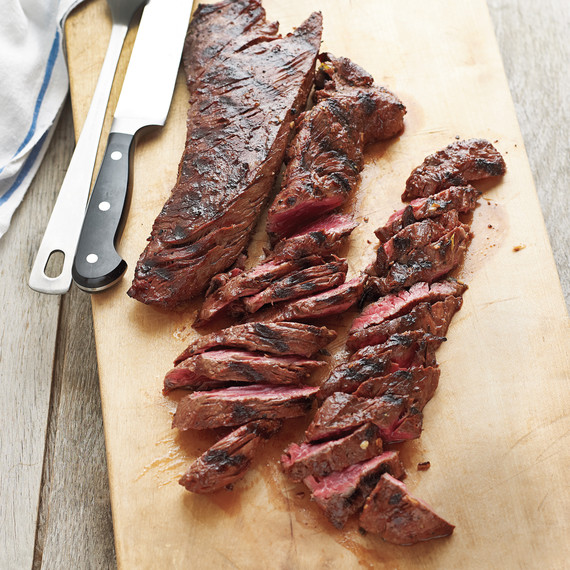 Go French! This cut, also known as "butcher's steak," is a classic of bistro cuisine. We're not going the Gallic route tonight though -- while we can, we grill. And we always slice this steak across the grain for a more delicate texture. Serve with salad -- maybe grilled, a riff on Caesar, or a full-on end-of-summer over-the-top one.
Get the Grilled Marinated Hanger Steak Recipe