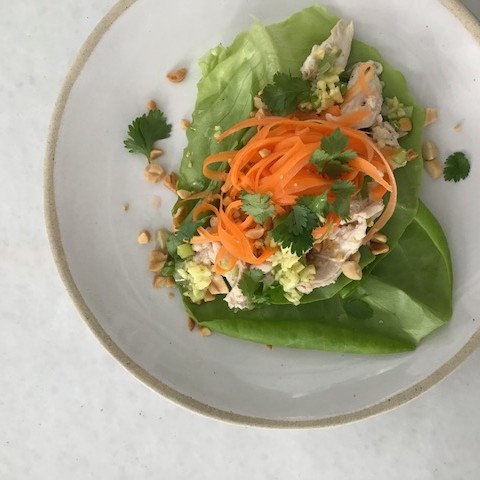 I​ ​love​ ​mayonnaise, more​ ​than​ ​anything.​ ​I​ ​slather​ ​an​ ​indecent​ ​amount​ ​on​ ​sandwiches,​ ​whip​ ​it​ ​into deviled​ ​eggs,​ ​and​ ​fold​ ​it​ ​into​ ​chicken​ ​salad.​ ​That​ ​said,​ ​now I've​ ​found​ ​a​ ​chicken​ ​salad​ ​recipe​ ​that's so​ ​fresh​ ​and​ ​vibrant,​ ​it​ ​has​ ​me​ ​seriously​ ​reconsidering​ ​my​ ​mayo​ ​ways.​ ​These​ ​poached​ ​chicken cups​ ​with​ ​ginger​ ​scallion​ ​oil​ ​are​ ​the​ ​perfect​ ​meal​ ​when​ ​you're​ ​craving​ ​a​ ​more​ ​nuanced​ ​version of​ ​deli​ ​chicken​ ​salad.
Get the Chicken Lettuce Cups with Ginger-Scallion Oil Recipe
Let's​ ​start​ ​with​ ​the​ ​chicken​ ​--​ ​it's​ ​perfectly​ ​poached.​ ​The​ ​secret​ ​here​ ​is​ ​using​ ​bone-in,​ ​skin-on chicken​ ​breasts.​ ​Together​ ​they​ ​add ​flavor​ ​and​ ​help​ ​prevent ​the​ ​meat​ ​from​ ​becoming​ ​dry. Starting​ ​the​ ​chicken,​ ​poaching​ ​liquid​, ​and​ ​aromatics​ ​cold​ ​and​ ​bringing​ ​everything​ ​to​ ​a​ ​simmer also​ ​ensures​ ​even​ ​cooking​ ​(versus​ ​adding​ ​the​ ​chicken​ ​to​ ​a​ ​simmering​ ​liquid).
A​ ​fresh​ ​ginger​ ​and​ ​scallion​ ​oil​ ​is​ ​tossed​ ​with​ ​the​ ​cooked​ ​chicken.​ ​Oh​, ​and​ ​the​ ​flavor​ ​only improves​ ​with​ ​time,​ so​ ​consider​ ​making​ ​a​ ​big​ ​batch​ ​at​ ​the​ ​beginning​ ​of​ ​the​ ​week.​ ​Great​ ​with crisp​ ​lettuce,​ ​this​ ​salad​ ​is​ ​also killer​ ​on​ ​rice​ ​noodles​ ​or​ ​tucked​ ​into​ ​a​ ​sandwich​ ​with​ ​all​ ​the​ ​fixings.
The​ ​fixings​ ​are​ ​pretty​ ​key.​ ​Carrot​ ​ribbons​​ quickly pickled ​in​ ​rice wine​ ​vinegar​ ​taste​ ​way​ ​more​ ​complex​ ​than​ ​the​ ​effort​ ​required​ ​to​ ​prepare​ ​them (All it takes is a Y-peeler).​ ​​Alternatively, you could​ ​coarsely​ grate​ ​them using a box grater. The​ ​vinegar really​ ​brings​ ​out​ ​the​ ​sweetness​ ​of​ ​the​ ​carrot,​ ​crisp​ ​crunch​ ​and​ ​all.​ ​Fresh​ ​cilantro​ ​and​ ​chopped salted​ ​peanuts​ ​round​ ​out​ ​the​ ​mix.
But​ ​what​ ​I​ ​love​ ​most​ ​about​ ​this​ ​recipe​ ​is​ ​that​ ​it​ ​just​ ​calls​ ​for​ ​a​ ​handful​ ​of​ ​ingredients and the​ ​flavor really​ ​shines -- it ​just​ ​might​ ​convince​ ​you​ ​to​ ​hold​ ​the​ ​mayo. 
Get the Chicken Lettuce Cups with Ginger-Scallion Oil Recipe
Tune in every Sunday for a new Healthy Appetite video from Shira Bocar.
Watch Shira make this deliciously vibrant salad, then try it for lunch or dinner: