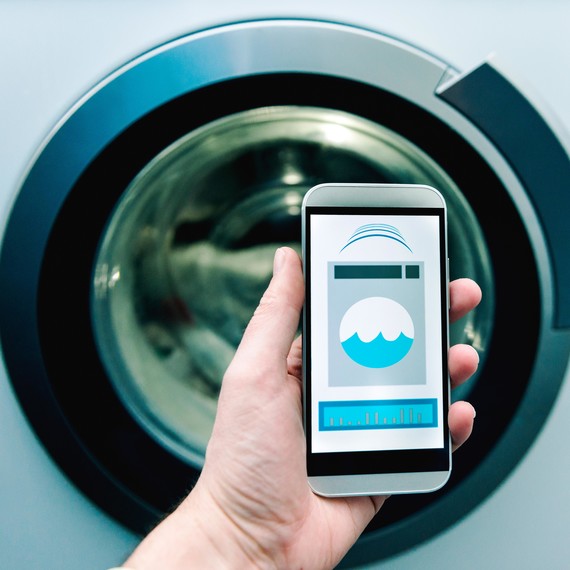 Sure, you want a smart home, but that doesn't mean you rush out and buy every gadget you see. Try a smart-home device or two, but proceed with caution, since they're essentially mini-computers connected to the internet, and many of them still don't communicate with each other. "Start with one, like a plug-in light switch or wireless thermostat, and add others later," says Grant Clauser, a tech journalist at the product-testing site The Wirecutter. Before buying, ask yourself these five questions:
1. Will this really be convenient?
"Think about how you usually operate your heating and cooling system or appliances," says Clauser. "Will it simplify your life, or be neat at first, then grow tired after a while?"
2. Is everyone in my household on board?
"If you have smart light bulbs, and someone doesn't have the app and switches a lamp off physically, the app won't work for other people," explains Clauser.
3. Is the brand reputable?
"Cheaper versions are cheaper for a reason," says Brian Barrett, tech editor at Wired. "To work, these things need to be consistently connected to the internet; you don't want a product that can't get that consistency."
4. Do I have a strong Wi-Fi connection?
Barrett recommends a mesh network router, which is a pack of two to three routers sprinkled throughout your house.
5. Am I willing to take the security risk?
Every time you add a device, you're more exposed, says Barrett. "Hackers can use devices for another purpose that you won't notice, but will result in slower Wi-Fi." Always change the default user name and password, too.
SHOP: Gadgets That Will Make Life Easier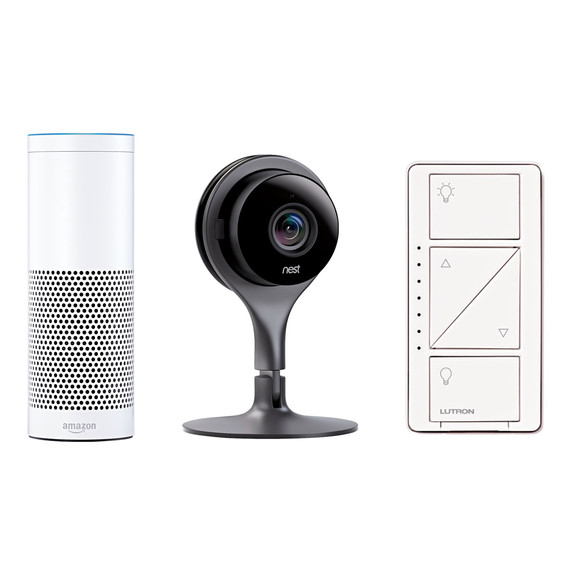 7 Standout Gadgets to Consider
Above all, go for gadgets you'll get a lot of use and value out of. For instance, "the Alexa voice assistant in Amazon's Echo is now in a ton of other devices, like the Ecobee Smart Thermostat," Barrett says, so you can vocally control heating and cooling. Our top picks:
Personal Assistants
Amazon Echo ($179, amazon.com) and Google Home ($129, google.com): These are ideal devices to try first, because they're user-friendly and fun. "Voice assistants can tell you your schedule, what the traffic will be on the way to work, or who won the college-football championship back in 1988," says Ismael Matos, a deputy field marshal of Best Buy's Geek Squad. And more and more, they can control other smart-home devices, like light switches. Asked to choose between the two, Matos leans toward the Echo because it's been around longer. "If a product has a track record of working with other things, that's a big plus," says Clauser.
Home Security
Nest Cam ($199, nest.com): It's designed for both indoors and out to keep tabs on comings and goings and spy on the dog. It shoots 24/7 HD video that can stream to your phone, and stores it in the cloud for 30 days. Schlage Sense Smart Deadbolt (from $229, schlage.com): Enter your home with an access code or by using your phone. (Yup, you can forget about forgetting your keys.) Nest Protect ($119, nest.com): This smoke alarm will tell you (out loud, in words) where the danger is, send a notice to your phone (because if you're not at home, you'll still want to know), and monitor for carbon monoxide.
Energy Savers
Ecobee 3 Lite ($199, ecobee.com): This thermostat can save you an average of 23 percent annually on utility bills. It keeps track of whether you're at home or not via geofencing (it reads where your phone is), and gives you energy reports. (Experts still love the Nest thermostat, too.) Lutron Caseta ($100, homedepot.com): These wireless switches and dimmers work from your smartphone. They also use geofencing, so when you leave the house, your lights automatically turn off. Insignia Wi-Fi Smart Plug ($20, bestbuy.com): With an app on your mobile, this cost-effective starter gadget lets you control and program anything -- air conditioner, lights, appliances -- you've plugged into the same outlet.
On Your Radar: The Latest Smart Home Gadgets