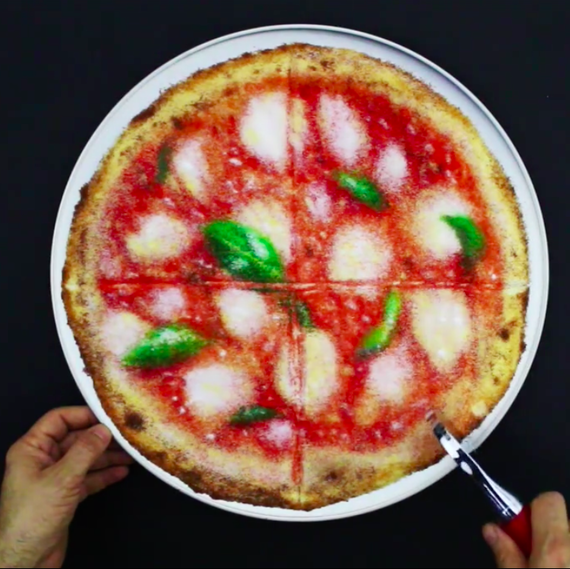 Ever need just a pinch more salt? Artist, Bashir Sultani has plenty of salt in his life. Since 2010, the Canadian self-taught artist has been creating 3D tabletop creations, everything from sushi to pizza, entirely out of table salt. On his YouTube channel, you can find over a hundred of Sultani's creations, filmed in time-lapse from start to finish. After each intricate piece is complete, he wipes the entire work away.
"Each piece can take as much as three to five hours to make," Sultani says. "But I never wish to preserve the final piece, besides capturing it on video." The best part, after all, is realizing that the life-like avocado you just saw on screen isn't an avocado at all. "It's fun because it makes the viewer appreciate the process of creating, knowing it will disappear at the end." 
(CHECK OUT: This Food Art Made Entirely From Food Scraps)
It all began when Sultani saw an episode of "Art Attack", a popular British television show for children in the 1990s. It taught various arts and craft projects. One segment involved the host pouring white table salt onto a massive black surface in seemingly strange patterns, only to reveal an intricate picture, when viewed from above. 
(LOOK TWICE: At These Illustrations -- Can You Guess What They're Made Of?)
"I remember the episode where he drew a giant house out of salt and I wanted to give it a try," says Sultani. Since then, his creations have ranged from plated breakfasts and cheeseburgers to portraits of famous figures, even a galaxy! After drawing inspirations from movies, music, and pop culture, Sultani chooses his colors creating a palate with food coloring drops and gels. Though he also draws with traditional inks, Sultani says he really enjoys working with salt. "The whole process makes me feel relaxed and focused at the same time." 
Our favorite way to work with salt? Quick and easy salted toffee-chocolate squares! Watch Sarah Carey make them: