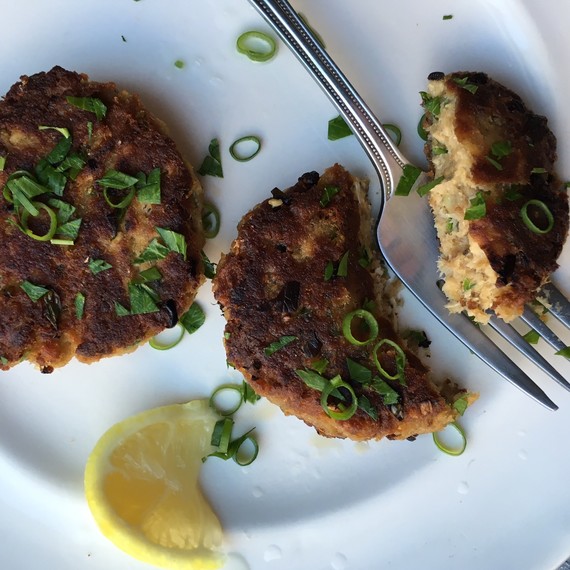 One​ ​of​ ​the​ ​easiest​ ​ways​ ​to​ ​eat​ ​healthy​ ​at​ ​home​ ​is​ ​to​ ​stock​ ​your​ ​kitchen​ ​with​ ​nutrient-packed food.​ ​The​ ​pantry​ ​often​ ​plays​ ​second​ ​fiddle​ ​to​ ​the​ ​fresh​ ​perishables​ ​of​ ​the​ ​fridge,​ ​but​ ​take​ ​a closer​ ​look​ ​in your cupboards​ ​and​ ​you'll​ ​appreciate​ ​the​ ​variety​ ​that ​healthy​ ​basics​ ​like​ ​whole grains,​ ​dried​ ​legumes,​ ​canned​ ​beans,​ ​olive​ ​oil,​ ​nuts,​ ​and​ ​canned​ ​tomatoes offer. ​What​ ​about seafood?​ ​Consider​ ​stocking​ ​a​ ​few​ ​cans​ ​of​ ​heart- ​healthy​ ​fish,​ ​like​ ​wild​ ​salmon.​ ​(Look​ ​for wild-caught​ ​canned​ ​varieties​ ​from​ ​Alaska​ ​for​ ​the​ ​most​ ​sustainable​ ​choice.)​ ​Half​ ​the​ ​price​ ​of fresh​ ​and​ ​perfect​ ​for​ ​in-between​ ​seasons,​ ​canned​ ​wild​ ​salmon​ ​is​ ​one​ ​of​ ​my​ ​go-to​ ​pantry​ ​staples. Flaked​ ​and​ ​folded​ ​into​ ​​chopped​ ​whole​ ​grain​ ​salad​,​ ​​garlicky​ ​broccoli​ ​rabe​ ​pasta​,​ ​or​ ​​chilled​ ​corn and​ ​coconut​ ​soup​,​ ​canned​ ​salmon​ ​adds​ ​healthy​ ​nutrients​ ​like​ ​omega-3​ ​fatty​ ​acids​ ​and​ ​protein in​ ​a​ ​flash.
This​ ​type​ ​of​ ​salmon​ ​also​ ​works​ ​great​ ​with​ ​fish​ ​cakes.​ ​And​ ​these​ ​Pan-Fried​ ​Salmon​ ​Cakes​ ​use another​ ​pantry​ ​favorite,​ ​Pennsylvania​ ​Dutch​ ​hard​ ​pretzels.​ ​Ground​ ​pretzels​ ​replace breadcrumbs​ ​and​ ​give​ ​the​ ​cakes​ ​a​ ​zippy​ ​flavor.​ ​I​ ​love​ ​using​ ​mayonnaise​ ​(or​ ​substitute​ Greek yogurt)​ ​and​ ​a​ ​handful​ ​of​ ​fresh​ ​herbs, ​dill,​ ​parsley,​ ​or​ ​chives​, ​with​ ​chopped​ ​scallions​ ​and​ ​finely grated​ ​lemon​ ​zest.​ ​This​ ​mixture​ ​cooks​ ​up​ ​best​ ​if​ ​it's​ ​had​ ​some​ ​time​ ​to​ ​chill.​ ​Make​ ​a​ ​batch​ ​the night​ ​before,​ ​and​ ​the​ ​next​ ​day,​ ​you'll​ ​have​ ​crispy,​ ​hot​ ​salmon​ ​cakes​ ​on​ ​the​ ​table​ ​in​ ​under​ ​10 minutes.​ ​Serve​ ​with​ ​a​ ​simple​ ​arugula​ ​salad​ ​squeezed​ ​with​ ​fresh​ ​lemon​ ​juice​ ​and​ ​a​ ​light​ ​drizzle of​ ​extra​-virgin​ ​olive​ ​oil.​ ​Or​ ​makes​ ​these​ ​cakes​ ​into​ ​larger​ ​patties​ ​and​ ​serve​ ​with​ ​sliced​ ​avocado and​ ​lettuce​ ​on​ ​sandwich​ ​buns.
Next​ ​time​ ​you're​ ​planning​ ​dinner,​ ​bypass​ ​the​ ​trip​ ​to​ ​the​ ​fish​ ​counter​ ​and​ ​head​ ​straight​ ​to​ ​your pantry.​ ​You​ ​can't​ ​beat​ ​the​ ​convenience​ ​of​ ​opening​ ​a​ ​can!
Get the Crispy Salmon Cakes Recipe
Tune in every Sunday for a new Healthy Appetite video from Shira Bocar.
Watch Shira make these easy salmon cakes, then make them your next pantry dinner: