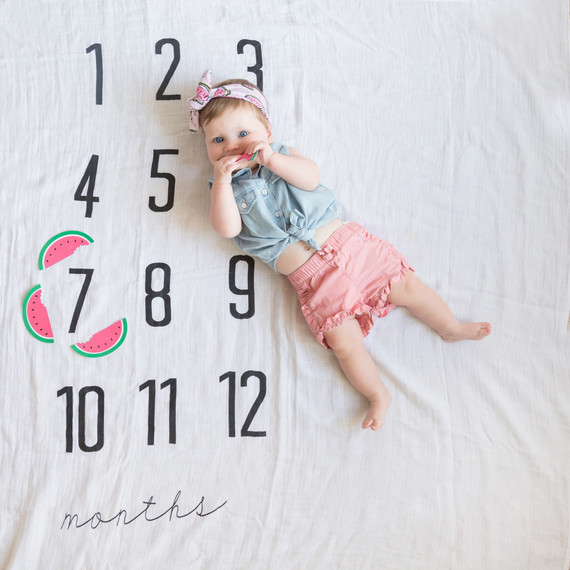 Babies grow up so quickly! Here are a few of our favorite creative ways to help you capture the many milestones of your little one's first year of life, including do-it-yourself tips from photographer (and mom!) Danielle Benson of Danielle Sara Photography: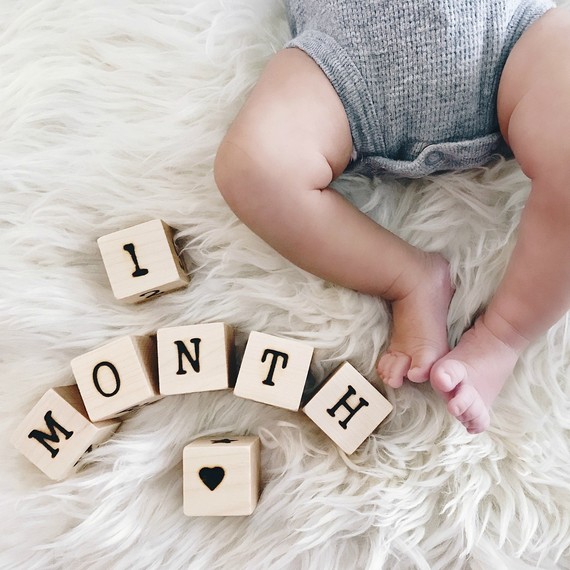 1. S-P-E-L-L it Out
Use blocks to spell out each month against a solid background, like a blanket or rug. As the baby grows older, the blocks probably won't stay in place thanks to inquisitive little hands, but that's all part of the fun!
This natural wood set by Tree Fort Toys grows with your child and includes blocks to spell out days, weeks, months (and years or grades for older children). Available at treeforttoys.com for $34.95.
DIY Photo Tip:
Find a consistent and safe location where you will plan to shoot each month. Have your space and camera settings all set up before putting the baby down in place. If you want to be extra prepared, use a stuffed animal or a doll where you plan to put baby in order to figure out the best angle of lighting.
[TRY IT: Baby Wooden Blocks]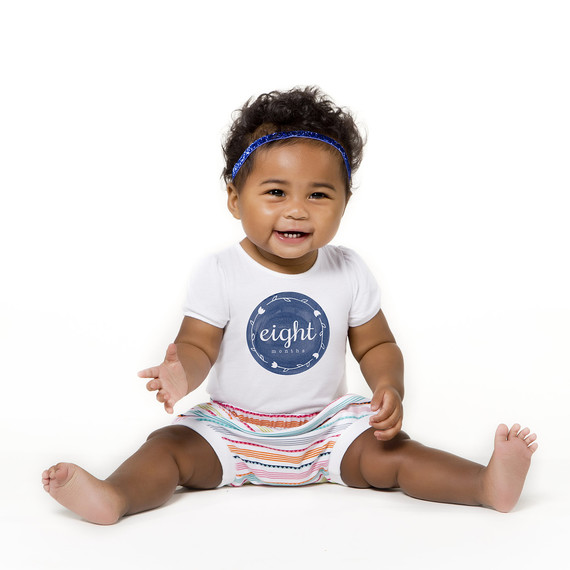 2. Stick to the Basics
Coordinate your baby's outfit with a baby milestones sticker to show off both age and style! Tip: Stickers often photograph best against solid colors.
This stylish 12-month sticker set by Sticky Bellies offers the look of a custom shirt with the convenience of removable sticker. Simply peel, stick and snap a pic! Available at stickybellies.com for $14.

DIY Photo Tip:
It's easier to photograph babies during the months when do they don't move much. But once your baby starts to roll and crawl, it will become challenging to keep her in one spot. Having another person will not only help focus on getting the baby's attention, but will also help you concentrate on taking the photograph instead of chasing the baby!
[TRY THIS: How to Make a Dazzling No-Sew Tutu]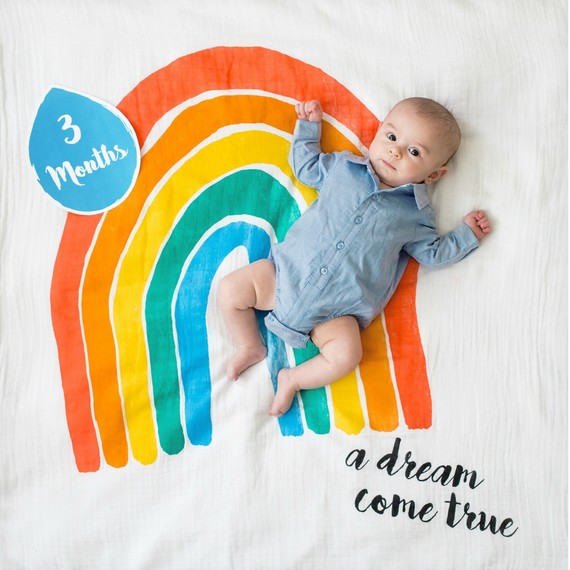 3. Make a Blanket Statement
Use a milestone blanket to keep the background consistent as you photograph your baby each month. Add age-specific or seasonal props to make each month unique.
This colorful muslin blanket by Lulujo Baby comes with coordinating monthly age cards to record baby's growth from one day to one year. Available at lulujo.com for $22.99.
DIY Photo Tip:
If you are aiming for a consistent baby picture each month, find a spot in your home where there is good natural light. Shut off the overhead lights and open the window blinds to get the most light on the baby as possible. Turn the baby so the light falls onto his or her face at 45 or 90 degrees.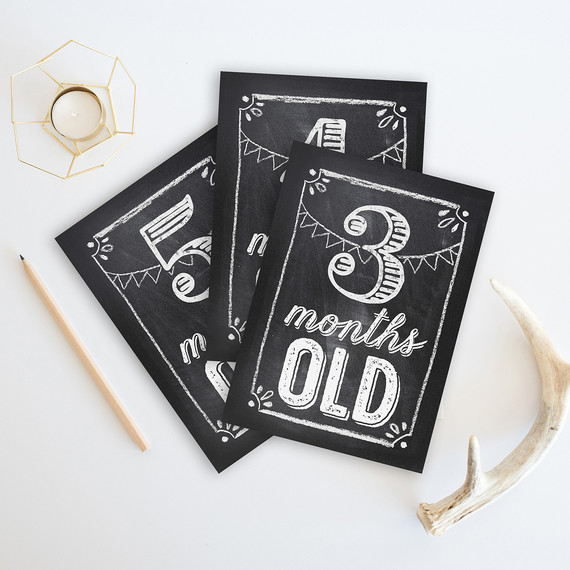 4. Get Your Print On
Design or purchase printables that you can use to feature the monthly milestone, either as standalone prop or dressed up in a different frame each month.
This set by Print Annex comes with twelve chalkboard printables for one month through to one year old. Available at etsy.com/shop/theprintannex for $9.92.
DIY Photo Tip:
Life gets busy, especially with a new baby. Make things a little easier by setting a reminder on your phone every month so you don't forget to capture each monthly milestone.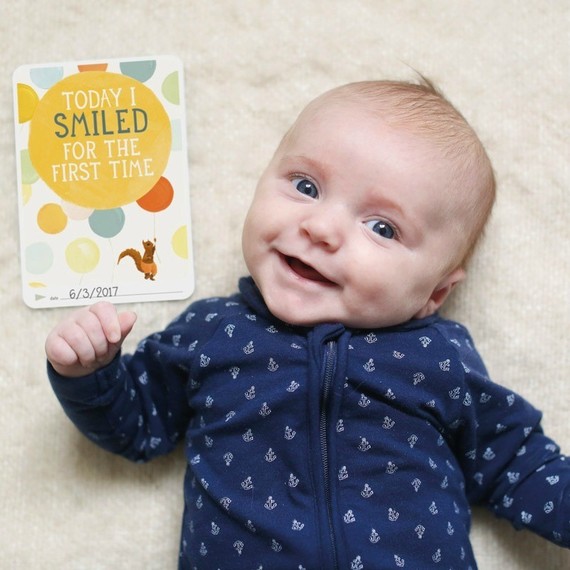 5. Do the Write Thing
For all the special moments that occur between months (and there are so many of them!), using pre-printed options that you fill in with the details can make life a whole lot easier.
This baby photo cards set by Milestone comes with illustrated cards to document the first months to first birthday and other special moments like first smile, steps and words. Available at milestone.com for $19.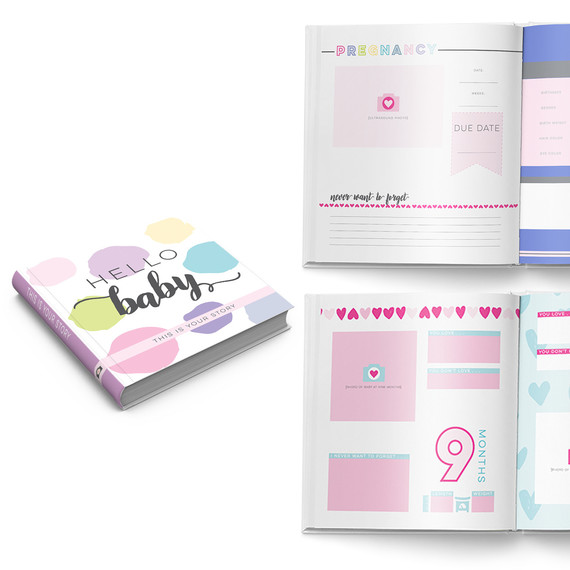 The Hello, Baby memory book by Sticky Bellies is a guilt-free option for busy parents, featuring easy-to-fill-in prompts and spaces for photos that allow parents to record special memories without spending hours doing so. Available at stickybellies.com for $24.99.

DIY Photo Tip:
Sometimes, the best time to capture photos is after a nap when the baby is well-rested and ready to play. But prepared to go with the flow and capture the in-between moments. While you may not be able to capture the picture you had imagined, you'll still take lots (and lots!) of photos and the one that you end up sharing might be one of your favorites to look back on.
Now, where to store your keepsakes? Watch Martha offer her advice: