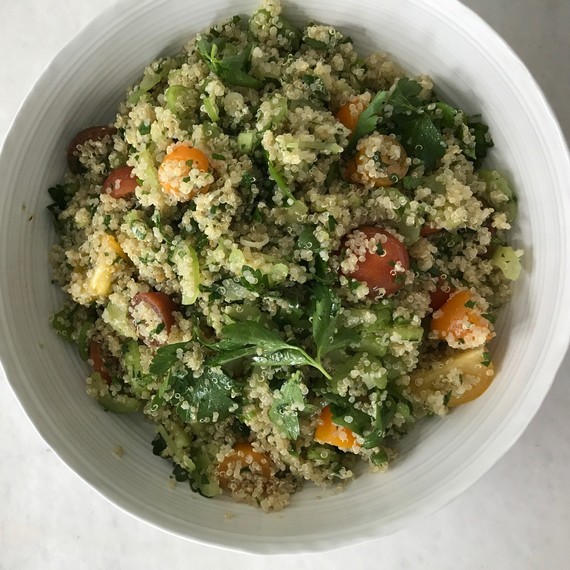 Long before I start packing clothes, shoes, or books for a trip, I figure out what I'm bringing to eat on the plane. To make it to 36,000 feet, it's got to taste great at room temperature, stay fresh for a few hours, be flavorful and energizing, and have plenty of texture. It's also got to be satisfying! Bonus points if it can be packed in a resealable container to avoid spills or getting squashed at the bottom of my tote.
This Parsley-Whole Grain Salad checks off all those boxes. It's inspired by the Middle Eastern classic tabbouleh, with quinoa replacing the bulgur and adding a punch of plant-based protein, sweet nutty flavor, and a pleasing chew. Quinoa makes it gluten-free, but you can also use other cooked whole grains like barley or farro or a combination. (This is a great salad for finishing up the last bit of grains you have in the fridge.)
For the crunch factor, throw in some diced celery and sliced scallions. (A handful of toasted chopped almonds would be another great addition.) Parsley leaves are chopped and left whole -- a bright twofer. Sweet cherry tomatoes and lemon juice add a nice hit of acidity, and olive oil rounds out the edges. (Pro tip: pack a small lemon wedge on top of the salad and squeeze before serving. It wakes up all the flavors AND makes the airplane cabin smell amazing.)
If your salad isn't traveling far, pair it with a chunk of feta, hard-cooked egg, or sliced avocado. I've also added leftover cooked greens like spinach or steamed bok choy for more heft -- really any vegetable leftovers will do. This salad will fuel you through your journey.
Get the Parsley-Whole Grain Salad Recipe
Tune in every Sunday for a new Healthy Appetite video from Shira Bocar.

Watch how to make this versatile salad for your next trip (or just for dinner):