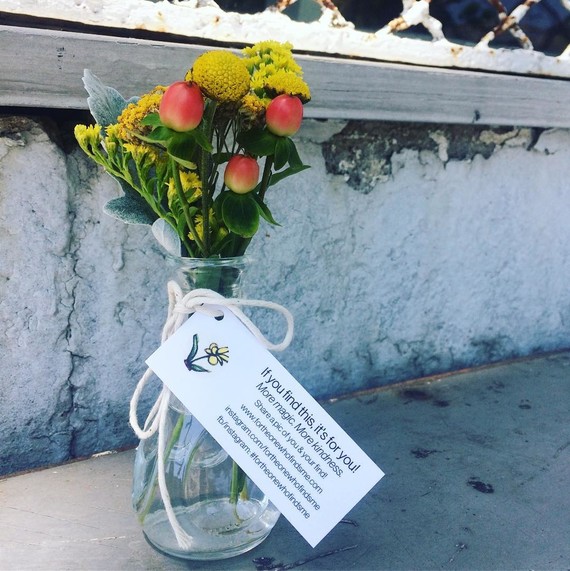 Next time you go grocery shopping or visit the library, be on the lookout for a small surprise. One woman is hiding mini floral arrangements in public places -- from elevators to park benches -- for anyone and everyone to find (it could be you!) 
"I've loved the concept of found art for a long time," says Danika Laine, the artist behind the community kindness project, For The One Who Finds Me. "When I noticed how my 4 year old daughter was always looking for little 'treasures' like a penny or a feather on our walks, I was inspired," Laine tells Martha Stewart Living. "I started to wonder, how can I create that same curious outlook for adults?"
With an idea in mind, Laine decided to create a few tiny bouquets with a note attached reading, "If you find this, it's for you," which gave way to the project's name. She hid them around her Wisconsin town, created an Instagram account for the project, and within an hour, someone had found one of her bouquets. "They found the Instagram page and left a comment saying '#ImTheOneWhoFoundYou! Made my day! Thank you!!!' " says Laine. "The coolest thing was that it totally made my day too."
[WAIT: Before You Toss Out Old Flowers, Here Are 3 Companies Repurposing Them]
Since hiding her first few bouquets in 2015, Laine's project has spread around the country and beyond. "The furthest bouquet, that's been documented, was placed and found in Australia. That's 9602 miles away from this project's origin in Madison!" To date, more than 500 tiny bouquets have been hidden by Laine, her friends, and the strangers who've found one and decided to pay it forward — and these numbers are only for bouquets that have been documented on social media.
[SEE: Why You're Finding Painted Rocks Hidden Everywhere]
But why flowers? "They tend to be universally well-received. For me, they symbolize life, hope, and persistence," says Laine. She also liked that the flowers had a low environmental impact if, for some reason, they were never found. As for their miniature size – "They're less likely to tip over, easy to carry, and they just feel more magical and a bit out-of-the-ordinary."
Nowadays, whether she's collecting strangers' flower-finding stories or hosting workshops where you can come and make bouquets of your own, Laine is always checking #ForTheOneWhoFindsMe to see who might've found a sweet surprise. "Every time I see a photo of a new bouquet in a new city, I feel totally thrilled, inspired, and connected to strangers! It reminds me that there are so many, kind and good people in the world." If you want to make your own tiny bouquets to hide, visit the project's website for more information, plus printable notecards to attach.
Feeling inspired? Watch our video for some flower arranging inspiration: