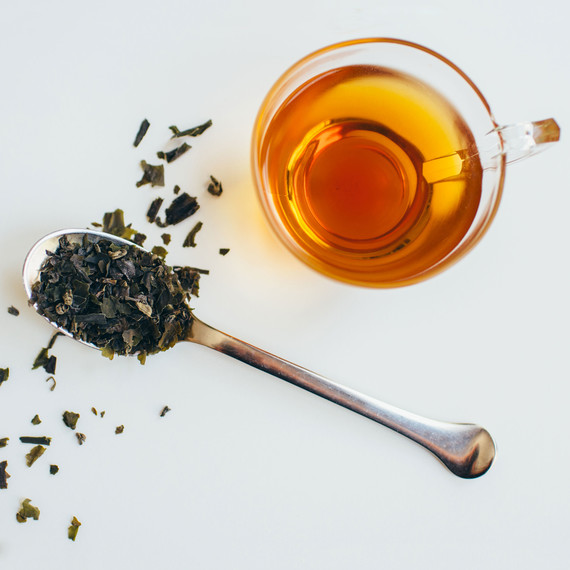 When you think about your favorite snack as a kid, chances are that it's probably some kind of cookie or candy. Not so for Cup of Sea founder Josh Rogers -- his go-to treat growing up? Seaweed. Specifically, dried dulse, a purple algae that was popular in Ireland, Iceland, and Canada but practically unknown in the U.S. in the '80s. His grandparents, who emigrated to Maine from the Maritimes, introduced him to it, and the whole family would look forward to stocking up when they went back to visit. If only they knew about the bounty of dulse around them -- turns out Maine is lousy with seaweed, but no one was harvesting it at the time. Rogers says, "A certain thing comes to mind when you think of Maine -- it's that rocky coast. There is so much seaweed here with the inlet and the tides. That's where it grows best and thrives."
(GET: 12 Nostalgic Childhood Foods That We Made Way Better)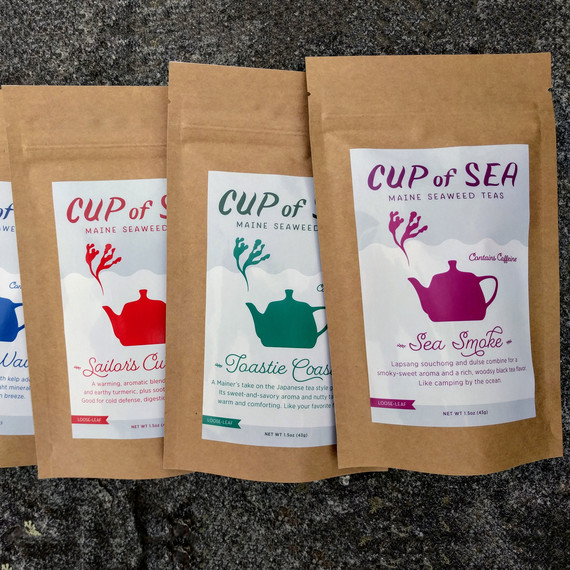 A couple of years ago, when Rogers was living in New York and feeling homesick, he ordered a bunch of different Maine seaweed online and started experimenting with it in the kitchen. A lifelong tea drinker, he was brewing a cup of green tea one day when he realized how similar the flavor profile was to kelp. Outside of Japanese kombu tea powder, he had never encountered tea with seaweed before. Rogers says, "I wanted something to exist and couldn't find it, so I decided to make it myself. The idea of inventing something appealed to me, plus I was able to embrace the love I've always had for both seaweed and tea." He moved back to Maine, and countless steeping tests later, Cup of Sea was born. Rogers currently offers five blends: green tea and kelp; lapsang souchong and smoked dulse; toasted rice and kelp; ginger, turmeric, and bladderwrack; and honeybush and sea lettuce.
(LEARN: The Right Way to Make Green Tea)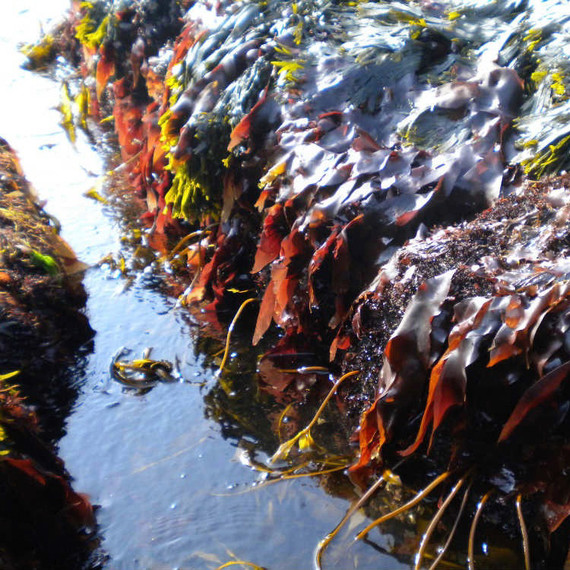 He mainly sources his seaweed from Atlantic Holdfast Seaweed Company, which hand-harvests it from spring through late summer in Maine's Penobscot Bay. Founder Micah Woodcock hangs the seaweed to dry in the sun immediately after returning to dry land, which gives it a more complex flavor. The seaweed is also sustainable -- all wild harvesters are required to have a license and must follow regulations set by the state's Department of Marine Resources. 
Rogers gets his teas from another Maine company, The Little Red Cup, which sources teas from China that are fair trade, organic, and cooperatively owned. He's also working on securing a local source for the rice in his product -- a tall order in Maine, but he's hopeful about a grower he found that has been experimenting with rice from Hokkaido and Estonia.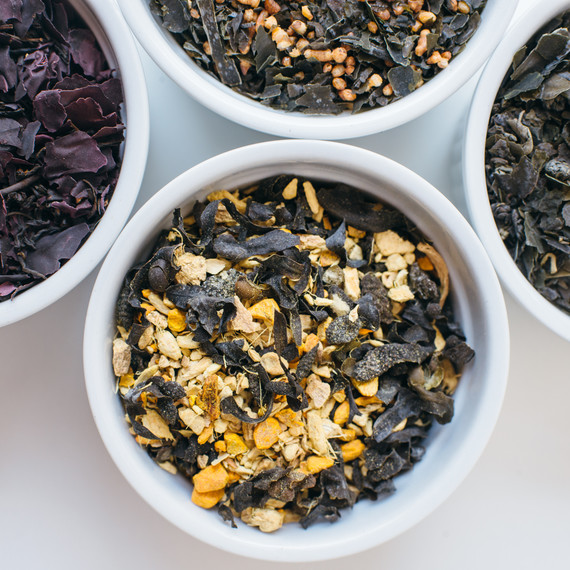 Rogers knew seaweed teas would be a hard sell, but he was surprised at how well they were received at tastings in Maine. He says, "All these people came up to me and shared their memories from when they were kids. They lived near the ocean or their dad was a lobsterman, so they grew up picking Irish moss, another type of seaweed, at the beach and making it into pudding, or gathering dulse and pickling it in apple-cider vinegar. I'm hearing about what are almost folk traditions."
(GO BEYOND PICKLING: 10 Genius Ways to Use Apple-Cider Vinegar)
The health benefits are also a big draw. Seaweed is packed with vitamins, antioxidants, omega-3s, essential amino acids, and minerals, including iodine, potassium, and magnesium. But for Rogers, the best part about the teas is still "the smell -- it reminds me of growing up in Maine and being near the ocean."