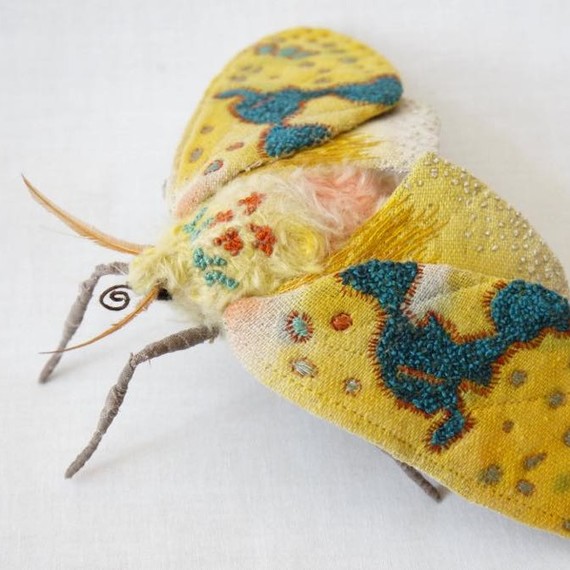 This time of year, there is no shortage of insects and other fanciful winged bugs such as monarch butterflies and busy bumblebees fluttering about. While every living insect is a true Mother Nature original living art form, one bug-enthusiast is creating her own versions of insects with a keen embroidery stylized technique.
The fiber embroidery artist Yumi Okita creates sizeable embroidered butterflies and detailed winged moths. These fabricated critters just might rival nature's real thing. You see, it is the delicate details that set her critters apart from others crawling around.
[DON'T MISS: These Embellished Bugs Are Made Using an Extraordinary Technique]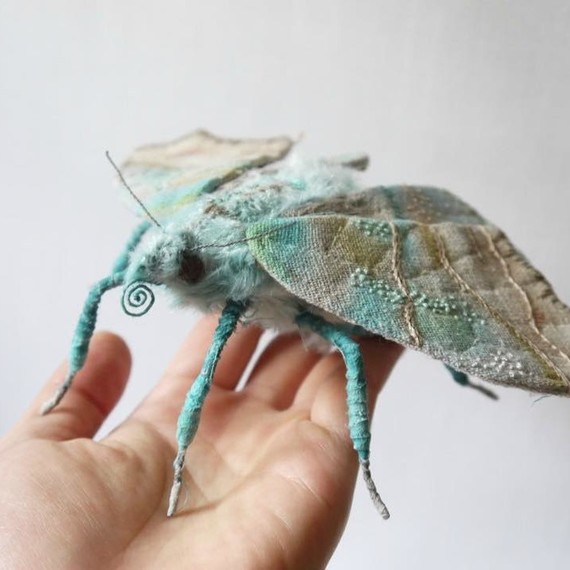 While moths might not always be appreciated for their beauty, Yumi finds a way to make her embroidered winged friends marveled and awed at. It's her attention to detail and color that sets her creations apart from anything else.
The notable insect size (about a foot long) and the unique combination of thread, color, and insect detail all give way to the originality found in her designs. In many cases, her bugs are a combination of fabric and hand painted detailing. Afterward, she adds an extra layer of design by embroidering other wing features as the insect's body is constructed from faux fur.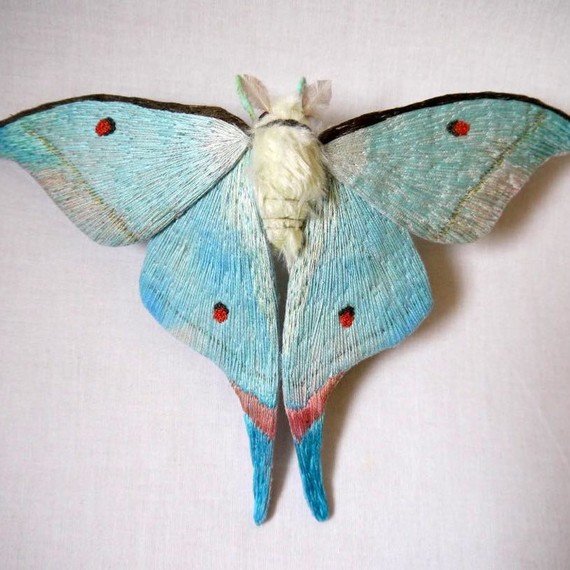 In her own words Yumi says about her furry embroidered insect designs, "A series of botanical and insect fiber sculptures. Hand painted cotton fabric that is embroidered with layers of threads creates texture and color." She continues, "I try to capture the realism of nature then manipulated into the world of imagination."
No detail is too much as Yumi makes sure to include every natural element ranging from a wispy antenna to big bug eyes. Personally, if moths are not your favorite, Yumi's extensively bright butterflies will put your imagination in flight. Yumi suggests that all of her bugs can be displayed anywhere whether by a hook on a wall or free standing on a tabletop. You can shop her insect creations from her Etsy shop and follow her on Facebook for new bug releases.
Feeling inspired? Watch how to sew fabric flowers: