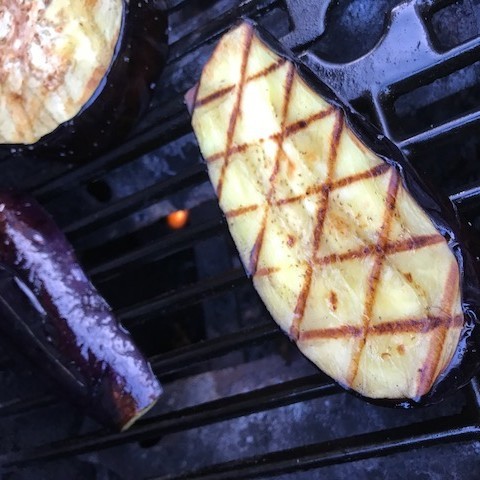 Can we all give a round of applause to properly cooked eggplant? Its silky, melt-in-your-mouth texture first won me over in the famed Sicilian dish, pasta alla Norma (sauteed eggplant with tomato sauce and ricotta salata.) Since then I've branched out to that meatless wonder, breaded eggplant cutlets. The end of summer calls for a stacked vegetable medley baked au gratin, with eggplant anchoring the operation.
Back to eggplant cookery. Remember these three simple rules, and you're on your way to perfectly tender, totally delicious eggplant: 
1. Season generously. If I have time, I'll "marinate" the eggplant in a dusting of salt 30 minutes before cooking. This helps release moisture which in turn helps cut down on the amount of oil needed for cooking.
2. Give it a good amount of oil, but don't drown the poor thing. Eggplant is like a giant sponge. It's tempting to douse it in oil, but that will only result in greasy, soggy flesh. Brushing the surface with olive oil is a great way to get the most bang for your buck on oil.
 
3. Cook until it's fork-tender and opaque. Good recipes will give you a cooking range and visual indicator, but know that there's variation in cooking temperature, pan conductivity, eggplant size, your level of distraction while cooking, etc., so check by piercing it with a fork; it should offer zero resistance. Look for a glossy, plump, not spongy interior.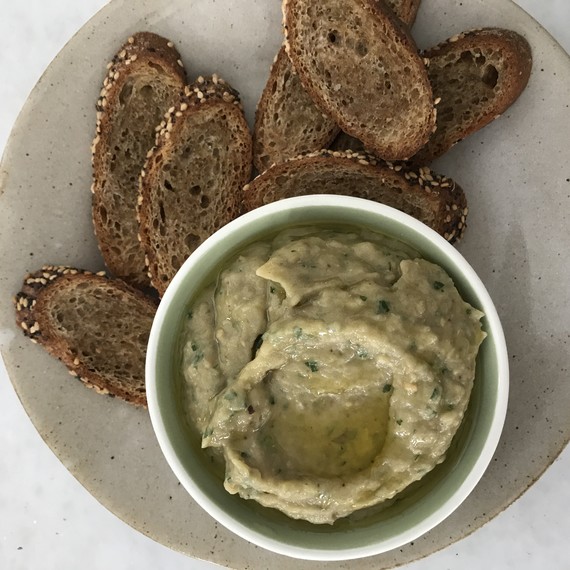 My easy eggplant spread is a great recipe for first-time eggplant users or die-hard fans. Make small slits all over halved eggplants and stuff with garlic and thyme (or rosemary or oregano). Drizzle with oil and roast until the eggplant is tender. Scoop out the flesh and pulse in a food processor with olive oil, lemon juice, and fresh herbs. Feel free to add some heat with red-pepper flakes. 

This spread is great with vegetables or crackers or tucked into omelets or folded into pasta. Plus the flavor only improves with time! Definitely add this to your eggplant arsenal. And give yourself a pat on the back. 
Get the Easy, Garlicky Eggplant Spread Recipe
Tune in every Sunday for a new Healthy Appetite video from Shira Bocar.

Watch how to make this easy, versatile eggplant spread: