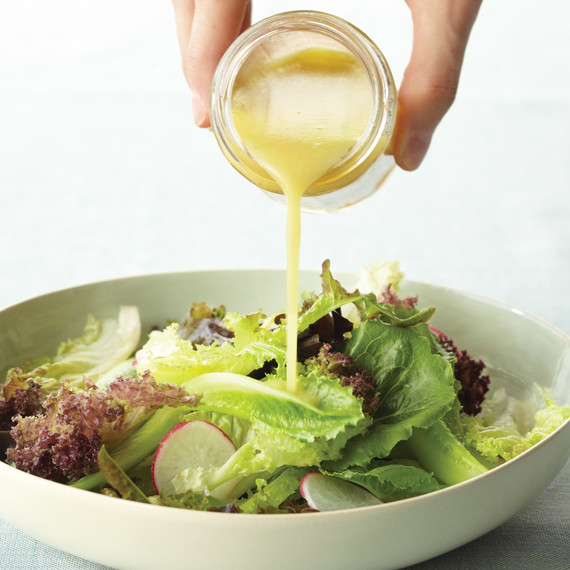 We love balsamic vinaigrette as much as the next person -- in fact, it's one of our 4 Essential Salad Dressings Everyone Should Master. But once you're ready to expand your repertoire, these easy-to-whip-together blends built on the freshest ingredients should be your next move. You can make any of them in less time than it takes to spin the salad greens. Throw the components in a jar (or any other container with a lid), and give the mix several good shakes. In less than a minute, you'll have a new dressing to drizzle.
Tinker with favorite flavors by adding nutty Pecorino to buttermilk-ranch or umami-rich anchovies to an herb vinaigrette, or try starting with an unexpected base ingredient, such as coconut milk or grated tomato. Leftovers can be refrigerated right in the jar. They'll stay fresh for three days, ready to dress up the next leafy ensemble.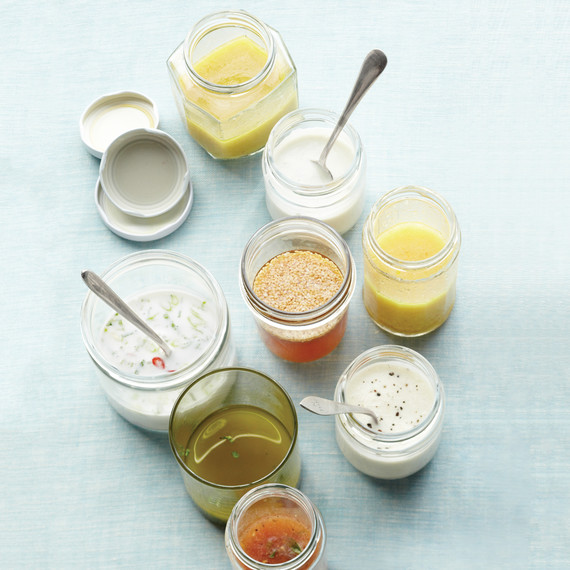 Get the recipes (from top to bottom):
1. Cider-Dijon
A double dose of apple -- fresh cider and cider vinegar -- amps up this otherwise traditional vinaigrette.
Get the Cider-Dijon Dressing Recipe
2. Low-Fat Blue Cheese
Our go-to recipe when our blue cheese craving strikes! It's made with 2-percent Greek yogurt and milk instead of the usual mayo -- less indulgent but just as satisfying.
Get the Low-Fat Blue Cheese Dressing Recipe
3. Orange-Miso
Orange zest and juice add intrigue to the classic pairing of miso and ginger in this Asian-inspired dressing.
Get the Orange-Miso Dressing Recipe
4. Soy-Citrus
Toasted sesame seeds and a touch of honey mellow out the tartness of the lime and grapefruit juices in this soy vinaigrette.
Get the Soy-Citrus Dressing Recipe
5. Spicy Coconut
Turns out creamy coconut milk is just the thing to tame fiery Thai chile. Add thinly sliced scallion and fresh mint and you've got an irresistible sweet-and-spicy dressing for any salad.
Get the Spicy Coconut Dressing Recipe
6. Herb, Lemon, and Anchovy
Fresh herbs -- parsley, mint, and chives -- may take center stage here, but anchovies are definitely the scene-stealer. Their briny funk takes the vinaigrette to the next level.
Get the Herb, Lemon, and Anchovy Dressing Recipe
7. Buttermilk-Pecorino
The tangy trio of buttermilk, yogurt, and lemon is offset by salty, savory Pecorino Romano in this riff on ranch.
Get the Buttermilk-Pecorino Dressing Recipe
8. Grated Tomato
Tomato and fresh oregano add body to this red-wine vinaigrette, while just a hint of sugar rounds out the flavors.