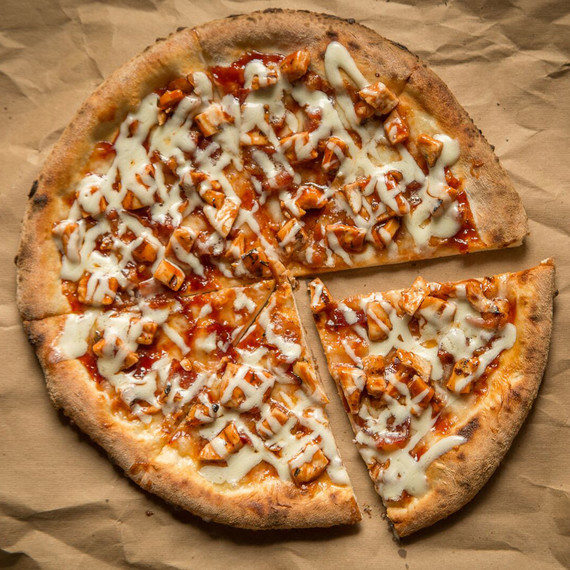 While we rarely (read: never) need to look too hard for a reason to eat pizza, Stamford, Connecticut's newest tomato pie food truck makes it especially rewarding to dig into a slice. 
Little Box Pizza is Stamford, Connecticut's newest mobile pizza kitchen and it's exactly what you want in a local pizza joint. It serves crafted-to-order, flash-fired pizzas that are made with fresh, all-natural ingredients (think hormone-free mozzarella and unbleached flour). But this on-the-go eatery is about more than really great pizza -- it's also about delivering "pizza with a purpose." 
Co-founded as a benefit corporation by social entrepreneurs (and pizza enthusiasts) Brad Nagy and Angelo Viscoso, Little Box Pizza helps dedicated, deserving individuals turn their lives around through small business by giving them the opportunity to own and run their own pizza truck.  "With Little Box, we can take these folks that have the right characteristics and teach them the basics," says Nagy, whose restaurant expertise comes from years of running several New York City restaurants with Viscoso. "We make it a simple operation that they can run themselves. In a way, we built Little Box to actually be like a small business in a little box."
(READ: This restaurant in Spain is serving up free dinner for the homeless.)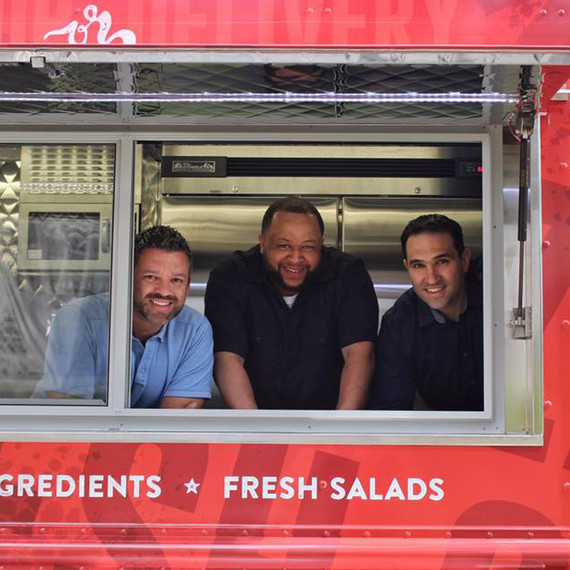 The first Little Box Pizza is owned and operated by James Gibson, who was remarkably able to turn his life around after a rocky childhood on the streets of Bridgeport and Norwalk, Connecticut. But even with a full-time job under his belt, Gibson was having trouble making ends meet for his family. Enter Little Box Pizza. "James was a referral from a friend," says Nagy. "He knew him through the church and knew that he had gone through some hard times. So I met with him and he was a really good fit. He had the skill set, the ambition, the work ethic, and the character -- he just didn't know the business."
Nagy and Viscoso started off by training Gibson at Frankie & Fanucci's Wood Oven Pizzeria, their restaurant in Westchester, New York, where he learned everything from how to make a pizza to how to hire and manage a team. From his training Gibson gained the tools he needed to run the business on his own. That's not to say that Viscoso and Nagy are completely hands-off when it comes to keeping Little Box Pizza running. They're still very much involved behind the scenes; "We provide support with things like invoice management, supply chain management, vendors, and bookkeeping so that owners and their teams can focus on the day-to-day," says Nagy. "There are so many extra details involved in running a business, from payroll to taxes, so we want to at least remove that burden." 
(COOK: These Recipes use leftover ingredients so you can cut back on food waste.)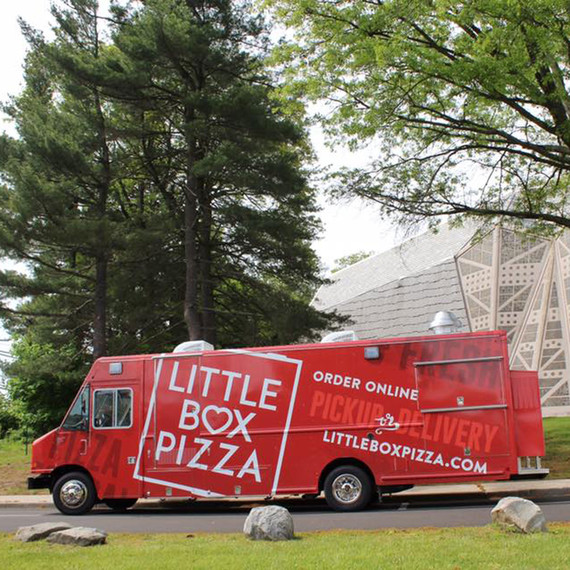 Little Box Pizza is also taking strides to tackle hunger in Connecticut through social actions like its Slice for the Hungry initiative. Customers can add $1.95 -- the cost of an extra slice -- to their order, and Little Box will match that contribution. That money goes towards preparing fresh pizzas, salads, and food to feed the hungry.
While the focus for now is to fine tune Little Box Pizza's first truck, Nagy says their goal is to have another Little Box opened within the year, and then maybe four or five next year. They'll probably be sticking to the Fairfield Market area, so you'll have to head to Bridgeport, Connecticut to try a slice of Little Box Pizza for yourself. 
If you're hungry for pizza now, watch Sarah Carey show how to make a grilled pie -- the utlimate summer pizza: