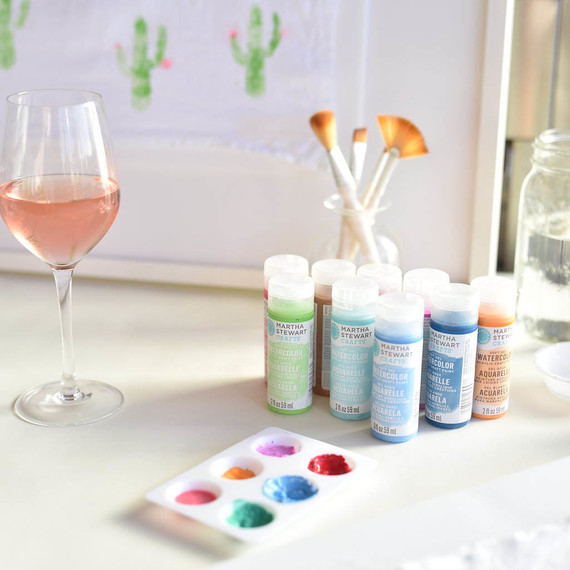 Pick up your brushes! It's time to throw your own wine and paint party using Martha's collection of craft paints and tools from Michaels plus wines from Martha Stewart Wine Co. For inspiration, see how Erica Domesek of P.S. — I Made This set up her own party in Venice, California.
Choose a Craft Project
Your guests have their own creative style and level of ability, so choose a project that allows for freedom of expression. Craft supplies like paints, stencils, and brushes in various sizes are a perfect match for a blank surface. Stretched canvas, pillowcases, tapestries, and tea towels can be purchased in large quantities, making them cost effective options. Each gives you an unlimited number of artistic possibilities and can later be used as home décor.
[TRY ONE OF OUR: Painting Crafts]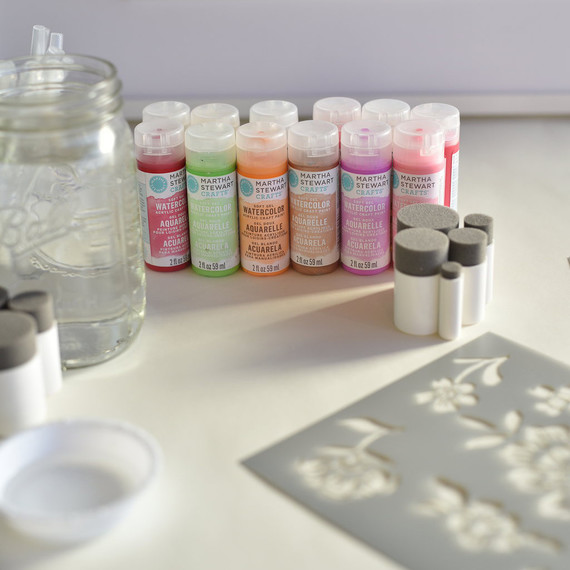 Erica chose a colorful selection of Martha's Watercolor Craft Paints and Adhesive Laser-Cut Stencils available at Michaels. Co-host Ariel Kaye of Parachute provided linen sheets, which guests later turned into unique pieces of framed wall art. The supplies were laid out across the work space and guests alternated between trendy pineapple and beachy palm frond stencils. A drying area for finished pieces was set up on the outside deck.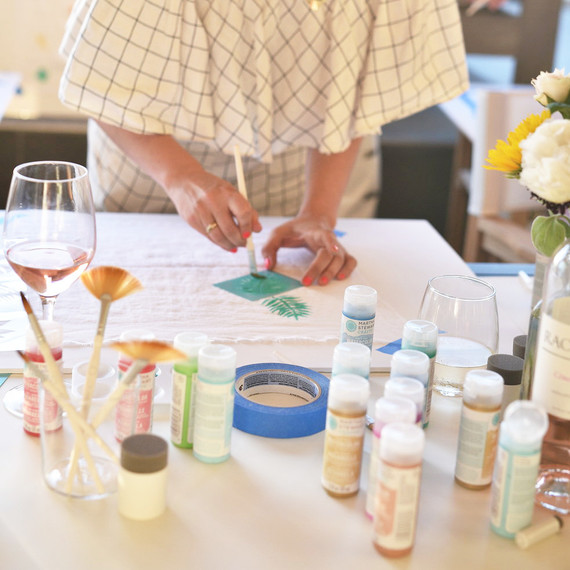 Tip: Martha's new watercolor craft paint is a great option for your party because of its versatility. Unlike traditional watercolor, this formula can be applied to a variety of surfaces.
Plan Your Menu
Light appetizers and finger foods that can be served on small plates are best. This allows your guests to walk around and mingle without being tied down to a table. Chef Michael Fiorelli of Love & Salt created the menu for Erica's party: easy-to-eat dishes included peach and prosciutto toasts, skewers with sopressata and cheese, and mini pies and puddings for dessert.
[COOK: Our Easiest Party Foods]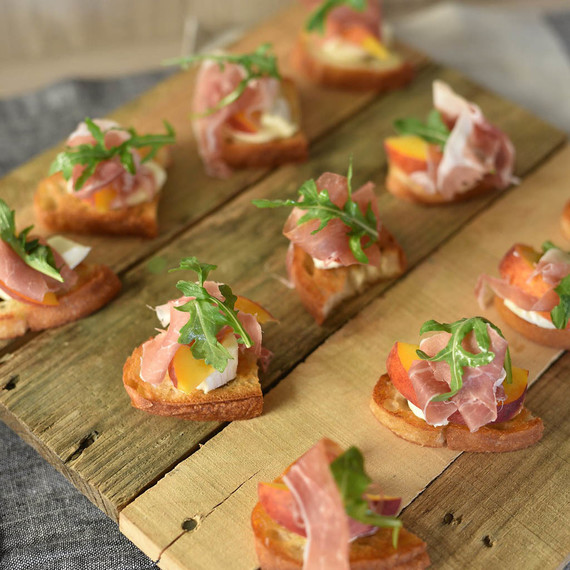 The perfect pairing with a relaxed afternoon is a selection of seasonal wines. Cater to every palette with an assortment of reds, whites, and rosés. Erica's bar cart was stocked with finds from Martha's online wine shop, Martha Stewart Wine Co. Her order of Martha-approved wines was delivered right to her door, which made party planning a breeze. She selected the Racine Côtes de Provence Rosé, Marquis de Bacalan Sauvignon Blanc, and Sierra Trails Old Vine Zinfandel.
[LEARN MORE: About Martha Stewart Wine Co.]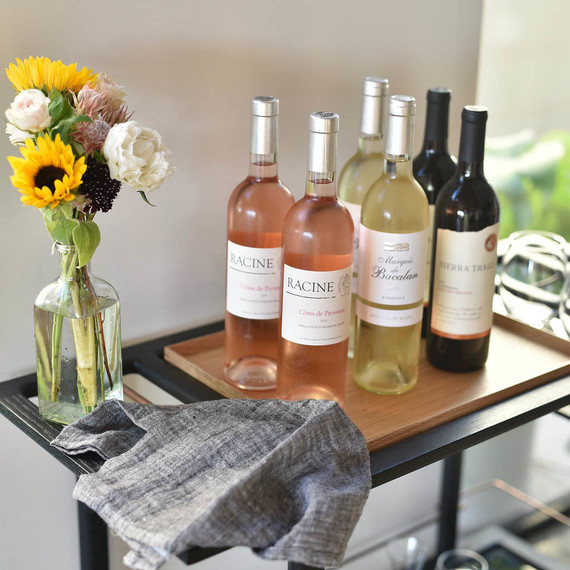 Tip: Set up your beverages and snacks as self-serve. This creates a casual atmosphere that doesn't impose a strict schedule on your food and fun.
Don't Forget the Small Details
Have a playlist ready that fits the personality of your group (Erica's preferred genre was nineties R&B). It keeps the mood of the party upbeat when conversation dies down and everyone is focused on painting.
Location is also key. If you're hosting at home, make sure you have enough space to spread out. Section the area into food station, self-serve bar, and crafting table. It'll help you avoid upended wine glasses and spilled paint. Another option is to rent space at a venue. Erica partnered with Ariel to hold their party at the chic Parachute Hotel that offered both indoor and outdoor seating.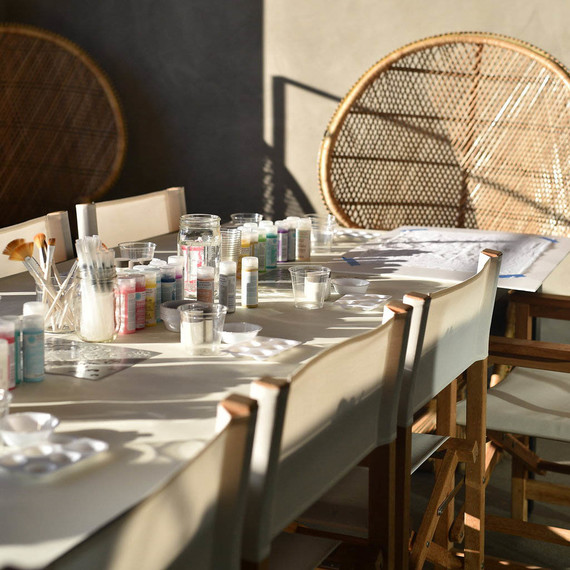 Most importantly, have fun! Take pictures, catch up with friends you haven't seen in a while, and unwind with two of our favorite things: a paint brush and a glass of wine. Tag your photos with #ImSoMartha on social media!