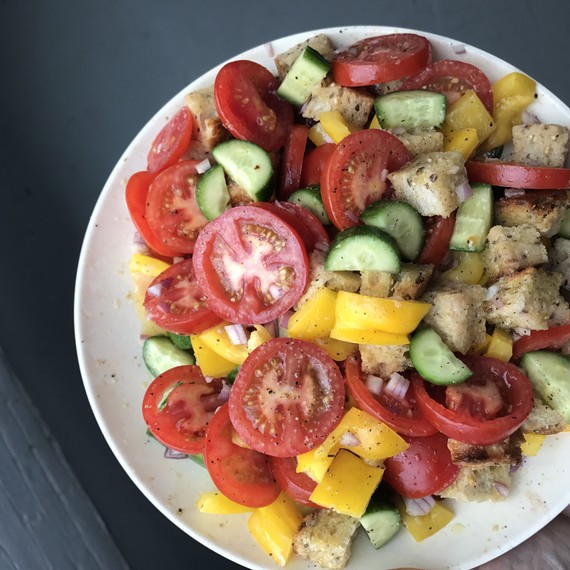 In the warm weather months, my blender works overtime pureeing ​green smoothies​, corn soup​, and ​watermelon slushies​​. To give it a much deserved break (August is vacation month after all), I chop and toss the ingredients of a classic gazpacho soup into a salad bowl and call it a day.
Shop this recipe at your local farmers' market or dive into your CSA box. This salad is just a handful of ingredients, so make sure everything is at its peak. If you see Japanese cucumbers, grab them! They're beyond refreshing. Little mini cucumbers are pretty widely available (and extras make great car snacks). This is a great dish to highlight heirloom bell peppers -- I love all the colorful varieties available in the summer. Be on the lookout for sweet onions: they really make this salad. Walla Walla onions from Washington state are my favorite (and the state's official vegetable mascot!).
Sherry vinegar provides that special kick in gazpacho, and it does the same in the vinaigrette for this salad. Seek it out along with high-quality extra-virgin olive oil. On the tomato front, I like the golf ball-sized cocktail variety. Purple-ish Cherokees are another great option -- they always remind me of the perfectly juicy tomatoes I used to sneak from my grandmother's garden.
I grow lots of herbs in large pots on my deck, so I like to add fresh basil to this salad right before serving. Chopped parsley would be at home here too. Turn this into an easy no-cook meal by opening up a can of sardines or a jar of tuna in olive oil. Salty, crunchy Marcona almonds pair perfectly with a chilled glass of Albarino, one of my favorite Spanish white wines. Or skip cocktail hour and serve this meal with a refreshing tumbler of seltzer and a twist of orange. Either way, raise a glass to the the time you didn't spend cooking in the kitchen.
Get the Gazpacho Salad with Croutons Recipe
Tune in every Sunday for a new Healthy Appetite video from Shira Bocar.

Watch how to make this colorful, crunchy salad for dinner tonight: