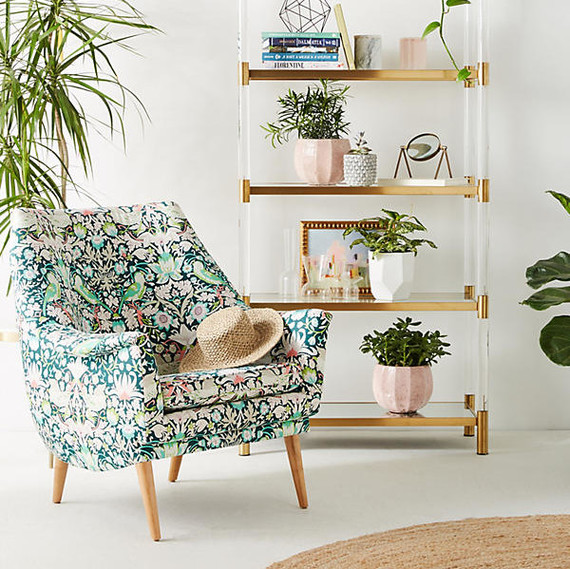 It's hard to believe that the English luxury brand, Liberty of London, has been evoking fresh visions of fanciful flower patterns for nearly 100 years. As timeless as the brand's flowerscapes remain, Liberty of London continues to inspire all kinds of projects ranging in Easter eggs to birthday party themes, handsewn items like tea towels, and now, home furnishings.
Today, sip your cup of English tea with extra enthusiasm as Liberty of London has announced their first-ever furniture collection. In collaboration with Anthropologie, Liberty for Anthropologie, it will be available for purchase in the United States.
[DON'T MISS: Your Vintage IKEA Furniture Could be Worth Thousands of Dollars]
Anthropologie introduced their new design partner on their website by saying, "A time-honored haven for those with a penchant for ornamentation, Liberty has formed a legacy rooted in its exceptionally crafted designs and its decidedly British sensibilities."
The 40-piece line ranges in price from $14 oven mitts to almost $4,000 sofas. A wide scope of accessories (Wiltshire Berry Apron to blooming fine china) will also be featured in the collaboration. Furniture will be available starting August 14, although smaller items such as dish towels, shower curtains, and tea cups are already available for purchase. In fact, 12 out of the 40 items in the collection are bigger pieces (think accent swivel chairs and refine sofas with a historical nod). Of course, each piece is covered is a classic Liberty print said to be inspired by 17th and 18th century Indian patterns. Other famous Liberty prints will be featured too.
Anthropologie's President of Home, Garden, & Europe spoke of the new partnership saying, "Like anyone who is passionate about design, I have always revered Liberty as the very epitome of classic British style, and have been continually amazed by its constant reinventions, which have seen the brand remains fresh and relevant for well over a century."
Feeling inspired? Watch how to decorate eggs with Liberty-inspired floral: