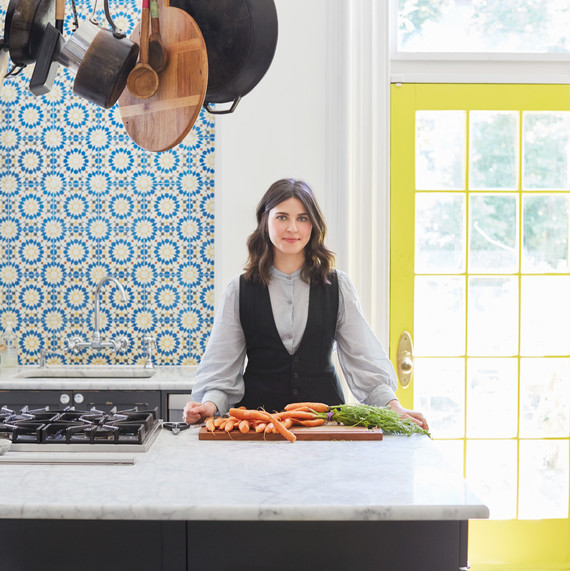 The minute you walk into Julia Sherman's Brooklyn townhouse, you instantly understand how the pops of yellow, an eclectic collection of well-traveled artwork and ceramics, and her one-of-a-kind finds (like her vintage Murphy Bed) inspired the artist-turned-chef-turned-influencer to become a creative force in the food space.
We recently visited Sherman at her home to talk about adventures abraod, her design inspirations and, of course, her favorite salad dressing.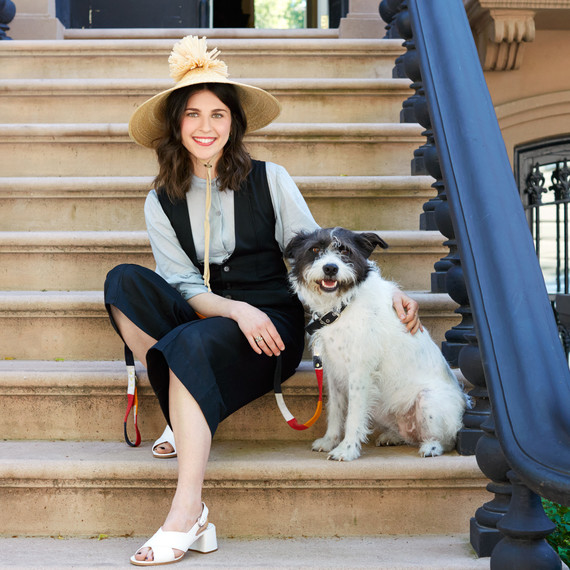 When Sherman -- whose life goal was to be an artist -- suddenly found herself without a gallery and no sure career path forward, she turned to blogging on "Salad for President." Carefully curating vegetables into delicious main courses was always her thing, even when she was a teenager. Now, with a penchant for vegetable and spice taste pairings, she has found herself in the center of her new calling. 
On Her Work Uniform
"It's not pretty," Sherman jests, "I have this jumpsuit I bought in Vietnam that I wear almost every day. Then there's also this long tunic I love that I made my husband wear to an Indian wedding because we were told to dress in traditional attire, and he had nothing with him that would work. Of course, we show up to the wedding and all the men were in suits with Nike sneakers."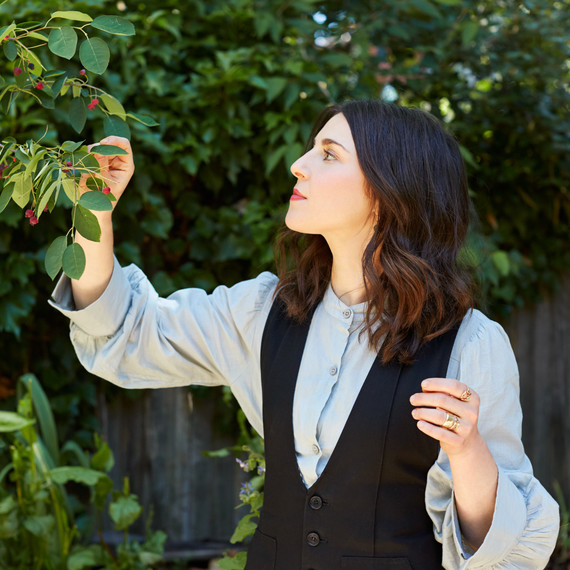 On Her Beauty Routine
"I try to have a few days a week where I don't have to see anyone, so I can let my face rest. I can also put on a face mask in the middle of the day -- I just make sure my video camera is off if I have to hop on any conference calls," Sherman discloses. As a huge fan of sunblock and moisturizer, Sherman also relies on mascara and a strong brow. "I get my eyebrows tinted -- it's so easy and inexpensive, but the payoff is huge." Her go-to products are mostly from the brand Make, noting that brand's Brow Sculpting Duo is her lifeline, but she also relies on Supergoop! SPF moisturizer, Cetaphil to clean, and Dermalogica for any breakouts. "I have this amazing pure Jasmine face oil from Mandy Aftel, an all-natural perfumer I discovered in Berkley, California. I made a salad with her and she gifted me the most incredibly scented elixir," Sherman recalls.
On Her Travels
"I always look for things to bring back that I can't find anywhere else," recommends Sherman, noting that she seeks out small boutiques, family-run shops, or artist-run markets to scoop up housewares, locally-made clothing, and spices. "I had 24 hours once in Seoul, Korea and my husband and I hit the mall at 2 a.m. to pick up beauty products and clothes we could only find there before we headed straight to the airport."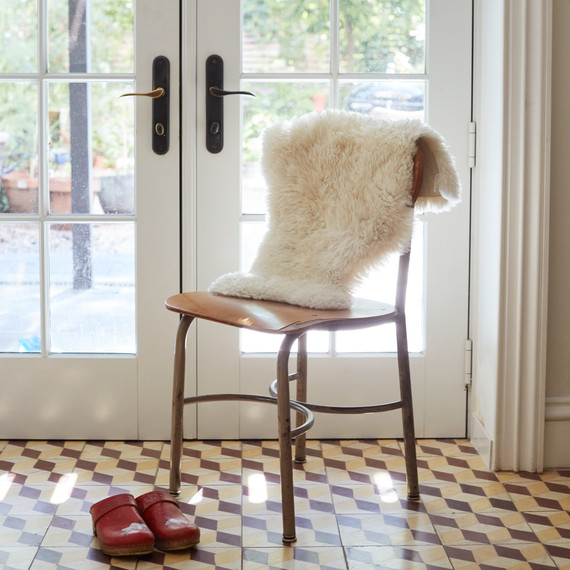 On Her Home
Sherman gut renovated her entire house. "When we first moved in, we knew it was a redo, but wanted to respect the architecture and do more of a restoration," she recollects. The first consideration was how to bring back the beauty to the moldings, fireplaces, and accents. Her first challenge was turning an empty room into a kitchen and then into a functional space, that could also be a social area as well. The original details on the main floor are still in the home, including the pocket doors. Sherman also notes that she goes about home design in a backwards way, "I designed my house around a tile," she says. "We found an abandoned warehouse in Providence, Rhode Island, that used to be home to a manufacturer of military medals. Strewn about the floor were all the discarded ones -- the colors bled, or the stripes weren't right, so my husband and I collected them in a box and had plans to put them into our bathroom one day."
Sherman's kitchen is home to beautiful ceramics throughout. "I collect a lot of housewares when I'm traveling, which is highly impractical since I have to carry them home. In Oaxaca, I visited the home of two sisters to check out their collection of antique Oaxaca pottery. They live in the red-light district, which was interesting because I showed up during the day and left at night, which was a totally different scene -- all in the name of ceramics," laughs Sherman.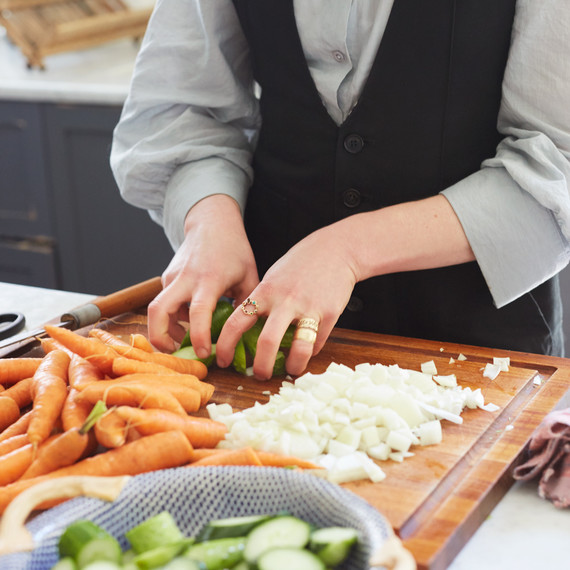 When asked about her basic day-to-day dishes, she buys them all from Hearth, "They're incredibly practical and beautiful -- they're basically indestructible," notes Sherman, "I can use them when throwing a dinner party or when I'm eating cereal. Although, I'm a cereal monster, so I don't keep it in the house. If there's a box of cereal within two miles of me, I'll devour it."
"I have to wipe things down often since I'm constantly making a mess. I'm a white vinegar and water girl when it comes to cleaning, but I am addicted to the products from The Common Good. They smell so good," recommends Sherman.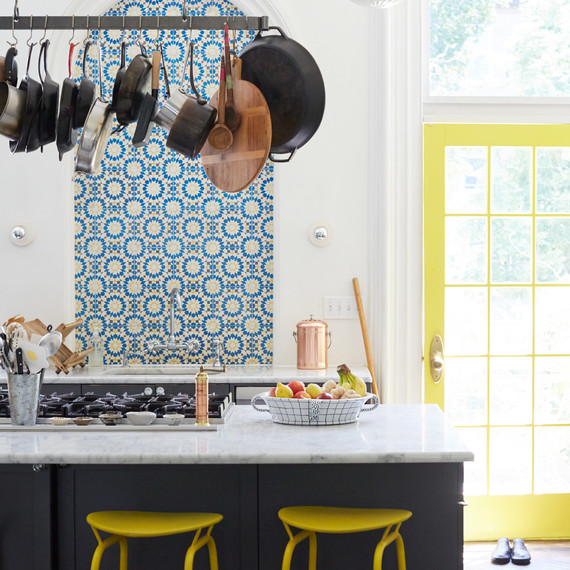 More Ways to Get to Know Her
Morning Drink: Coffee. So much coffee.
Go-to Breakfast: Chicken soup, an egg, and some vegetables.
Afternoon pick-me-up: More coffee.
Favorite Cooking Tool: A really inexpensive spatula. The less expensive the better -- they work the best. I found my favorite one in a market in Peru for about fifty cents. You really need your spatula to be your primitive tool.
Go-To Comfort Food: I love a really good dates with tahini and salt.
Favorite Drink of Choice: A good spritz and natural orange wines.
Favorite Salad Dressing: Definitely a Miso Kimchi. It takes like Doritos. Seriously. But everything in it is really healthy. It includes white miso, kimchi, a neutral oil, like a grapeseed or sesame oil, and a little water.  
See more of what inspires Sherman below: