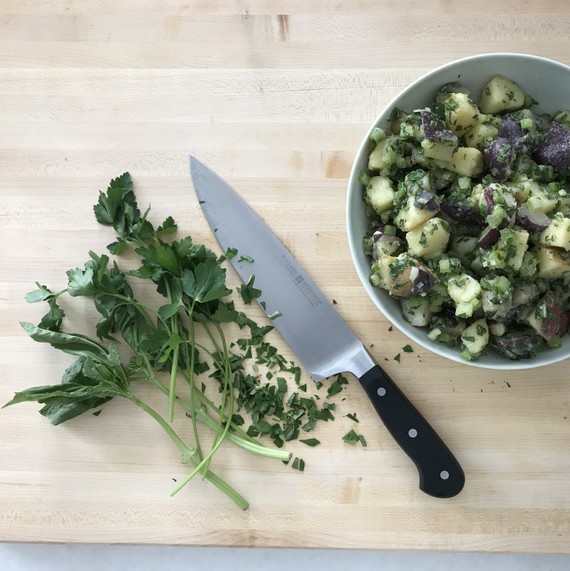 It's rare to plan an entire menu around a side dish, but when the weather warms up, this herbed celery-potato salad is the star of the show for me. Every single bite is packed with chopped herbs, scallions, apple-cider vinegar, and olive oil. Modeled after German-style potato salad, it forgoes mayonnaise for a simple vinaigrette and is a creamy, crunchy, tangy dream come true.

A few things to keep in mind for a winning potato salad:
1. Start with waxy potatoes like Yukon Gold, Red Bliss, or the ever adorable Peewee variety that is cropping up at farmers' markets. These high-moisture, low-starch potatoes keep their shape and have a luscious, creamy texture. 

2. Set a timer. Like pasta cooking times on the back of the box, add a cushion of 1 to 2 minutes in both directions. To check for doneness, I like to use a fork. Stab the largest looking pieces (ideally the potatoes are cut in a similar size), and if it slips off the tines of a fork easily, you're good to go. Paring knives can yield a false positive, leaving you with al dente potato salad. 

3. Let's talk about temperature. It's important to toss the potatoes with the apple-cider vinegar and olive oil while they're warm. As they cool down, the potatoes soak up all the flavor of the vinaigrette. But don't stir in the herbs and celery while piping hot. Let the potatoes mellow out before stirring in the herbs, scallions, and celery -- this way you preserve the fresh crunch. 

I like to serve this potato salad room temperature or chilled. It's great with grilled fish, burgers, corn on the cob, or a fried egg, and it makes a dynamite lunch salad with flaked smoked trout and tender greens. No matter what the occasion, this potato salad is ready for its close-up. 
Get the Herbed Celery-Potato Salad Recipe
Tune in every Sunday for a new Healthy Appetite video from Shira Bocar.
Watch how to make this fresh, zingy potato salad for your next cookout or potluck: