Problem: A messy surface with a lack of storage space.
Solution: The new Martha Stewart Wall Manager® System at Staples. This organization tool takes the focus from the desktop to the wall by utilizing space that is often overlooked.
Using horizontal rail sets in three sizes – small, medium, and large – the Wall Manager® System allows you to hang writing panels, file holders, shelves, and more in one interconnected unit.
Keep reading for a how-to guide to get the most out of your Wall Manager® System. There are even a few organization tips along the way!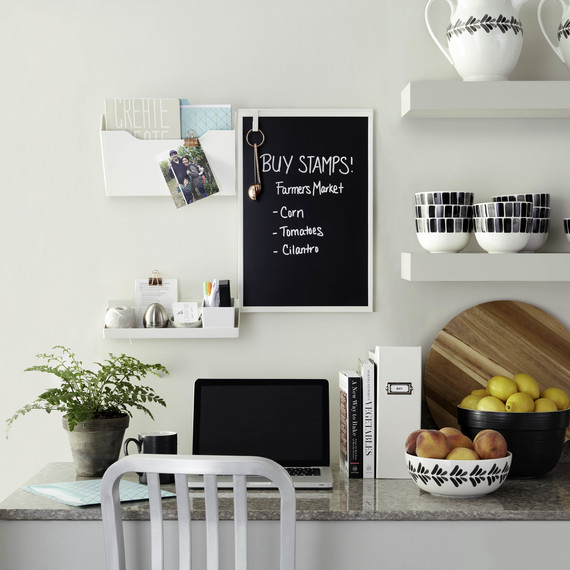 Step 1: Define Your Space
The first consideration is how much wall space you have to work with. Does your home have a dedicated office, or are you looking to better utilize the end of the kitchen countertop? The Wall Manager® System can be built with three sizes of rails to fit your space. Make sure you'll have enough clearance on both sides to slide accessories, such as reversible chalkboard-corkboard panels, onto the rails and space underneath the bottom rail to mount accessories, like a pencil cup, that hang lower.
Tip: All accessories are designed to a width that fits the small rail set. The medium rail set is double the width of the small, and the large rail set is triple the width.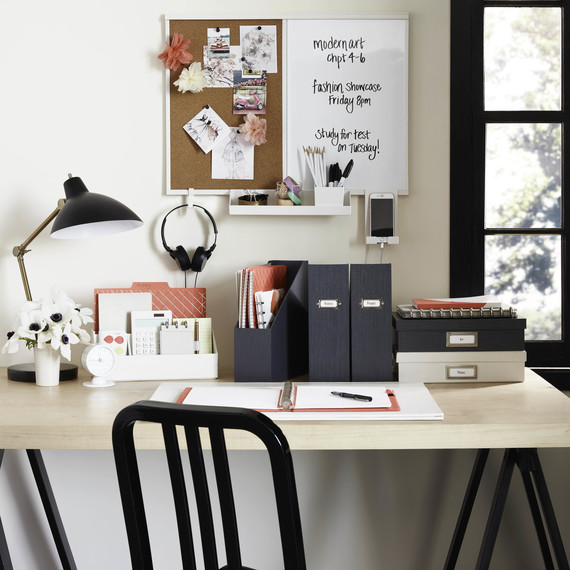 Step 2: Identify Your Needs
Next, think about what your needs are and how this organizer can help. Will it be mounted above your dorm room desk to keep track of class assignments, in the kitchen to schedule family activities and sort mail, or in the home office to file presentations and meeting notes? Tailor the accessories to your organization goal. The hanging file sorter can hold papers, folders, and mail, while the panels are reversible—from corkboard to dry erase and corkboard to chalkboard—to write and pin notes.
Tip: If you have the space, consider installing the medium or large rails. This will allow you to add new accessories to the Wall Manager® System as your needs change.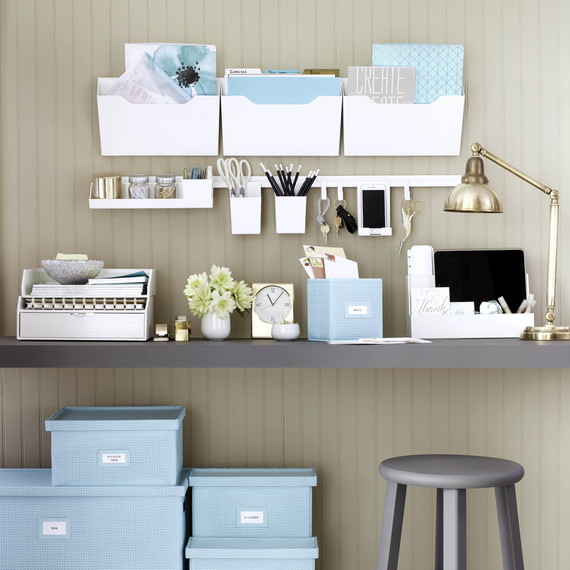 Step 3: Fill Your Cart
Now it's decision time: choose your rail size and accessories to create a cohesive organization system. You won't lose your phone under a pile of papers with the hanging smart phone holder. The platform has an opening specially designed to fit a charging cable, plus it can hold a tablet with up to a 7-inch screen. And for stationery lovers, the hanging shelf has compartments for sticky notes, paper clips, and other small office supplies.
Tip: Martha Stewart Dry Erase Markers and Liquid Chalk Markers can be used on the dry erase and chalkboard panels.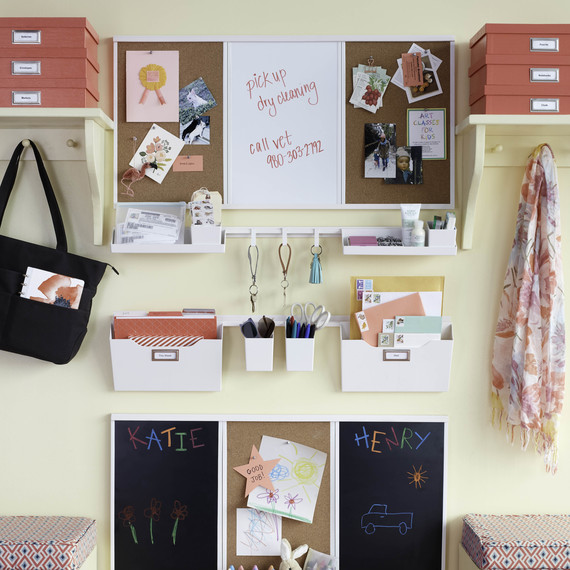 Step 4: Assemble and Organize
Hanging the Wall Manager® System is made easy with step-by-step instructions included in the rail set packaging. An installation template with markings for drill holes can be placed directly on the wall to guide you in positioning and mounting the rails. Even better, wall anchors and screws are also provided. Once the rails are secured in place, slide on your accessories to create a clutter-free zone.
Tip: It's best to hang the system at eye level; that way you can easily write a grocery list on the chalkboard and grab outgoing mail from the file folders.