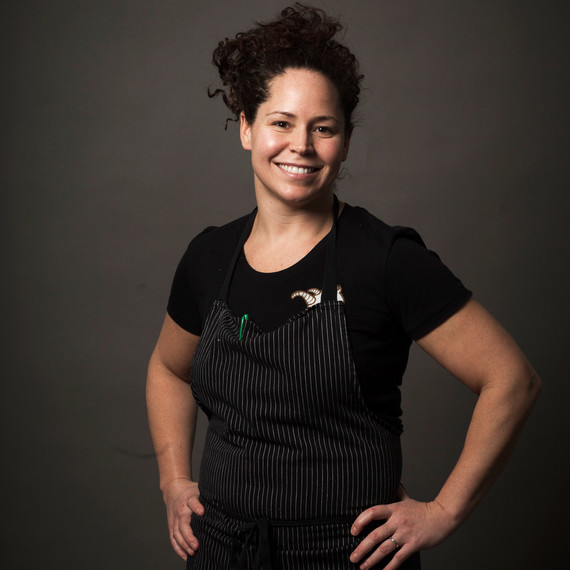 Stephanie Izard has racked up numerous accolades in the past decade: she won one of the early seasons of Bravo's "Top Chef" (and was the first woman to do so); she was named Best Chef Great Lakes at the James Beard awards in 2013; and earlier this year, she was minted as an Iron Chef on Food Network's "Iron Chef Gauntlet." But her most important role to date? Being a mentor in the kitchen.
As the executive chef and owner of three white-hot restaurants in Chicago -- Girl & the Goat, Little Goat Diner, and Duck Duck Goat -- with a total of 315 employees, she strives to help more women rise in the industry. Izard says, "Our kitchens are almost 50/50 men and women. In terms of mentoring, there are women who ask to sit down with me and talk about their career path, and there are others who see my day-to-day, at a tasting holding a baby for instance, and I tell them if this is what you want, you can do it, you just have to get creative about it."
The latest form this commitment has taken is a new partnership with Stacy's Pita Chips, which just launched a female culinary leadership program called Stacy's Rise Project. The multi-year initiative will begin by awarding four $10,000 scholarships to women for the culinary entrepreneurship program at the International Culinary Center in New York City. Scholarship recipients will also be mentored by Izard. She says, "It'll start with phone conversations. And anybody who's up for coming into our restaurants, I always have an open door for that. I think I have as much to learn from these women as I can share. I can't wait to see where they are two years down the road. I'm hoping that it turns into me being on the sidelines and watching some success stories."
(READ ABOUT: The James Beard Foundation's Women in Culinary Leadership Mentorship Program)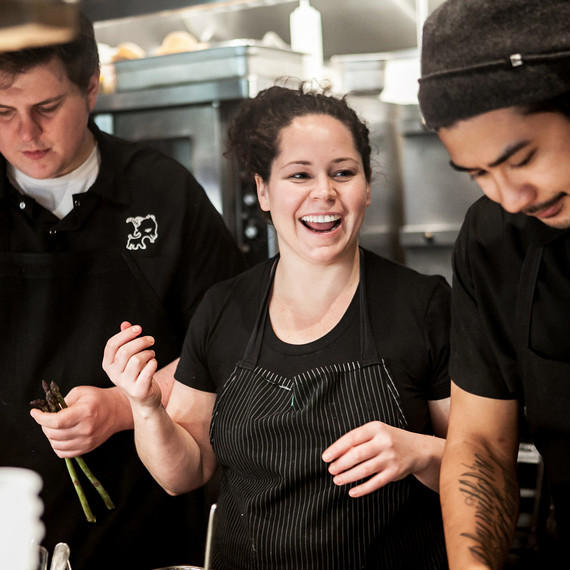 The numbers that female chefs are up against are less than encouraging. A study by Bloomberg News in 2014 found that it was less likely for a woman to be hired as a head chef than as a C.E.O. According to the U.S. Labor Department, women currently occupy less than a quarter of culinary leadership positions. Izard knows firsthand how these stats translate to the kitchen. Before she had her own restaurant, she worked her way up in kitchens where she was often the only woman. Izard says, "The first restaurant I worked at was such a guys' club, and the men would say that the chef liked me because I was a girl. And I would tell them 'No, it's because I work harder than you.' I just knew that if I went in and did my best, then I could leave feeling good about myself, and the chef appreciated that."
In addition to proving herself in a male-dominated environment, Izard learned what kind of boss she didn't want to be: "I don't understand why you can't make really good food and have fun at the same time. I used to work for a chef who would yell at me 'Who pays you to sabotage my restaurant?' He would throw things and swear, and it didn't make any of us want to work harder for him. If you're a more encouraging boss and let people take pride in what they're doing, that works much better." If her burgeoning restaurant empire (Izard has an eye to expand to other cities) is any indication, her leadership style is clearly effective -- and just one of the many things she can speak to with her new mentees!
Watch Stephanie cook artichoke fideos with Martha: