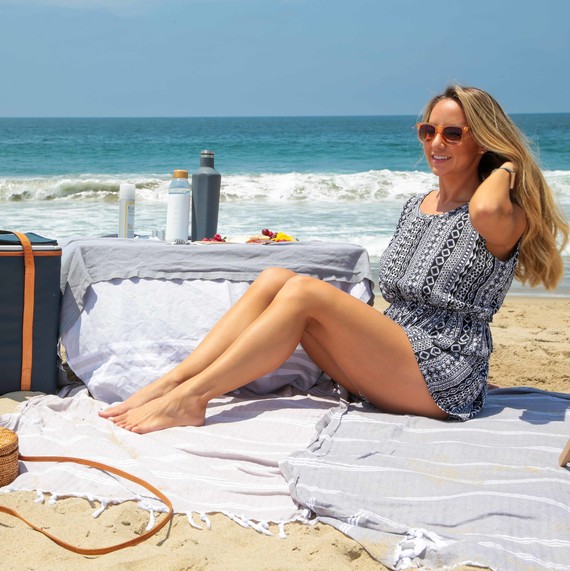 I envy people who can go to the beach with nothing more than a towel. I am not one of those people. Friends of mine joke that if they are looking for me on the beach, they just look for the spot with the hardwood floors. Joking aside, little luxuries while enjoying the surf and sand can really change your day. I took my friend and Instagram yoga sensation Action Jaqueline to the beach and set us up for a day of relaxing. (Okay, she made me do some beach yoga too.)
The first thing to consider is towels: I set up a blanket underneath and added these beautiful Turkish towels I picked up online from Loomed. They are great because they absorb water and dry quickly, not to mention, you can use them as a cover-up or even a tablecloth as I did here.
Speaking of tables, this table actually rolls up and fits in a small bag. I bought it at Crate & Barrel and it has lasted through seven summers already! You just uncool it, screw in the legs and voila your drinks don't get sandy and snacks are safely out of the way (bonus points for it looking fab!) The next essential is a cooler, once you are all set up you don't want to have to go out to grab snacks or ice. This Jon Hart cooler was a gift from my sister and we use it all the time. They create these custom covers with canvas and leather to personalize and dress up a basic cooler. (Psst, my tip: I use a zip-top bag full of ice instead of dumping it inside — this helps to prevent leaks and keeps the ice fresh for a beverage.)
While perusing the endless aisles of Unique LA, an amazing shopping event featuring small independent designers, I came across these "sun pillows" made by Ana Dahlman from Sunshine Dreaming. I was immediately hooked because it made laying on the sand more comfortable and also kept my head cooler which leaves more time to relax. Not to mention it went with the color palette. (I am a sucker for a theme, anyone else?)
[TRY THIS: A Portable Game Board for the Beach]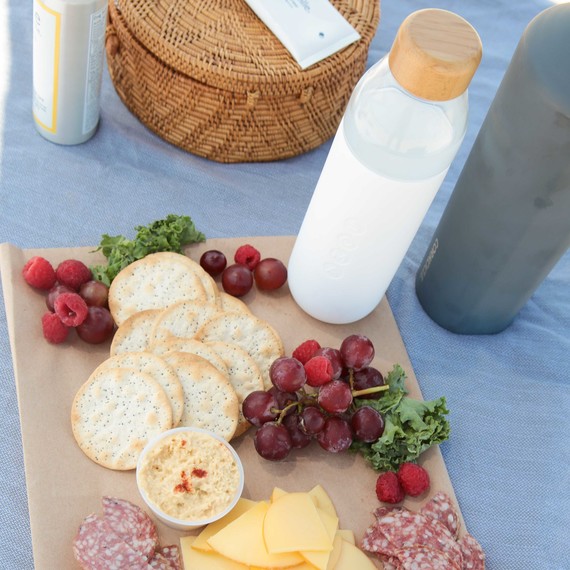 When you are on the beach, it is inevitable that you will get hungry, trade the typical chips for a cheese board. I actually used some butcher paper from a beachside shop as a "board" to lighten the load, it still looks good but you can recycle it after your beach time wraps up. Your friends will thank you and also probably take a flat lay photo (#brilliant).
[PACK THESE: The Best Foods for Your Beach Bag]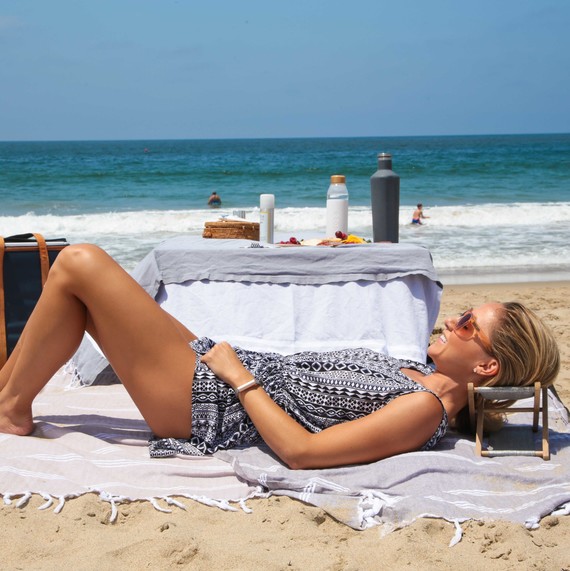 Last but not least, you want to maintain your summer glow with a quality sunscreen. A new favorite of mine is this Kate Sommerville SPF 50 face sunscreen that reduces shine so you can be camera ready while taking that sunset selfie. So I may not be able to go to the beach with just a towel, but after you try a set-up like this, could you either?
Feeling inspired? Watch how to make your own beach cover-up: