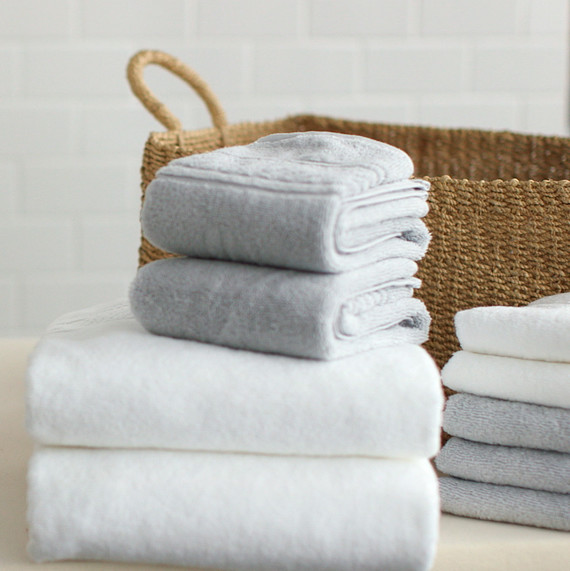 Towel care seems simple enough. Just toss them in the wash and you're good, right? There's a bit more to it than that. The Garnet Hill Home Team fills us in on how to keep these daily essentials fluffy and absorbent.
Wash before you use
The first step in maximizing your towels efficiency starts when you bring them home. Wash your towels before you use them to open up the fibers. "If the fibers aren't open they won't be as absorbent," says the team from Garnet Hill. New towels are often coated in fabric softeners so they're nice and plush for shoppers. But these softeners prevent towels from soaking up water. To get rid of that buildup, add half a cup of white vinegar to the rinse cycle during the initial wash.
Pro tip:  Skip fabric softeners and dryer sheets on bath towels in general.
The best way to wash
How frequently you wash your towels is a personal preference. The Home Team at Garnet Hill suggest every 3-4 uses. Most towels require warm water in a regular cycle, but read the tag to be sure. "If the label stresses that you should separate your dark colors from your white colors, you better do that," say the experts at Garnet Hill. "And each towel could differ depending on the fibers." Speaking of those fibers, to avoid getting lint all over your clothes, wash towels separately from clothing.
The best way to dry
Remove your towels from the washing machine, give them a shake and tumble dry on medium heat. Once dry, remove immediately (inhale that fresh scent) and fold. To avoid a musty smell, make sure your towels are completely dry before folding and storing away. And if you're considering line drying your towels, be prepared for an exfoliation -- line drying makes the fibers very stiff and scratchy.
Pro tip: To avoid wrinkly towels, pull them out of the dryer as soon as they are 100 percent dry and fold.
Pro tip: The tri-fold allows you to have more storage space in your linen closet.
Keep those freshly washed towels feeling fresh! Here's how to properly fold them for storage: