Maybe you're at the market and overwhelmed by all the corn, tomatoes, and squash. Maybe you wish you were there, but instead you're at your desk and thinking about what to make for dinner. Need some ideas? Here's our weekly list of suggestions: Dinner recipes that take less than an hour of mostly hands-off time or cook quicker than that but may require constant stirring. Yes, there will be pasta, and, yes, it will be delicious. Visit us every week for dinnertime inspiration.
Monday: Eggplant-Mozzarella Melt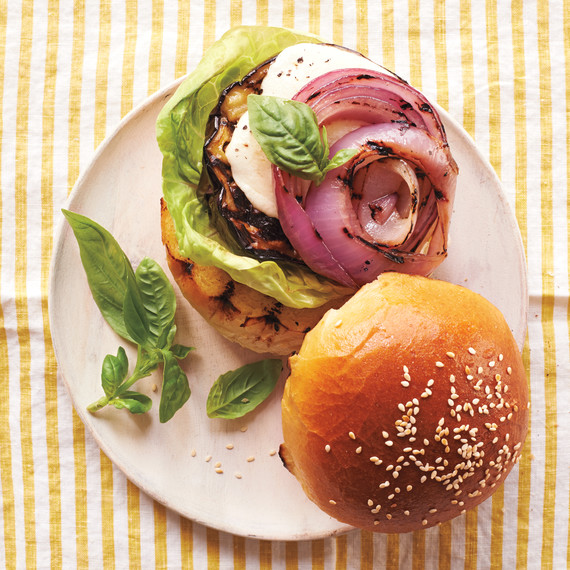 Make a grilled sandwich that isn't a burger and isn't pretending to be. It is one serious meatless dinner: Thick slices of eggplant are grilled, topped with mozzarella, and served in brioche rolls. Yes, brioche makes everything better, and grilling the brioche elevates this already irresistible combo. 
Get the Eggplant-Mozzarella Melt Recipe
TUESDAY: Pasta with Peppers, Squash, and Tomatoes
It's golden dinner tonight. When yellow bell peppers and yellow squash get together with yellow cherry tomatoes, the meal takes on a gilded hue. Italian sausage adds porky flavor to this bonanza of sweet summer produce.
Get the Pasta with Peppers, Squash, and Tomatoes Recipe
WEDNESDAY: Trout, Tomatoes, and Basil in Parchment
 
THURSDAY: Chicken, Artichoke, and Orzo Lettuce Cups
Our orzo-chicken salad comes together in 25 minutes. It's eaten in crisp romaine lettuce cups -- no need for utensils. Eat dinner outside tonight. Yes, go picnic in the yard!
Get the Chicken, Artichoke, and Orzo Lettuce Cups Recipe
The Greeks make souvlaki by marinating chunks of meat in olive oil, lemon, garlic, and oregano. We use pork shoulder because it's succulent. And we serve our skewers with lemon, yogurt, and tahini dipping sauce. Serve with rice or pita -- and salad.
Get the Pork Souvlaki Recipe
SATURDAY: Roasted Red-Pepper Salad with Anchovy White Beans
Sweet roasted red peppers take center stage in this robust salad. This is a delicious entry-level anchovy recipe -- the little fish are mashed up in an garlicky dressing.
(Today is also the day to get ahead and prep for tomorrow's meal.)
Get the Roasted Red-Pepper Salad with Anchovy White Beans Recipe
SUNDAY: A Cool and Easy Vietnamese Feast
Entertaining is easier when you can prep ahead and have more time to spend with guests. This menu allows for plenty of make-ahead, and some make-it-yourself, as guests compose their own banh mi sandwiches. It's also a refreshing excursion into the wonderfully fresh flavor combinations that define Vietnamese food.
Get the Easy Vietnamese Menu Recipes