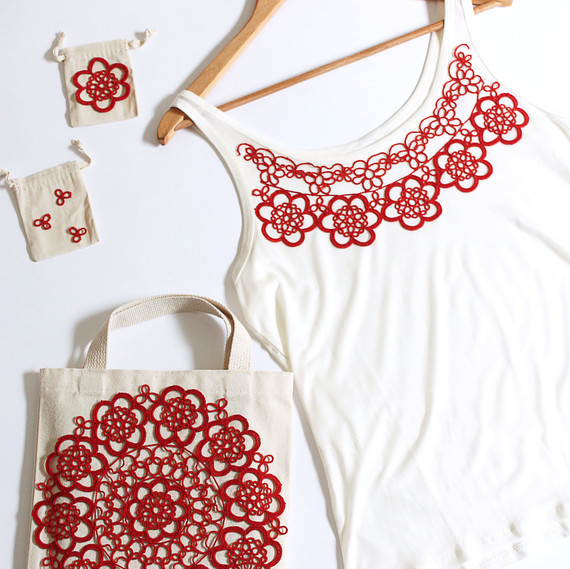 Fabric doilies are something found laying around in many households. But to many of us, doilies can feel outdated and something that should be tossed into a box destined for charity. However, before ridding your house of these assumedly throwaway scraps, consider repurposing them with our simple two-step process.
First, inject new color into doilies with fabric dye. Here, we dyed our doily a vivid red color, which was a complete departure from the doily's original ivory color.
Secondly, get your fabric scissors out! By cutting up our doily into various different parts, we were able to create unique and easy appliques for shirts, tote bags and even small jewellry bags — all from one doily!
You don't even have to limit yourself to one color. If you cut your doily before dyeing, you can immerse the various parts in different dye baths to result in multiple colors; this is useful if you want to create one project with different colored parts or a few appliqué projects each in its own separate color.
Round or rectangular doilies both work just fine for creating appliqués, however you will have different uses for shapes cut out from a round doily versus a rectangular doily. For example, pieces cut from a rectangular doily are great for making appliqué pockets on a shirt or tunic; pieces cut from a round doily are great for embellishing a scoop neck of a shirt or dress.
The possibilies are endless. However, to get your creativity going, we've put together three inspirational projects. Here, we used a round doily, dyed it in one color and cut it into various parts for each of our three projects. For all of these projects, we used a sprayable fusible web for adhering the doily to the fabric. Then, we ironed over the projects with a hot iron to make the adhesive bond permanent.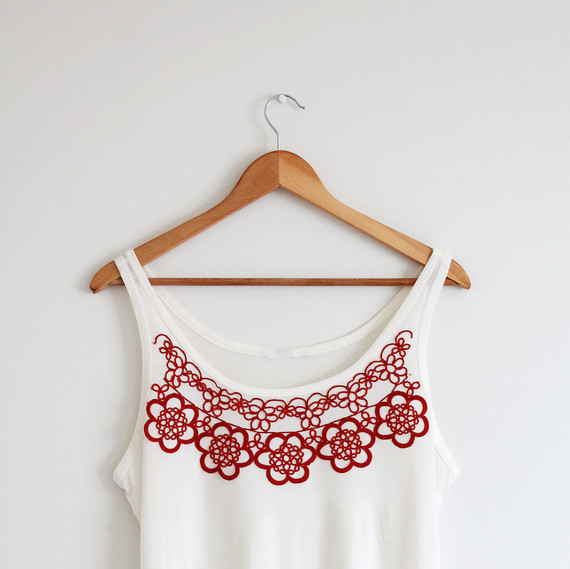 1. A Tank Top
A basic summer tank looks a whole lot fancier when a round doily is cut and affixed to the neckline!
[TRY THIS: Crochet Appliqué Tank Top]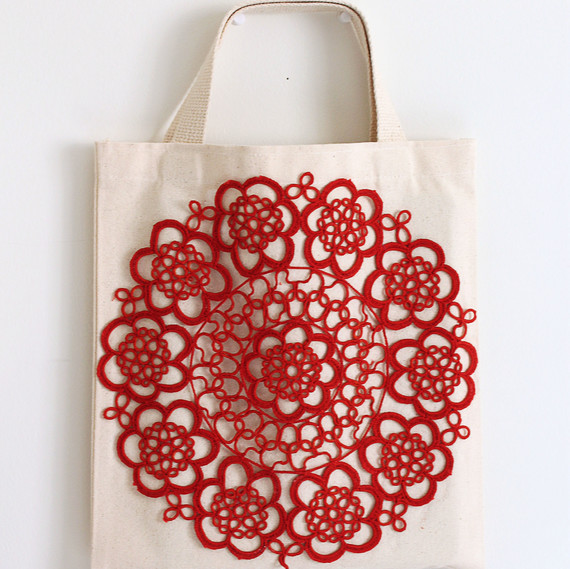 2. A Tote Bag
When we cut the outer rings of the doily for the tank top, we were left with a gorgeous medallion in the middle. The whole medallion was adhered to a cotton tote for an eye-catching carryall.
[TRY THIS: Crochet Appliqué Tote Bag]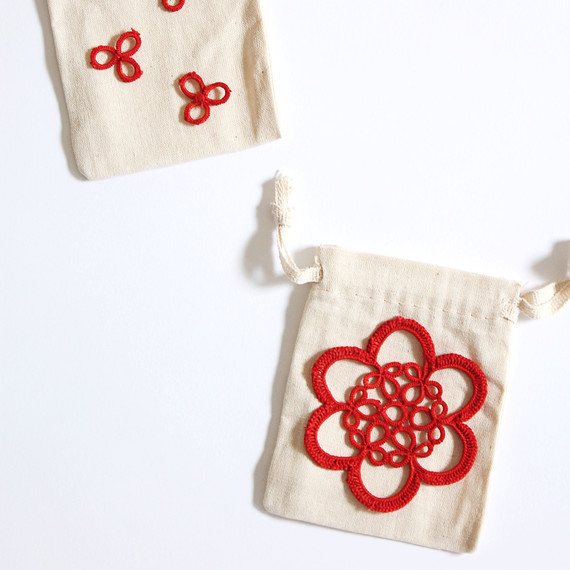 3. Gift Bags
When cutting a doily, every little bit can be appliquéd onto a project. Here, we used small motifs from the doily and applied them onto small cotton bags that are great for gifting jewelry.
[TRY THIS: Crochet Appliqué Gift Bags]
From clothes to accessories to linens and home goods, have fun experimenting with the many ways you can embellish doilies for a pretty crocheted look with half the effort of crochet itself!
Looking for more ideas? Watch how to similarly embellish a shirt with clip-art: