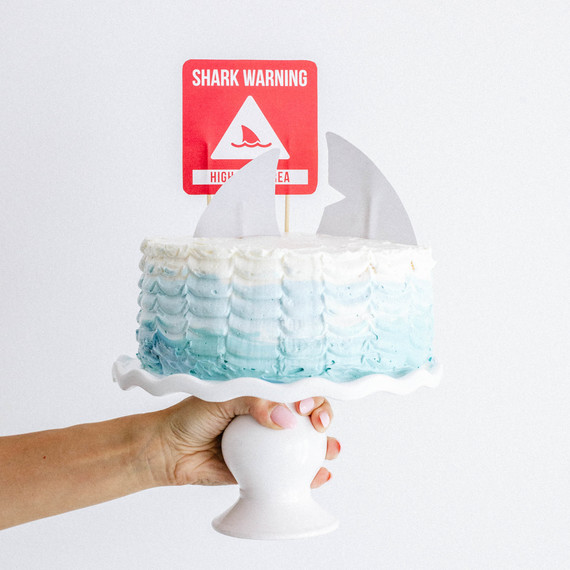 You can't celebrate Shark Week in style without a shark-infested ocean cake! This yummy dessert has a delicious raspberry filling (because everyone knows that sharks are attracted to blood in the water) and blue ombre frosting inspired by undulating ocean waves, not to mention printable shark fin and "warning sign" toppers for anyone who dares to take a slice!
[GET MORE IDEAS: It's Shark Week! Let's Have a "Jawesome" Pool Party]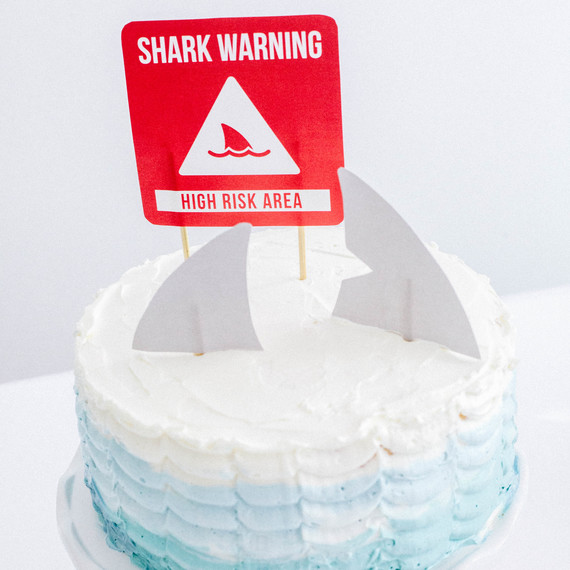 Materials
Raspberry-Filled Cake (unfrosted)
Large piping bag
Frosting tip #789 (yields approximately two inch strip of frosting with a smooth finish)
Blue or teal gel food coloring
Icing comb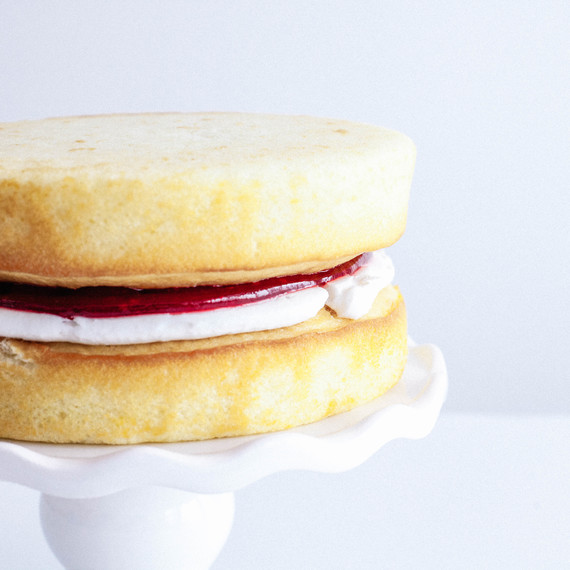 Step 1:
Prepare a raspberry-filled cake according to the recipe linked above (but do not frost).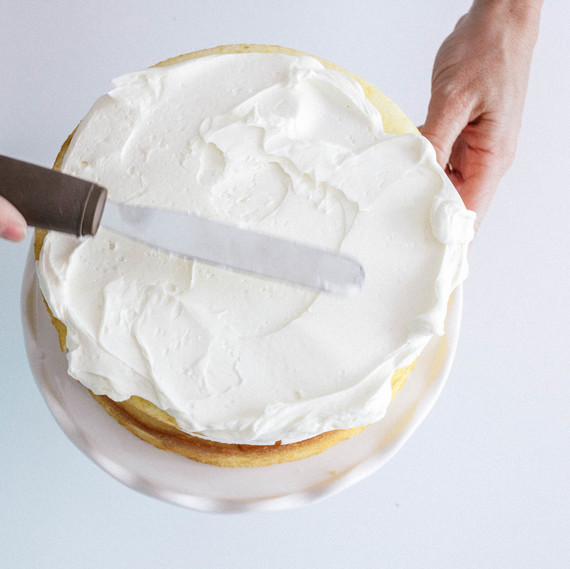 Step 2:
Fill piping bag with Buttercream Frosting and apply a crumb coat. This is thin layer of frosting will lock in any stray cake crumbs and hold raspberry filling to into place.
Step 3:
Place prepared cake on a turntable and frost top cake, smoothing it with a cake spatula. If you don't have a cake turntable, a regular plate or cake pedestal will do, but you will have to turn it by hand, or walk around cake to ensure even frosting distribution.
Step 4:
Position the tip opening against cake, and gently squeeze piping bag with one hand while turning cake with the other hand. Depending on size of cake, you can make one or two rows of white. (Ours was 8 inches, so we made two rows of frosting.)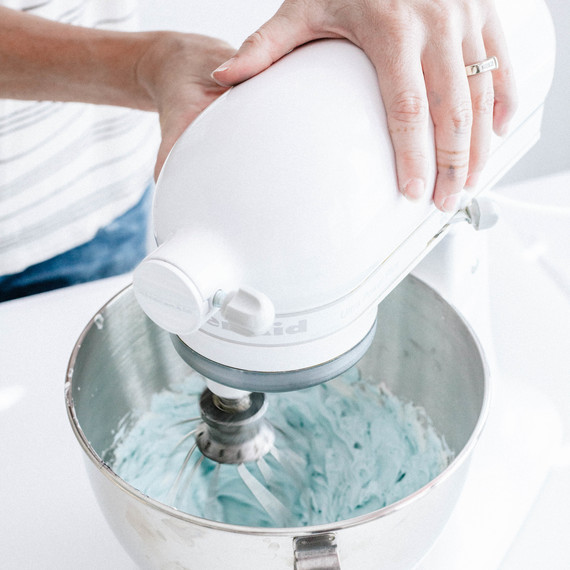 Step 5:
Add a few drops of blue or teal gel color to remaining frosting to create a pale blue color.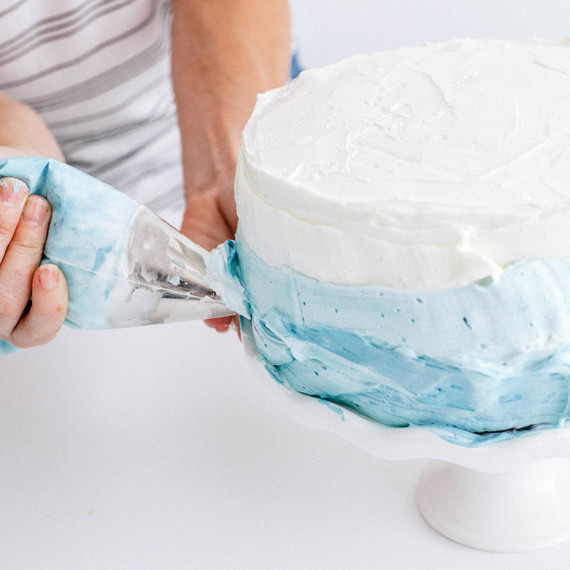 Step 6:
Add a small amount of blue frosting to piping bag on top of remaining white buttercream already in bag. Pipe another row or two using this color.
Step 7:
Add a few more drops of color to remaining frosting to create the next darker shade of blue or teal. Repeat frosting steps until sides of cake are covered.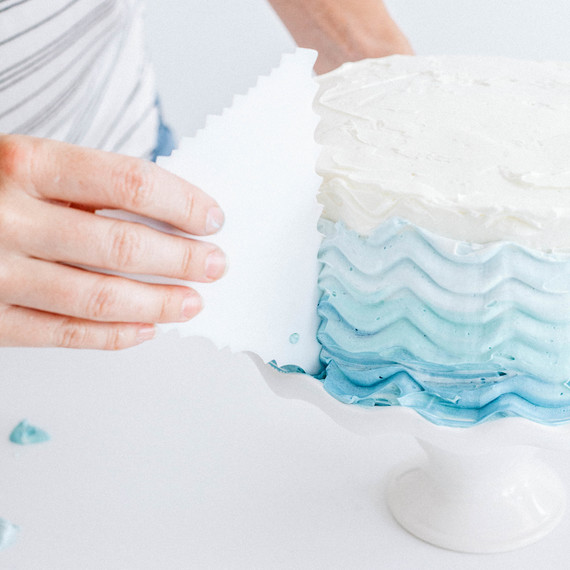 Step 8:
Gently press the wavy edge of an icing comb (I used this one), into the side of cake and lift up and down as you rotate cake to achieve preferred width of "waves." Keep icing comb perfectly straight as you move it up and down while you turn or you'll end up with an oddly-shaped frosted cake.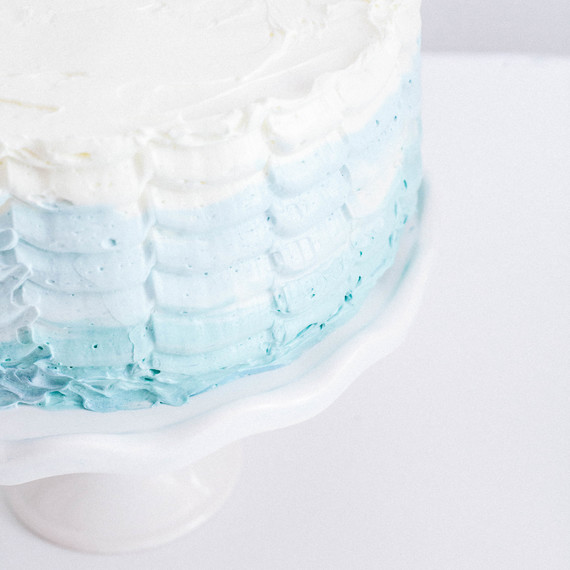 Step 9:
Print out the Shark Week cake toppers, attach to small wooden dowels, and insert them into the top of the cake. Serve!
Looking for more help? Watch how to prepare the perfect cake for any celebration: