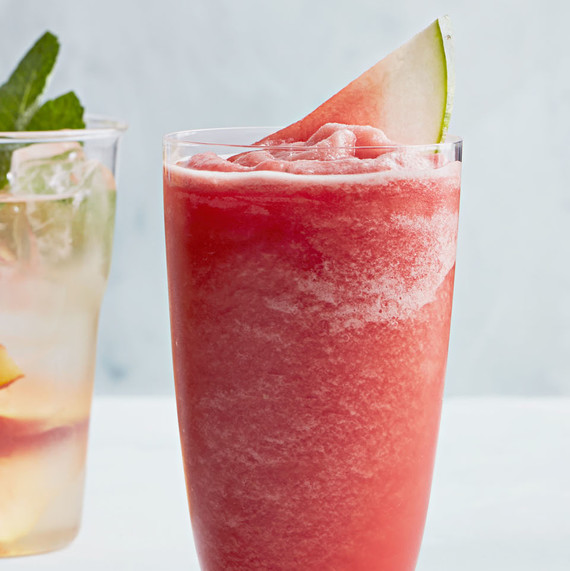 I love slushies. I love rosé. When frosé hit the scene, I was captivated. But I've found an even more refreshing frozen drink, and it doesn't contain a drop of booze. Introducing . . . White-Tea Melonade! Frozen watermelon, white tea, a touch of sugar, and a blender. Watermelon is my go-to for staying hydrated. (After all, it's 92 percent water.) Plus it boasts an impressive roster of vitamins, minerals, and antioxidants. And since it's naturally sweet, you don't need to add a ton of sugar. And who doesn't love the mellow buzz and fresh flavor of white tea? 

To get started, remove the rind from a quarter of a large watermelon. (Use the rind for this fun pickling project.) Slice the fruit into small cubes and freeze on a sheet of parchment paper. If you're not using them right away, transfer the frozen cubes to a Ziploc bag and marvel at your DIY individually quick frozen fruit skills. (Freezing the fruit in a single layer prevents them from clumping together to make one giant ice formation.)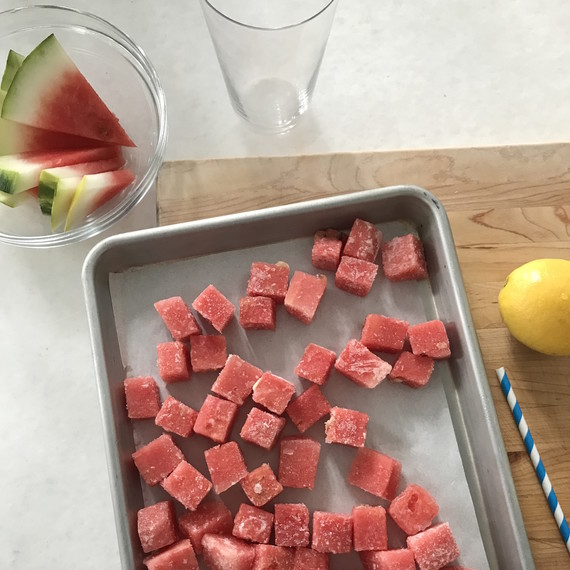 Next, boil some water and walk away. Seriously. White and green teas have delicate leaves, and a 212-degree pour over can ruin the flavor. The ideal water temperature for steeping is around 170 degrees. Stir the sugar into the hot water to help the crystals dissolve completely. I'm a fan of natural cane sugar, which has been processed less than regular white granulated varieties. Honey would be delicious here. Try coconut sugar for a caramelly flavor. Remove the tea bags and let the mixture cool. 

Finally, invite some friends over and dazzle them with your homemade slushie skills. Toss the frozen watermelon cubes in a blender, add the sweetened tea mixture and squeeze half a lemon for brightness. Blend on high until smooth and enjoy your G-rated frosé. 
  
Get the White-Tea Melonade Recipe
Tune in every Sunday for a new Healthy Appetite video from Shira Bocar
Watch Shira show how easy it is to make this four-ingredient thirst-quencher: