You're thinking about what to make for dinner. Need some ideas? Here's our weekly list of suggestions: dinner recipes that take less than an hour of mostly hands-off time or cook quicker than that but may require constant stirring. Yes, there will be pasta, and, yes, it will be delicious. Visit us every week for dinnertime inspiration.
Monday: Grilled Ratatouille and Bulgur Salad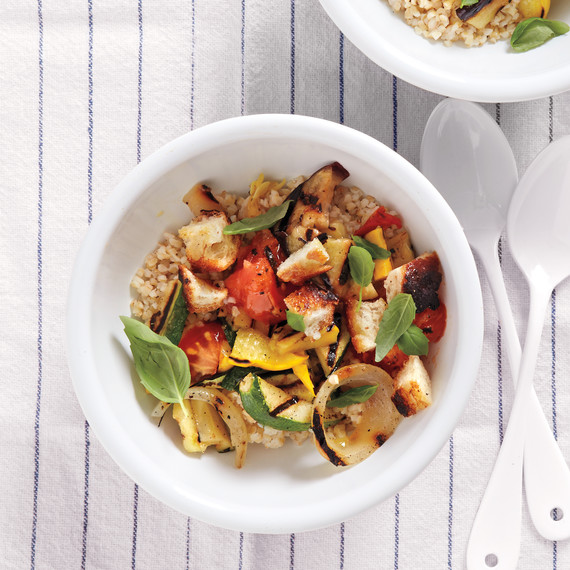 This recipe might just become a summer favorite. Not only does it use peak-season produce (eggplant, zucchini, yellow squash, and tomatoes), all cooking is done on the grill, and it can be made up to two days ahead and refrigerated; it travels well, so double the recipe and take some to work for lunch -- or plan a picnic. Almost forgot to mention -- it's vegan too!
Get the Grilled Ratatouille and Bulgur Salad Recipe
TUESDAY: Fish Tacos with Cabbage and Lime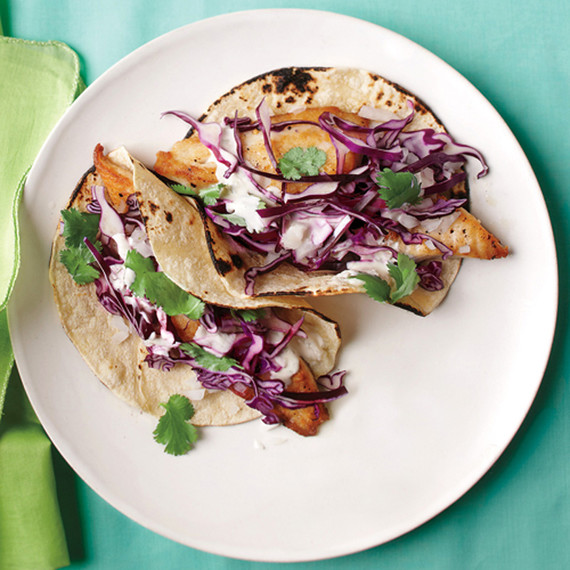 Because ... we love fish tacos. They're crunchy, fresh tasting, and fast to put together. Get tilipia fillets, red cabbage, corn tortillas, and plenty of cilantro and lime. If you fancy, grill the fish and the tortillas and don't turn on the stove at all!
Get the Fish Tacos with Cabbage and Lime Recipe
WEDNESDAY: Hot Dogs 3 Ways
See Our 3 Totally Delicious Ways to Work a Hot Dog
THURSDAY: Grilled Chicken with Mint and Radish Salad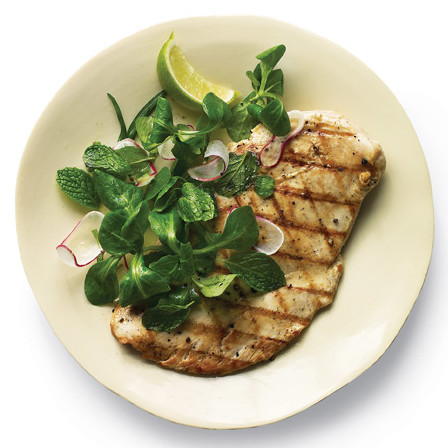 Light, fresh, and fast, this is a perfect midweek midsummer meal. No pots or pans at all, though you will need two bowls: one for the chicken and one for the salad.
Get the Grilled Chicken with Mint and Radish Salad Recipe
FRIDAY: Gnocchi with Summer Vegetables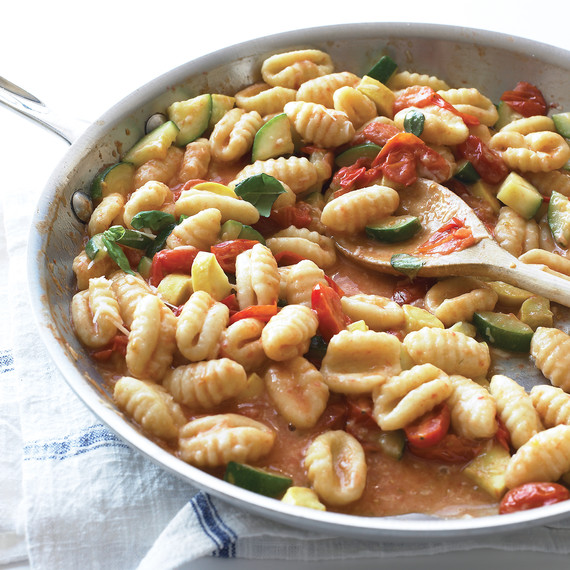 And the award for fastest dinner of the week goes to ... the gnocchi! Another of our foods to have on hand, keep a package in the freezer and don't only pair those tender dumpling with pesto or meat sauce. Try this fast tomato-zucchini-basil version -- it takes all of 15 minutes.
Get the Gnocchi with Summer Vegetables Recipe
SATURDAY: Mussels with Corn, Cherry Tomatoes, and Tarragon
Break out of that usual salmon-and-shrimp routine and add wonderfully briny, healthy, protein-packed mussels to your quick-dinner repetoire. With a sauce of corn, cherry tomatoes, and tarragon, this recipe is the essence of summer. Yes, you read that right, not basil but fragrant tarragon, making for an altogether different and totally delicious meal. Serve with lots of crusty toasted or grilled bread.
Get the Mussels with Corn, Cherry Tomatoes, and Tarragon Recipe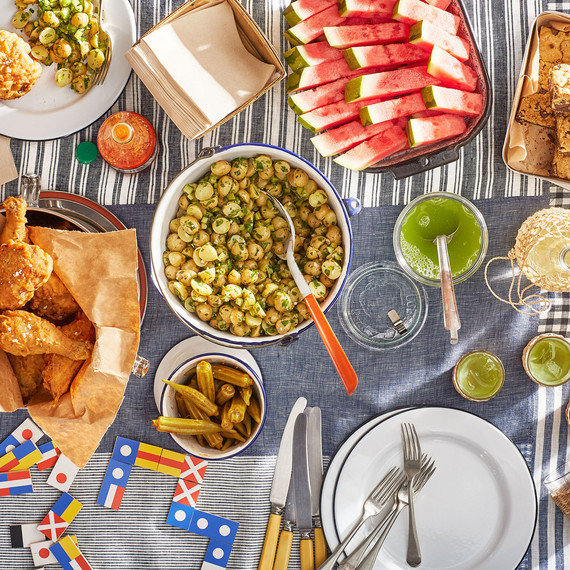 Today you should eat out. We don't mean make reservations, rather we're saying go picnic! Whether you dine in a local park, at the lakeside, or on your own deck that old adage is true; everything tastes better eaten outdoors. Choose one of our three picnic menus which combine homemade (our recipes) with delicious personal spins on store-bought finds (clever that!). Go Italian with our menu that features Porchetta-inspired Pulled Pork; Mediterrean with our mezze spread starring Spinach-Feta Pizza Slab Pie; or all-American with our Crispiest Fried Chicken anchoring a new spin on summertime favorites. One last thing: whichever menu you choose, add these brownies. Take it from one who knows!
Get Our 3 Next-Level Picnic Menus