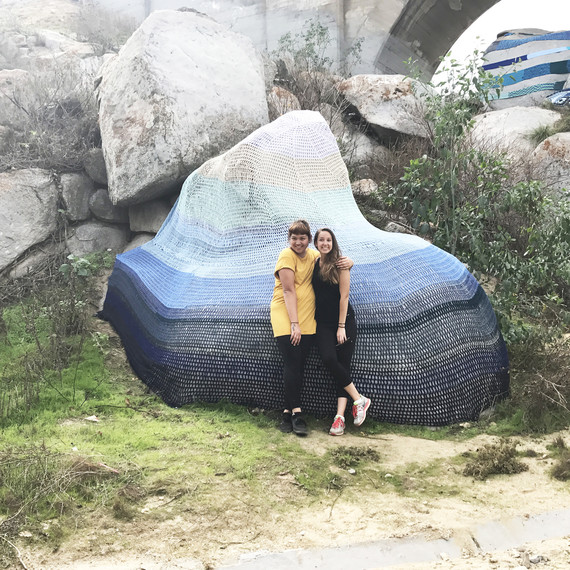 Who are they? Alyssa and Liz are the dynamic duo behind Threadwinners, a collaborative crochet team that crafts incredible works of art. Their installations tackle important topics, examining American and pop culture, body, psychology, nature, gender roles, and femininity. Here, they share their story:
1. What is a collaborative crochet team? 
We're an art duo (Liz Flynn and Alyssa Arney) that work together on crochet installations, art pieces, and yarn bombs. All of our work is created through a collaborative process of bouncing ideas off of each other, crocheting together, and building pieces off of each other's work. The moniker "Threadwinners" is a play off of the traditionally male-associated term "breadwinner."
2. How did you decide to work together? 
We first met in 2013 when we were both interning at the Orange County Museum of Art in Newport Beach, CA. At the end of the internship, we had to develop a student night event at the museum, which is where we really got to know each other and discovered that we worked really well together. After that, Alyssa asked Liz to be a crochet assistant for a solo exhibition in Santa Ana, CA. Since Liz was very quickly creating half the work, the assistantship turned into a partnership. Since that initial show in 2015, we've been working together as Threadwinners!
[HEAR THEIR STORY: Meet the Mother-Daughter Duo Behind These Beautiful Paper Flowers]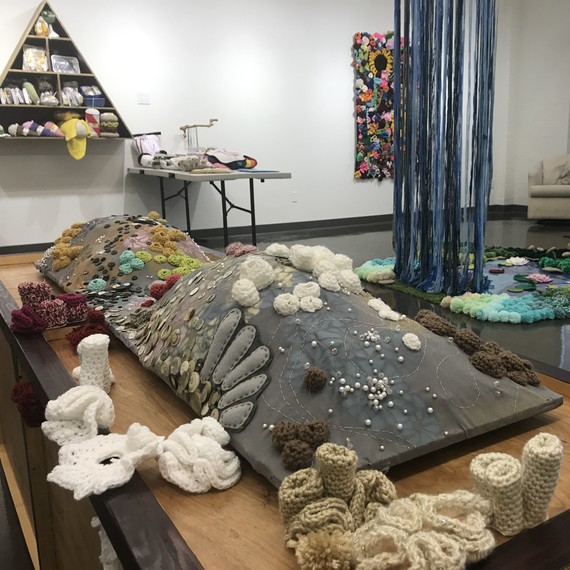 3. What is your crocheting technique?
We are both self taught crocheters. Alyssa started knitting when she moved out to California, and Liz was learning crochet and suggested that Alyssa should try it. Alyssa taught herself over the next few days by watching tutorials on YouTube and practicing patterns from Ravelry, and basically put her knitting needles away in storage. Our techniques include all of the basic stitches that you'd find in any online tutorial or crochet project book, but we also like to leave room for error and experimentation. A lot of our installations include freeform crochet pieces that are not based on a pattern, but we sometimes work off of free patterns we find on Ravelry, Youtube, Pinterest, etc. (with proper credit given, of course).
4. How do you decide who does what on a project?
We do a mixture of both. When we are working on a project, we'll constantly ask each other about what kind of themes we want to explore, what sort of pieces we want to see manifested into reality, and what we'd like to see more of in a given piece. From our discussions, we implement changes within the design as we go along. We usually delegate that we each make certain components for the piece so the work is divided as evenly as possible. Like we mentioned before, it's critical to leave room for experimentation and improvisation, because that's where we're able to resolve compositional problems and have freedom for artistic expression. 
[TRY THIS: You Can Crochet an Octopus Toy to Help Comfort Premature Babies]
5. How do you come up with your concepts?
It happens a couple of different ways. Sometimes the venue inspires the art we want to create for it, and sometimes we have ideas and themes we want to discuss and we simply have to find an exhibition space that aligns with our ideas and goals for that particular project. We have constant communication with one another about art, politics, feminism, life, etc., and all of those things influence the pieces we decide to make. We will usually hone in on a concept when we both find it's constantly on our minds or inspiring us. Once we settle on a theme, we begin to think about the types of pieces that we want to create to embody that concept, and Alyssa will usually create sketches. Sometimes the drawings are specific with distinct elements we want to incorporate in the design, and other times they are loosely drawn with general ideas and an approximation of dimensions.
6. What is your dynamic? 
We are very close friends on top of being art partners. We utilized the vehicle of crochet and its natural communal aspect as a way to get to know one another better and make something creative happen. When we first started working together, Liz was going through some personal hardships and it was a way for us to connect as friends, to heal through this cathartic practice of making, and to be intertwined into the larger community of fiber artists and makers. We infuse a ton of humor into working together, we make each other laugh constantly, and we hang out outside of making art together. We live about 40 miles apart, which can be quite a ways when you have to deal with southern California traffic! However, our work allows the freedom to work both together and independently depending on our schedules, and we always make an effort to hang out and spend quality time together.
[MAKE THIS: Crocheted Natural Summer Bag]
7. Do you usually work as a duo?
Primarily, it's just us two working together, but we also like to involve the community in our work when we can. We often involve fellow crocheters and knitters of the online craft community in our projects through open calls for donations of yarn and finished crocheted and knitted pieces. We also have our friends and family help us install our larger pieces and we always try to give everyone credit for the contributions, love and support they give to us. We are also always on the lookout for any other fiber artists who have open calls for contributions for any yarn bombs, installations, or other projects they're working on. We've experienced so much openness and support within the fiber art community!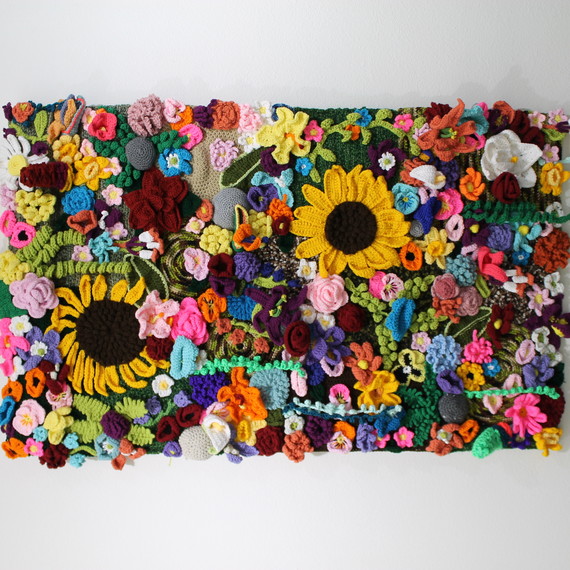 8. Is your work for sale?
Absolutely! Our current exhibition, Reveries, is on display at Branch Gallery in Inglewood, CA. Our pieces in the show are for sale, and a portion of proceeds will be donated to the Sierra Club Angeles Chapter. Most of our other, smaller scale pieces are for sale as well. Anyone interested can send inquiries to threadwinners.art@gmail.com, or they can check out our individual Etsy shops, where a selection of our pieces are listed. (Alyssa's shop: etsy.com/shop/smashitupart Liz's shop: etsy.com/shop/minnieandmaria.)
Feeling inspired? Watch how to embroider a set of cloth napkins: