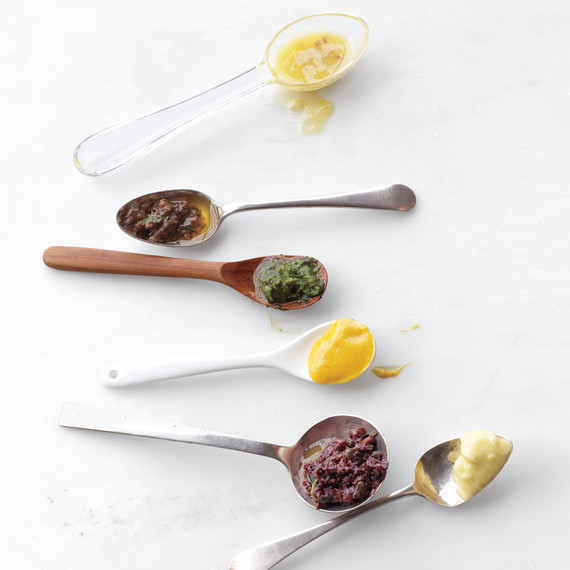 Just a spoonful of one of these robust, savory sauces is enough to elevate your grilled seafood or simple salad into a mouthwatering meal. These six classics are mainstays of French country cooking for a reason: They're uncomplicated, versatile, and packed with flavor. Master them and you'll be dressing like the French all summer.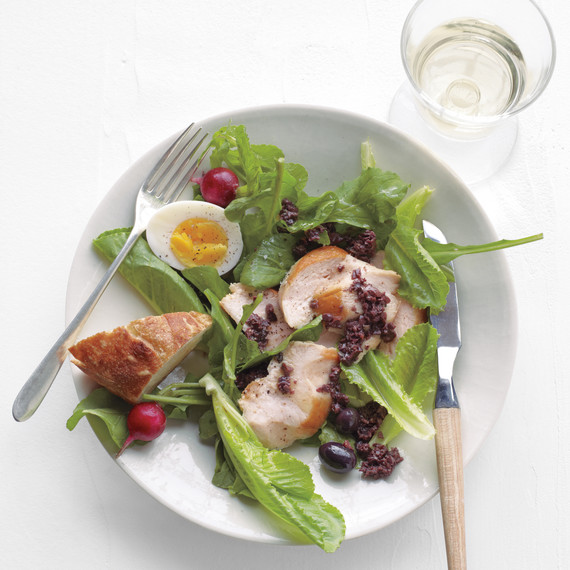 1. Tapenade
A Savory Olive Paste
A blend of black olives, anchovies, capers, garlic, herbs, and olive oil, tapenade is packed with briny flavor. Here, it revs up a composed salad of sliced, sauteed chicken breast, hard-cooked eggs, whole raw radishes, crunchy romaine lettuce, and peppery arugula.
Get the Tapenade Recipe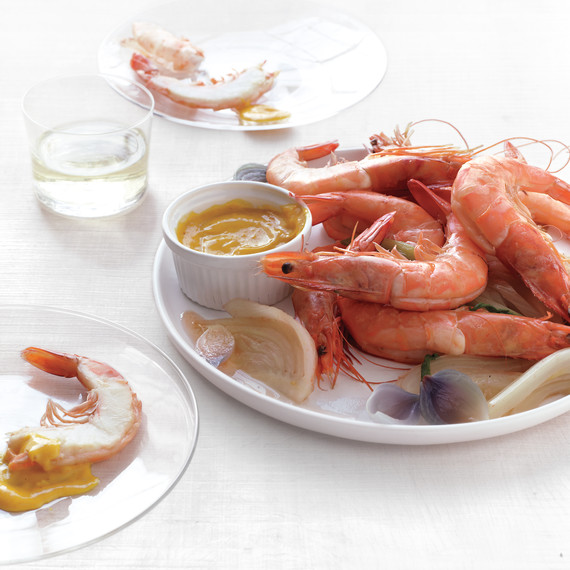 2. Rouille
A Fiery Saffron Mayonnaise
Traditionally spread on the little toasts served with Provencal soupe de poisson (fish soup), rouille lights up just about any type of seafood. This garlicky golden mayonnaise gets added body from a handful of white-bread cubes that have been soaked in water. Here, it's served with head-on shrimp that have been poached until opaque in salted water with fennel, orange peel, bay leaves, and red onion. 
Get the Rouille Recipe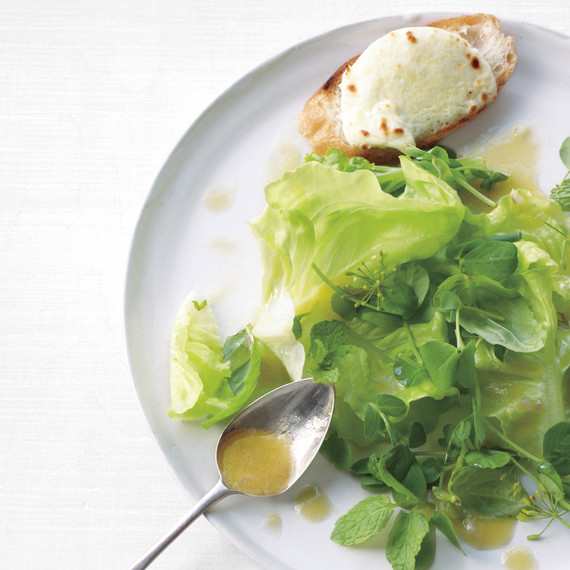 3. Vinaigrette
A Perfectly Balanced Dressing
While the term is tossed around like so many leaves of lettuce, a classic vinaigrette is a mixture of wine vinegar and oil -- often with shallot and Dijon mustard -- whisked until its components are harmoniously combined. A bright, sharp dressing, it enlivens any salad, such as this one of butter lettuce and pea shoots with mint leaves, snipped fennel buds, and chives. Add a slice of broiled goat cheese-topped toast and you have a light meal.
Get the Vinaigrette Recipe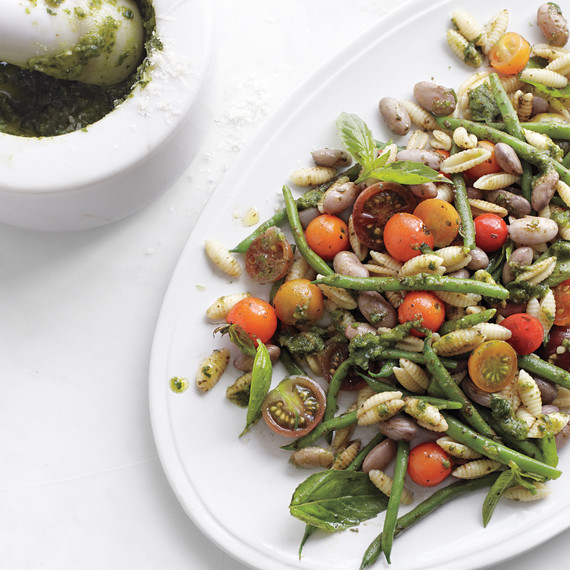 4. Pistou
The French Answer to Pesto
In France, this blend of basil, olive oil, garlic, and sometimes Parmesan cheese is stirred into a vegetable potage known as soupe au pistou. Like its Italian cousin, it works well with noodles and can also brighten a hearty salad such as this one, a mix of blanched green beans, boiled cranberry beans, shell-shaped pasta, and halved cherry tomatoes. Pistou can be blended together in a food processor, but when made the old-fashioned way, with a mortar and pestle, it will fill your kitchen with the scent of basil, the essence of summer.
Get the Pistou Recipe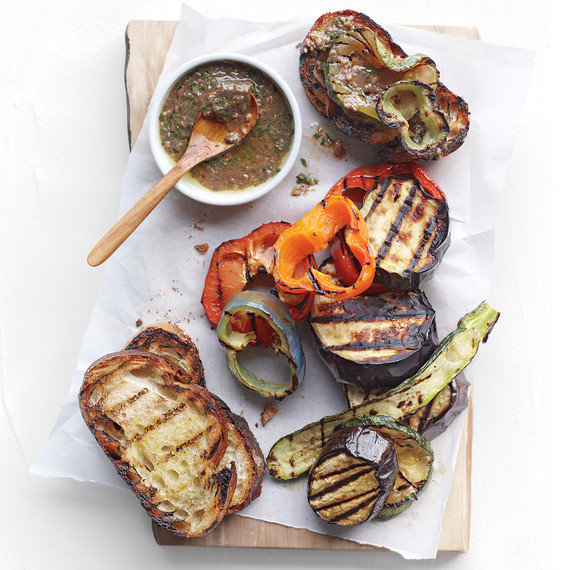 5. Anchoiade
A Robust Anchovy Dip
To make this pungent sauce, anchovies are melted in a pan with garlic so the flavors marry. The intensity of anchoiade makes it capable of standing up to other strong flavors, such as this platter of country bread and summer vegetables, which have been brushed with olive oil, simply seasoned, and charred on the grill.
Get the Anchoiade Recipe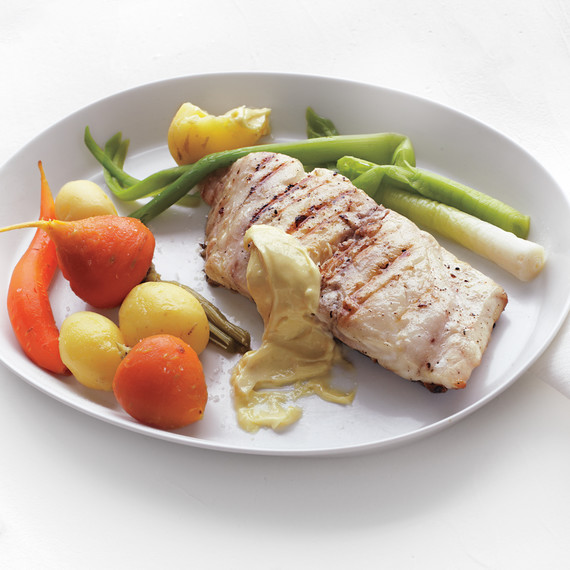 6. Aioli
A Garlicky Mayonnaise
In the South of France, aioli refers not only to this beloved mayonnaise but also to a feast in which salt cod, squid, snails, and all manner of raw and boiled vegetables are served with bowls of the sauce. In our version, the rich, smooth emulsion of oil, egg yolk, garlic, and lemon juice accompanies a plate of skin-on striped bass that has been brushed with oil, seasoned with salt and pepper, and grilled until just cooked through. The potatoes, carrots, and baby leeks -- boiled in salted water until tender -- also benefit from a dip in the sunny, potent potion.
Get the Perfect Aioli Recipe
Watch how to make perfect aioli every time: