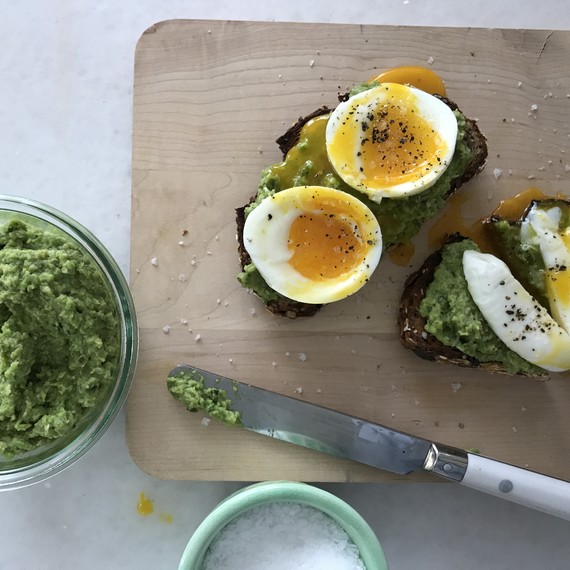 I've got nothing but love for avocados, but sometimes you need to refresh your morning toast routine. Enter pea pesto with soft-cooked eggs.
This energizing breakfast is packed with protein, fiber, whole grains, and a serving of vegetables, so it's got some real staying power. And while it might seem luxe (drippy yolk, homemade vegetable pesto), I'm happy to report it's one of my family's favorite mid-week breakfasts. Everyone leaves the table happy -- and in five minutes flat.
The key here is making everything (but the toast) in advance. Even the soft-cooked eggs??! Even the soft-cooked eggs. I thought soft-cooked eggs were an a la minute number, best peeled and scooped piping hot. That's ideal, but that doesn't always happen on a Tuesday morning. Here's the best way to a perfect soft yolk: bring a pot of water to a boil, carefully add eggs, turn off the heat, cover, and cook until the white is set and the yolk is still runny, 6 minutes (use a timer!). Immediately transfer the eggs to an ice bath (this guarantees a rich and jammy yolk.) You can use them right away or transfer them to the fridge. I prefer large, farm-fresh eggs for the best flavor and vibrant orange center.
The pea pesto is super simple yet packs a punch -- I love its salty-sweet flavor and creamy texture. Trust me, you'll want to put it on everything. Make a batch at the beginning of the week and enjoy it on toast, tossed with pasta, slathered on ​roasted sweet potatoes​, scooped with cherry tomatoes or even better, fennel sticks, or stirred into ​bean soup​. Would love to hear the creative ways you are are using pea pesto -- leave comments below!
Get the Green-Pea Pesto Toasts with Soft-Cooked Eggs Recipe
Tune in every Sunday for a new Healthy Appetite video from Shira Bocar
And watch Shira make this fresh, filling toast that's just right for breakfast, lunch, or a healthy snack: