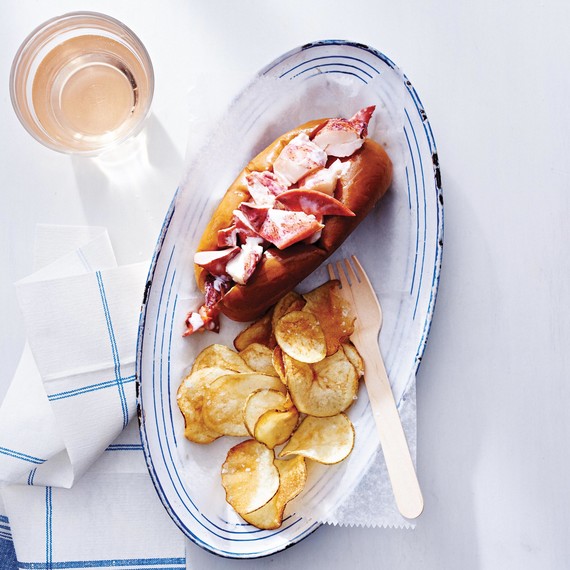 Summer is lobster rolls. Yes, it's slower paced days, sneaking away midweek to the beach, and backyard parties, but, and blame this on my childhood growing up in New England if you will, it's not really summer until you've had a lobster roll.
Haven't had one yet? Lucky you, now is the best time to eat a lobster roll. That's because it's new shell lobster season and there is nothing like biting into a warm buttery soft-shell lobster on a toasted roll.
Get the Recipe For a Perfect Lobster Roll
What Are New-Shell Lobsters?
Hold on, you're saying there are different types of lobster shells? You read that right and the new shell lobsters will change your life (alright not really but they're pretty great).
Sometimes called soft shell or shedder lobsters, new shell lobsters are just that; lobsters that have just lost their old shell as part of growing and have a new one that is larger and softer. When they first shed their old shell, lobsters are very fragile (almost completely jelly-like). As their new shell  firms up, it's roomier than their old one, giving them space to grow into. Crisp, cold sea water fills the remaining space and marinates the lobster meat, making it extra tender and delicious. This normally occurs between mid-June and and early November.
Learn How to Remove Cooked Lobster From its Shell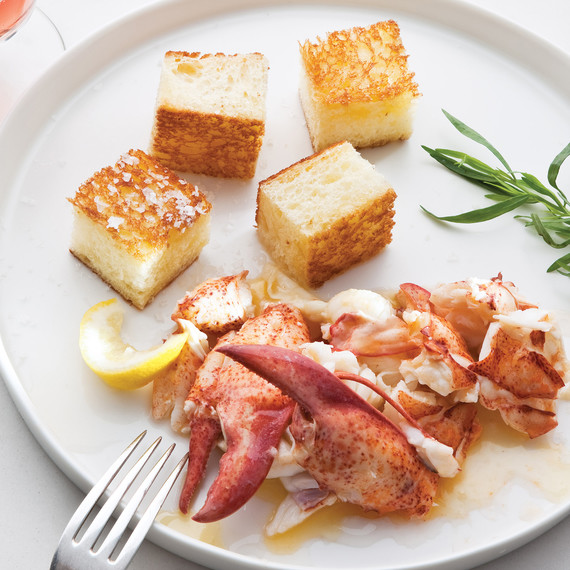 What Does New-Shell Lobster Taste Like?
"All of this water is like a natural brining and tenderizing process, so meat from a new shell lobster is really sweet." said Annie Tselikis, executive director of the Maine Lobster Dealers' Association. Hard shell lobster meat is firmer and slightly more dense and holds up better in the heartier, richer dishes you're most likely to make in colder weather (like Lobster Pot Pie or Spaghetti with Lobster Fra Diavolo). New shell is just right for a summer lobster roll --  or pretty much anything else you'd like to eat during the five months it's in season.
Get the Inside-Out Lobster Roll Recipe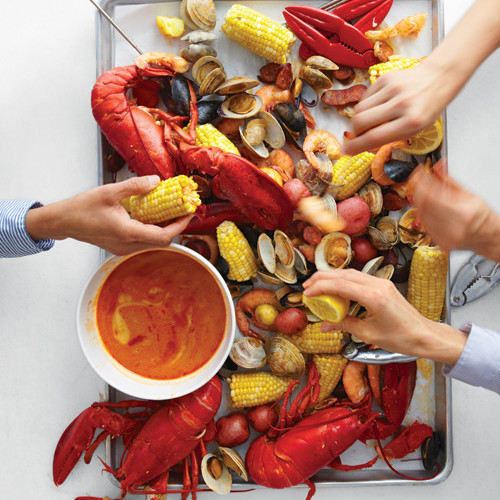 How to Eat New-Shell Lobsters At Home
At seafood shacks and fishmongers, if you see Maine lobster on the menu you can be pretty sure it will be a soft shell during the summer. (Soft shells are shipped all over the U.S.) Here are a few things to know about cooking them at home:
• "The yield is better in hard shells since their meat has reached full capacity within the shell and the meat tends to be a bit firmer," says chef Laurent Tourondel of the BLT Restaurant Group. For new-shell lobsters order about ½ pound bigger than you normally would.
• Because the shells are soft you can often break them open with your hands, but the extra water means they are a bit messier to handle.
• "I like to steam my lobster," says Tselikis. " I do about 2 inches of salted water in the bottom of a big pot. Set a steaming rack in the pot and set lobsters on the rack. For 1-lb lobsters you'll need about 10 minutes of cooking time. I cook a bunch of lobsters at once and whatever we have left over I'll pick the meat and use for anything from cioppino to lobster tacos, depending on the time of year!"
Here are a few more ways to enjoy new shell lobster at home this summer:
Broiled Lobster and Grapefruit Salad
Lobster with Red and Yellow Tomatoes
Ready for lobster? Watch Thomas Joseph show how to get the most meat out of a lobster claw: