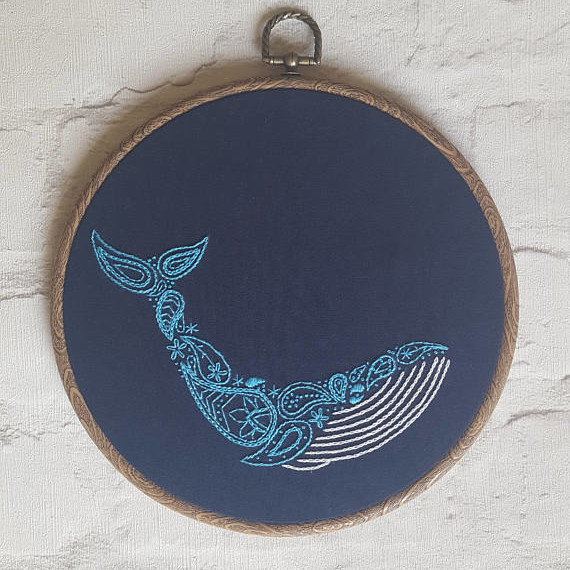 Life can get busy, between work, school, errands and everything in between, it's hard to find some "me" time but it's also very important. A great way to unwind and relax is through sewing, which has been proven in a  study sponsored by the American Home Sewing & Craft Association,  to relieve stress. For Ph.D. student Sammy Bishop, sewing, more specifically embroidery, is her therapeutic activity of choice to take her mind of graduate school. And looking at her work, we might try this ourselves.
[LEARN MORE: 5 Health Benefits of Crafting]
Bishop has a unique take on embroidery, she embroiders mostly animals but instead of just stitching them, she designs a paisley arrangement to make up the form of the animal. "I tend to start with the color scheme - all my pieces are on dark blue backgrounds, so I cast around for animals that can be made in really bright colors." Bishop tells Martha Stewart Living. "Then it's the shapes — finding arrangements of the paisley droplet-shapes that fit naturally with the animal/object's form. When the main parts are in place, it's just a case of filling in the gaps with a variety of shapes." Sounds fun to us, kind of like an artistic puzzle!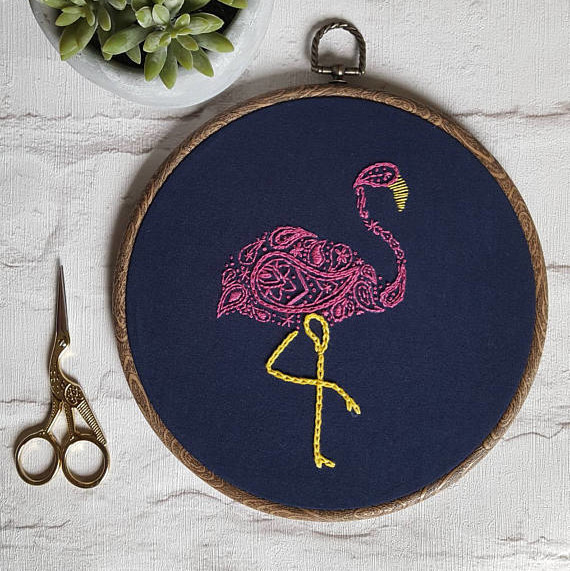 Bishop tells us that she's inspired by bright statement colors and flowing shapes. We can definitely see that in all of her work from her bright pink flamingo to her tropical pineapple. 
[CHECK THIS OUT: Sarah K. Benning's Contemporary Embroidery]
Not only does Bishop create beautiful paisley embroidery that you can buy in her Etsy store, but she is also sharing her relaxation technique with others by selling PDF patterns of her designs and kits so that we all have an opportunity to create our own paisley masterpiece. 
Feeling inspired? Watch how to use basic embroidery and make yourself a nice summer clutch: