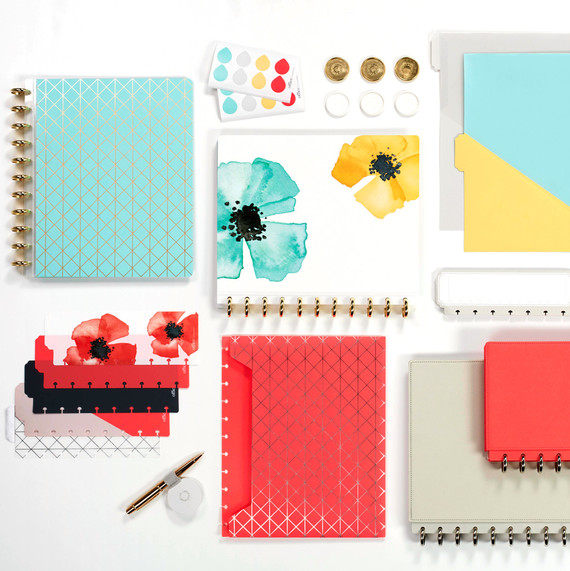 Dorm rooms can be small with limited personal space, making it even more important to keep assignments and study materials organized.
Martha's collection at Staples has the customizable solutions every busy college student needs. Colorful notebooks can be tailored to each class, low-profile wall organizers save space, and a multipurpose tote bag makes on-the-go study sessions easy.
Browse our favorite products and pick up a few tips along the way:
Customizable Notebooks
Instead of using several notebooks to keep class notes separate, the Discbound™ Customizable Notebook is equipped to store section dividers, filler paper, checklists, zip pockets, and more. The contents have pre-punched spines, making it easy to add, remove, and rearrange as needed. It's an efficient way to keep things neat during an active semester. Plus, the notebook and its accessories are available in bright coral, refreshing blue, and calming gray to suit your style.
[The Bullet Journal: How to Organize Your Entire Life in a Notebook]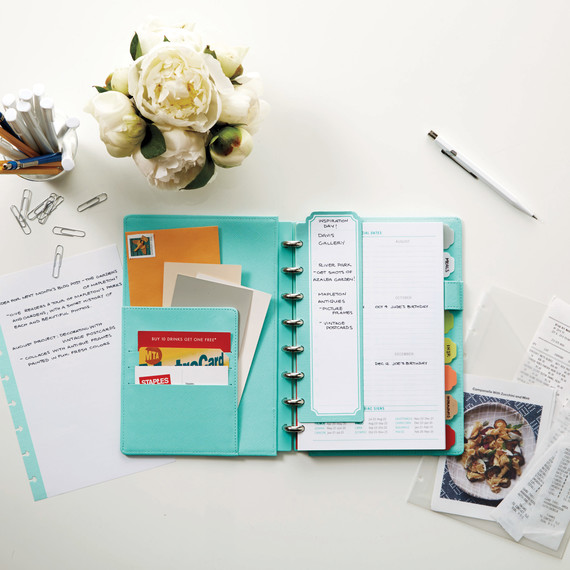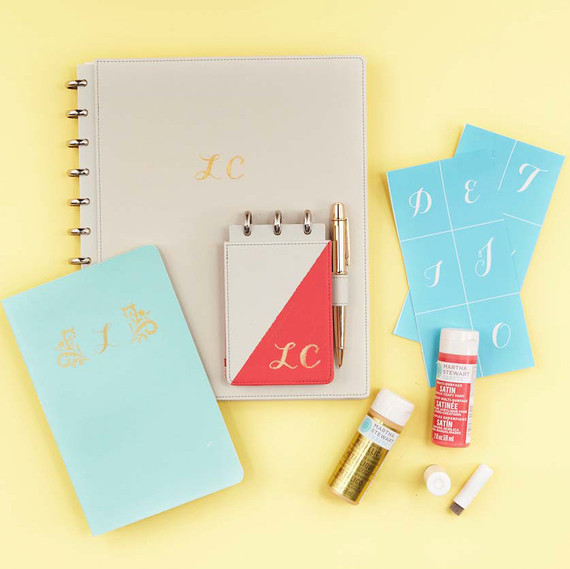 Color-Coordinated Storage
One of the best ways to stay organized—especially in a cramped dorm room—is to give papers, reading materials, and other class assignments their own home. Binders, magazine files, and boxes in coordinating sizes create a clean, streamlined look while also offering plenty of storage options. Everything is kept within reach, but tucked away to free up desk space, and a fun color like Martha's signature blue makes it look amazing.
[Easy DIY Projects for Instant Dorm Room Chic]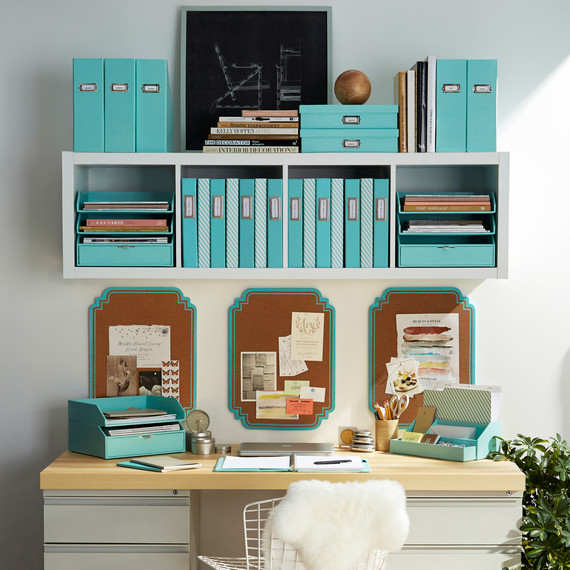 Desktop Organization
Create a designated clutter-free spot on your desktop with a desk pad. It can be positioned in front of the computer to provide a smooth writing surface, and the elastic band secures stationery, to-do lists, and small office supplies. With a clean surface to work on, it'll be easier to focus attention on studying for upcoming exams.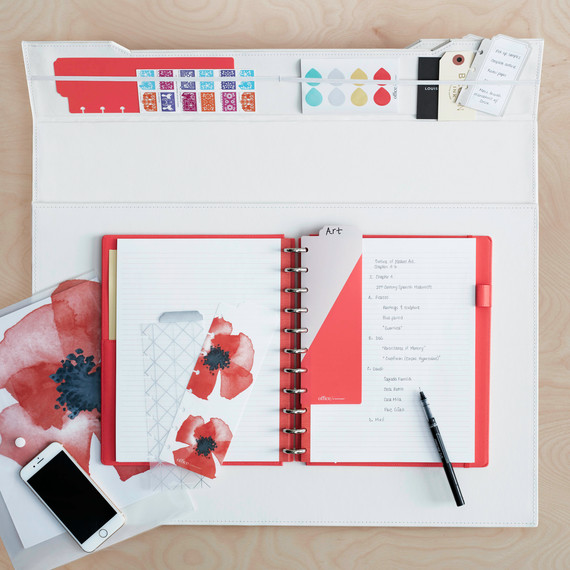 Utilizing Wall Space
College dorm rooms are notorious for close quarters, encouraging creative storage and organizing solutions. Avoid drilling into the wall by opting for lightweight wall organizing solutions that can be hung with adhesive strips. A colorful collage of clipboards positioned above the desk offers a convenient place to keep exam notes, study checklists, and class syllabi. Add a dash of school spirit by using the space to display pictures, pep rally mementos, and event flyers.
[12 Brilliant Ways to Decorate a Blank Wall]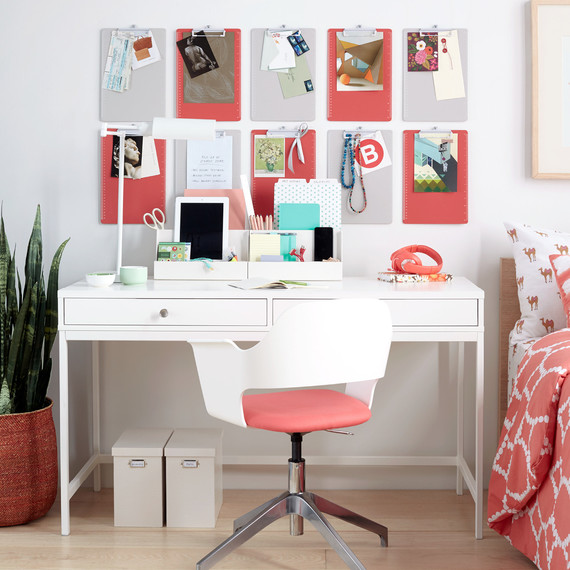 Study tip: Designate each class its own clipboard and keep important study materials grouped together. When exam week approaches, its easy to detach a clipboard from the wall and take it to the library for a study session.
On-the-Go Essentials
Between class, extracurricular activities, and time with friends, college students' schedules can fill up fast and take them all over campus. This tote bag-backpack combo is chic, functional, and can go from early morning class to evening study group at the local coffee shop. The top handle and back straps are adjustable and the main compartment zips closed. An interior padded sleeve protects a laptop or tablet, and exterior pockets can hold notebooks, pens, and personal gear.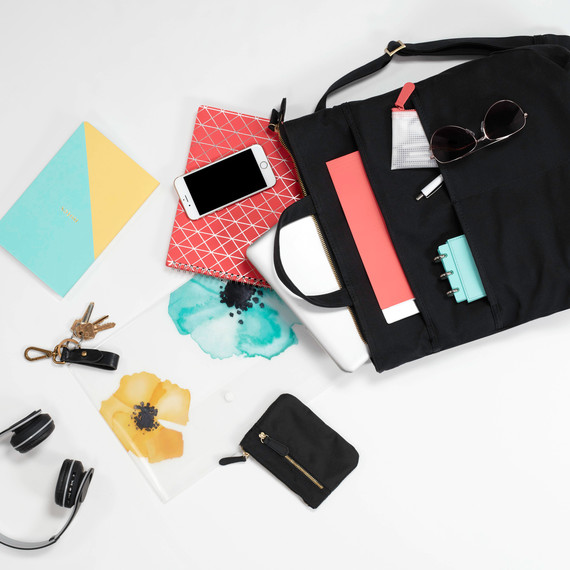 [20 Dishes Every Busy Twentysomething Should Know]