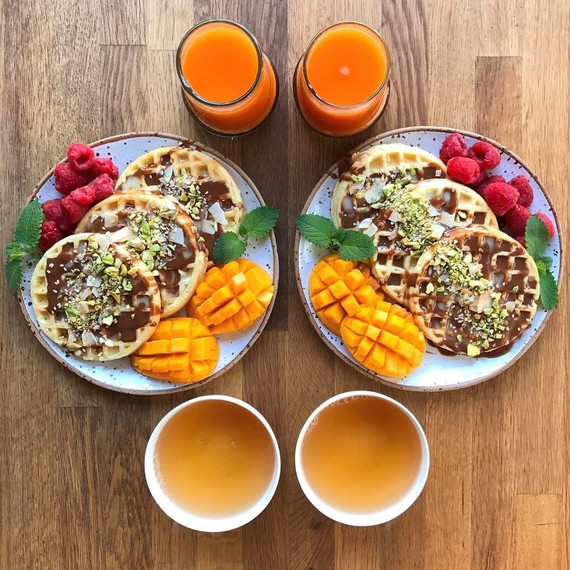 Move aside, cloud eggs and avo-toast. Michael Zee is winning at #Insta-worthy breakfasts. But he isn't just doing it for the 'gram. 
"It started by accident," says the English photographer. "In 2013, just a few months after Mark moved in with me." Then, Zee was working at an art museum in London while his partner, Mark van Beek was clocking long days designing for Burberry. "Breakfast became a time we could spend with each other." Soon enough, Zee decided he needed a way to make those 30 minutes extra special. 
(MIX: Up Your Breakfast Routine With These 12 Tasty Ideas)
One thousand, four hundred breakfasts later: Zee, now working from home, is still making elaborate, identical morning feasts every day at 7 a.m. for Van Beek and himself. Often he will prep or bake what he can the night before, and make batches of foods, like juices, for the week. Zee also says he usually has a plating design in mind already before he begins cooking. Each meal -- from za'atar buns with labneh balls to arepas filled with Japanese-style omelettes -- draws inspiration from around the world. 
(MAKE: Za'atar Spice Blend With This Simple Recipe)
"One of the benefits of Mark's job is that we get to travel," says Zee. The duo recently left London for Shanghai where Zee plans to start his own line of ceramics and homeware, another passion of his. "I love being surprised by somewhere new, when you sit down for a traditional or authentic breakfast and think 'You're not kidding, people really eat this for breakfast!'" Yam and duck porridge, anyone? 
 
For Zee at breakfast it's "tea over coffee, always!" But he doesn't have a favorite morning meal. He collected his wide-ranging recipes in a cookbook Symmetry Breakfast that's currently being translated into multiple languages. The best part of the book isn't its charming anecdotes or delicious photos -- look closely, and you'll see the dedication page doubles as Zee's proposal to Mark (he said yes!).
Inspired? Watch how to make this instaworthy Breakfast Sandwich Frittata: