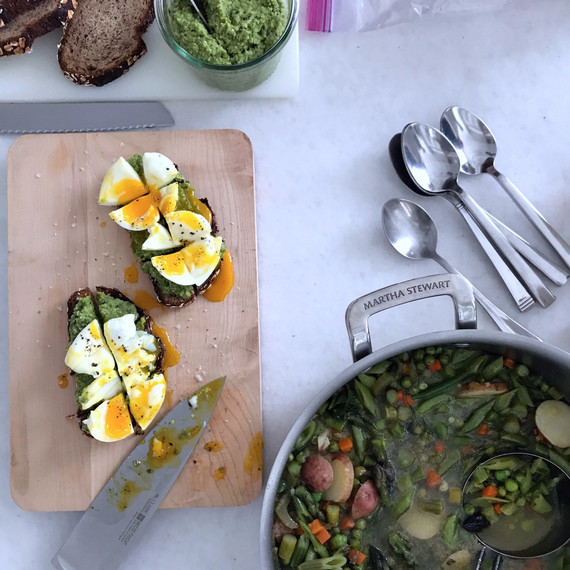 Vegetable indecision. It happens to the best of us, and can leave you paralyzed in front of a packed produce stand. That's where this simple pea soup with asparagus and potatoes comes to the rescue. It's the perfect combination of my favorite spring/summer vegetables: asparagus, green peas, sugar snap peas, baby potatoes, leeks, carrots, celery, and dill. So go ahead and put everything into your cart. 
There's a lot to love about this soup. It's easy to prepare, chock-full of colorful vegetables, and filling (peas are a rich source of plant-based protein.) Did I mention fresh? Thanks, dill! 
Plus it features one of my go-to seasoning techniques: simmering broth with a Parmesan rind. I keep Parmesan rinds in a Ziploc bag in my freezer for this very purpose. Great in a pot of beans, stewed greens, pasta sauce, or risotto, the rind adds a rich flavor and savory depth that's impossible to achieve with salt alone. 
Feel free to improvise with other vegetables that catch your eye: stir in tender greens like spinach or sliced Swiss chard until just wilted. Baby radishes would add a fun, peppery kick -- simmer with the potatoes until tender. In the mood for beans? Add a couple of cups of cooked chickpeas, white beans, or cranberry beans. You could even stir in last night's brown rice. I love adding a poached egg, digging in with a side of toast, and calling it breakfast. (I'm a big fan of breakfast soups; more on that soon.) 
Any way you ladle it, you've got a big batch of nourishing, delicious soup. 
Get the Pea Soup with Asparagus and Potatoes Recipe
Tune in every Sunday for a new Healthy Appetite video from Shira Bocar
And watch how to make this delicious, easy, and adaptable soup: