Stumped on what to make with the catch of the day? Martha's got you covered. Inspired by the seafood dishes of the Arabian Gulf, she's taking the freshest shrimp, mussels, squid, and fish and pairing them with the region's aromatic spices and herbs. The best part? Fresh seafood calls for minimal cooking time, so you can get a company-worthy dinner on the table in a flash. Get a sneak peek at the recipes below, and be sure to tune in as Martha whips up these mouthwatering dishes on "Cooking School" this weekend.
1. Shrimp Balls
Studded with pine nuts and golden raisins, these succulent shrimp bites strike the perfect balance between sweet and savory. They're simmered in a spicy, herb-packed tomato sauce for even more flavor.
Get the Shrimp Balls Recipe
2. Chilled Mussel Salad
A popular dish in the United Arab Emirates, jarjeer wa hamba is a refreshing arugula and green mango salad sometimes topped with shrimp. Martha's delectable version calls for watercress, radishes, and mussels instead.
Get the Chilled Mussel Salad Recipe
3. Calamari with Vermicelli, Lemon, and Herbs
While there's always a time and place for battered and fried calamari, it's also wonderful simply sauteed. Here, toasted vermicelli adds heft, and fresh lemon juice, parsley, and mint tie all the flavors together.
Get the Calamari with Vermicelli, Lemon, and Herbs Recipe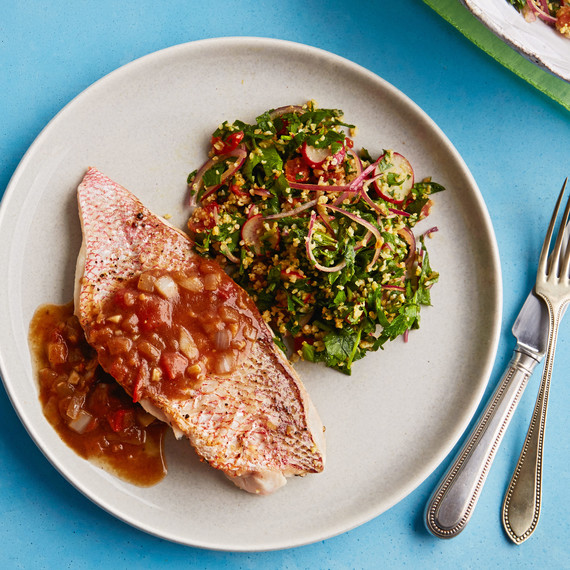 4. Fish with Tamarind Sauce
Have you tried cooking with tamarind paste yet? The tropical fruit's sweet flavor works beautifully in savory dishes, such as this pan-seared fish. A riff on the Saudi Arabian dish samak bil sabbar, it's served alongside a Gulf-style parsley salad that teams the herb with bulgur and warm spices.
Get the Fish with Tamarind Sauce Recipe
"Martha Stewart's Cooking School" season 5 airs on PBS stations nationwide (check local listings).