Here's our weekly list of suggestions for what to cook. We've got dinner recipes that take less than an hour of mostly hands-off time or cook quicker than that but may require constant stirring. Count on grilling, plenty of pasta, and summery meals -- and visit us every week for dinnertime inspiration.
Monday: Cotija and Corn Tacos with Lime and Mango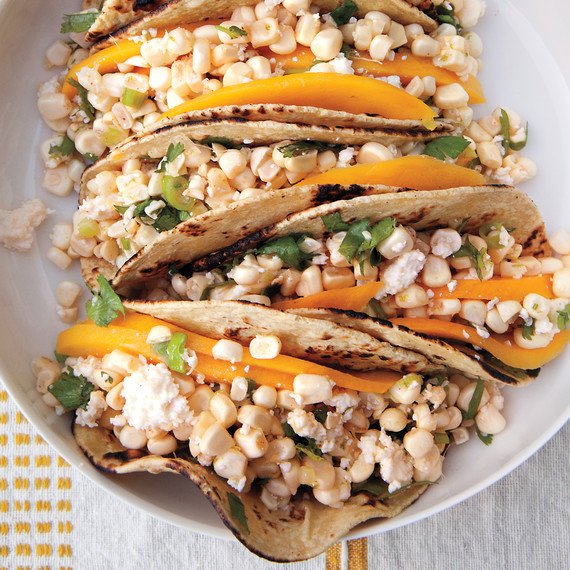 Yes, we're celebrating fresh summer corn. It's the star of these meatless tacos and -- this might seem radical -- it's uncooked in a corn salad with cilantro, lime, and creamy cotija (a Mexican cheese) or a mild feta that's used to fill tortillas, along with thick slices of mango. These are not your usual tacos, but they just might become your new favorite.
Get the Cotija and Corn Tacos with Lime and Mango Recipe
TUESDAY: Coriander Cutlets with Zucchini-Spinach Salad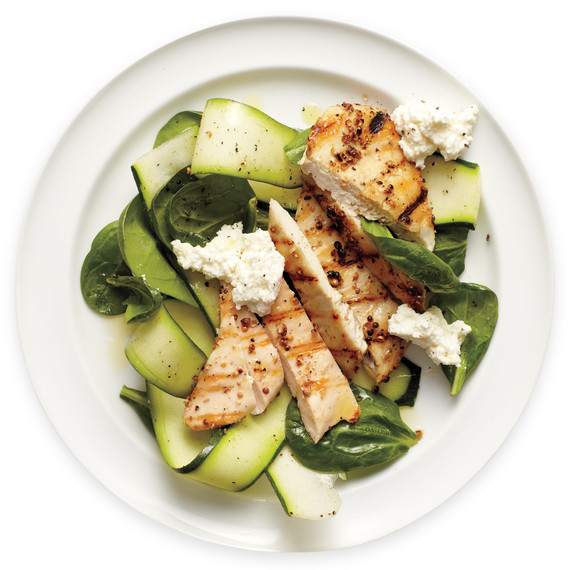 A grilled chicken cutlet is a simple summer staple -- fast to cook and healthy to boot. Here we ramp up the seasonal factor by pairing it with shaved zucchini (so sophisticated!) and baby spinach, tossed in a fresh olive oil and lemon juice dressing. Dollops of fresh ricotta add a touch of creamy decadence.
Get the Coriander Cutlets with Zucchini-Spinach Salad Recipe
WEDNESDAY: Gemelli with Shrimp and Sugar Snap Peas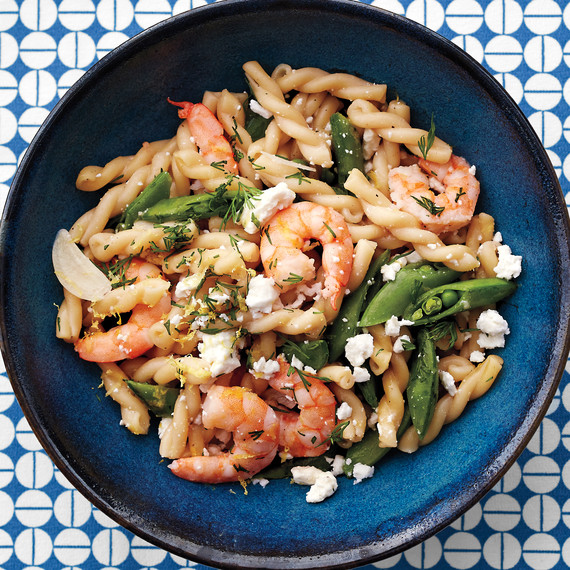 Another fabulous one-pot pasta, different from the original, but the concept remains the same. Everything you need for a fast, delicious dinner is cooked in one straight-sided skillet. And while sugar snap peas are in season, we're always looking for ways to feature them at dinner.
Get the Gemelli with Shrimp and Sugar Snap Peas Recipe
THURSDAY: Flank Steak Kebabs with Peanut Sauce
FRIDAY: The Essential Fish Skillet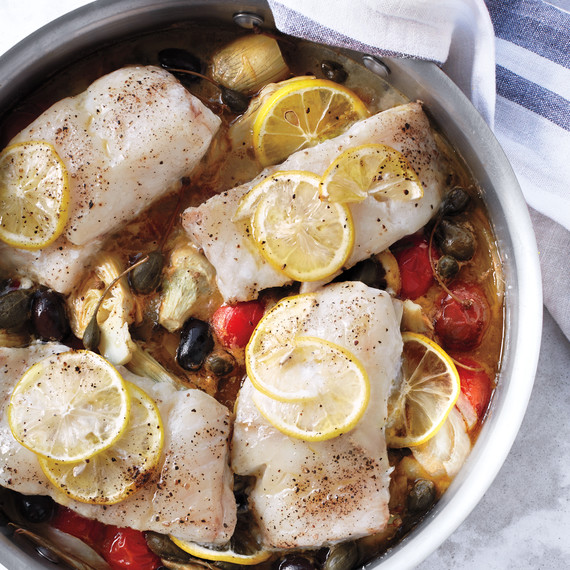 Easy enough for a weeknight, fancy enough for company; this just might be your new summer go-to. It's a super Mediterranean-flavored meal: Meaty white-fleshed fish such as cod or monkfish meets white wine, pitted olives, capers, and olive oil, and they all cook in a skillet on the grill. Serve right from the pan with plenty -- repeat plenty -- of crusty bread to sop up the sauce.
Get the Fish Skillet Recipe
SATURDAY: An American Pie -- and Maybe Some Hot Dogs?!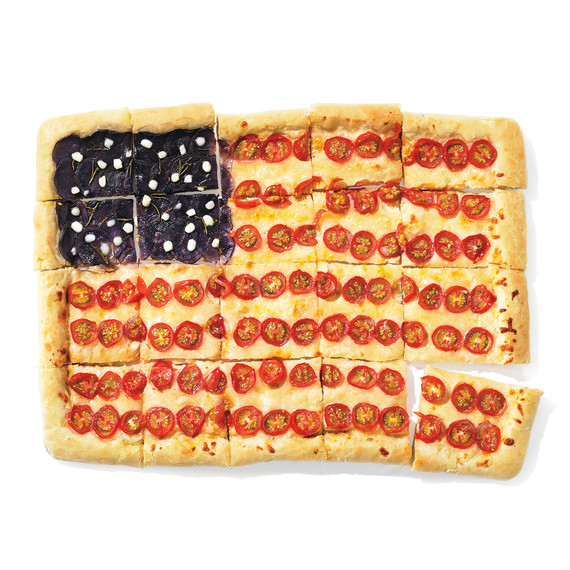 If you're already gearing up for the big July 4th holiday, why not show your patriotism in pizza form?! Tomatoes, cheese, and blue potatoes create an unmistakable flag design. Round out the meal with refreshing chilled soup or crowd-pleasing hot dogs.
Get the American Pie Recipe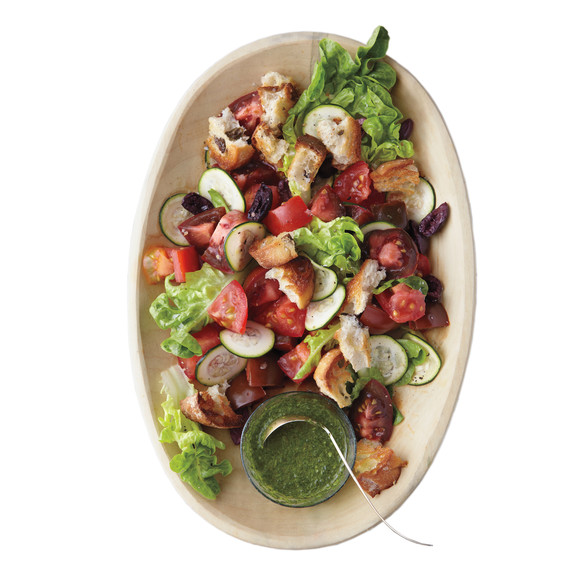 Is this a quiet day before a big cookout on Tuesday? It's a good time to use your leftovers in delicious fashion. Perhaps there are vegetables? Grill them to create a beautiful dinner salad; or make a big salad to top with whatever meat is in your refrigerator. And if perchance you're starting from scratch today, we advocate for this glorious summer salad with an irresistible dressing.
Get the Tomato, Baby-Lettuce, and Olive-Bread Salad Recipe