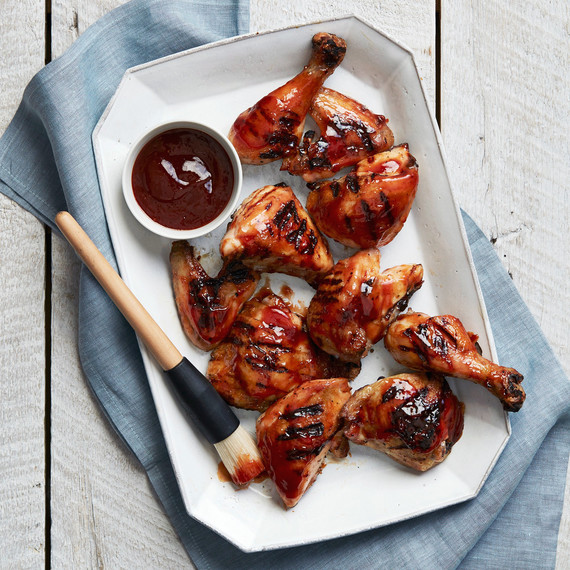 Juicy meat, smoky flavor, and just-charred skin with those telltale grate marks -- achieve all three and you get a merit badge in barbecue. See below for our fail-safe technique, along with the tastiest rubs, tangiest sauces, and a smart head start for feeding a crowd.
Download our Definitive Guide to Grilled Chicken
Grocery List
Whole chicken
Extra-virgin olive oil
Ketchup
Apple-cider vinegar
Light-brown sugar
Worchestershire sauce
Garlic
Get the Barbecue Chicken Recipe
1. Brine bird, mix sauce
After having tested several wet and dry brining methods, we conclude that a simple mix of 1 tablespoon kosher salt and teaspoon freshly ground black pepper makes for the most flavorful and juiciest meat. Sprinkle it evenly on a 4-pound chicken that's been cut into 10 pieces (breasts halved), then set chicken on a rimmed baking sheet. Let stand uncovered 1 hour to guarantee that every bite will be well seasoned.
Meanwhile, make our classic barbecue sauce, which is an ideal combo of savory and sweet. Bring 1/2 cup ketchup, 1/3 cup apple-cider vinegar, 1/2 cup light-brown sugar, 1 tablespoon Worcestershire sauce, and 3 finely minced garlic cloves to a simmer in a small saucepan. Cook until slightly thickened and reduced to 1 cup, about 4 minutes. Season with salt and pepper, and transfer to a bowl.
2. Grill chicken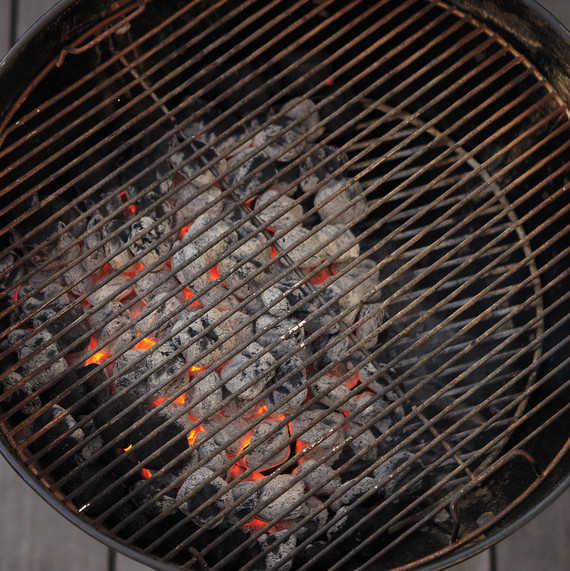 Set your hot zones
Arrange the coals so you can shift food around to prevent burning. Place them on one side for direct high heat, and leave the other side empty for indirect lower heat. (On a gas grill, turn one side on high, and leave the other burners off.)
Lightly coat chicken with olive oil and place over indirect heat. Cover and cook, turning occasionally, until pieces are cooked through and a thermometer inserted into thickest parts (not touching bones) registers 165 degrees, about 30 minutes. This first, low-and-slow phase ensures even cooking without burning and gives the chicken a subtle, smoky flavor.
3. Char and add sauce
The barbecue sauce goes on only in the last few minutes because it's made with sugar, which burns easily. Uncover grill; transfer chicken to direct heat. Brush with sauce and cook, turning frequently, until caramelized and lightly charred, 3 to 4 minutes. Brush on more sauce as pieces come off the grill, or serve it on the side.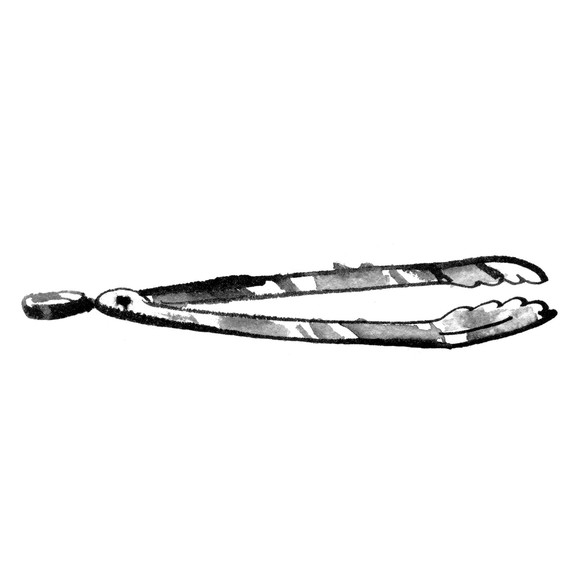 Two Jobs for Tongs
Just before grilling, dip a folded paper towel in vegetable oil and use tongs to rub it onto the hot grates to prevent the meat from sticking. Then, while cooking, use them to gently move pieces around (a fork would pierce the chicken, causing juices to escape).
Prep for a Party
Grilling lots of chicken (in batches, while hungry guests hover) is a recipe for stress -- which is why we love this no-sweat shortcut. The day before, bake pieces in your oven at 350 degrees until they're cooked through, about 35 minutes; then let cool and refrigerate. About 30 minutes before it's time to eat, remove chicken from fridge. Set up your grill for direct-heat cooking, and finish as directed in step 3.
Quick Cleanup
It's much easier to de-gunk a grill when it's still warm, so try to do it after each use. Scrape the grates with a wire grill brush, then wipe them with an oiled paper towel.
2 More Awesome Sauces for Grilled Chicken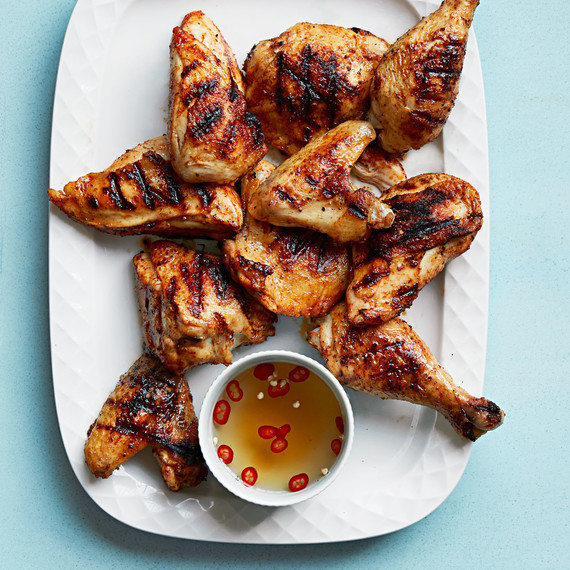 Spice Rub with Sweet Vinegar Sauce
For a salty-sweet flavor, add 1 teaspoon smoked paprika, 1 teaspoon dry mustard, 1 teaspoon light-brown sugar, and teaspoon cayenne pepper to the basic dry brine. Separately, combine cup red-wine vinegar, 1 tablespoon honey, and 1 thinly sliced red chile pepper; brush over chicken as it comes off the grill.
Get the Spice-Rubbed Grilled Chicken with Sweet Vinegar Sauce Recipe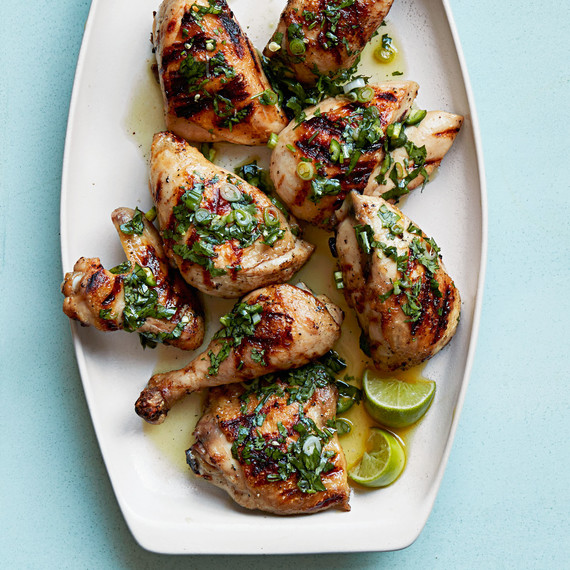 Fresh-Herb Dressing
This riff on salsa verde puts extra herbs to brilliant use. Chop 1 cup packed cilantro leaves; combine with 1 chopped serrano chile, 2 chopped scallions, the finely grated zest of 1 lime, 2 tablespoons fresh lime juice, and cup extra-virgin olive oil. Season with kosher salt. Brush over chicken as it comes off the grill.
Get the Grilled Chicken with Fresh-Herb Dressing Recipe