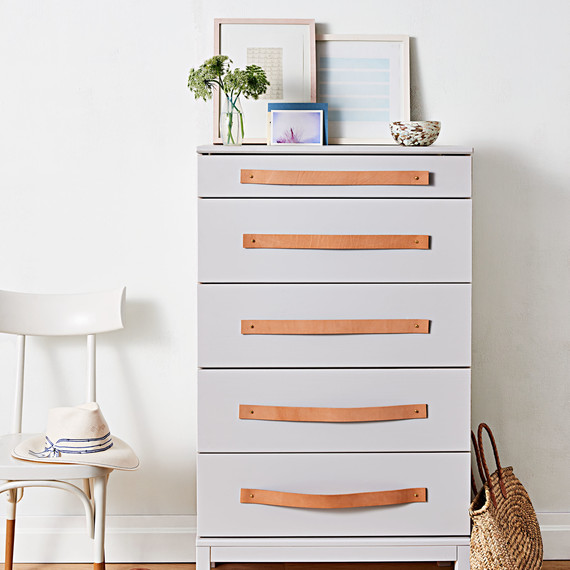 Much as replacing plain buttons with jazzier ones can transform an old coat, new drawer pulls can elevate a basic dresser. Even better, our DIY ideas will work on any drawers, including ones with oddly spaced holes or vintage hardware.
[TRY IT: Use stencils to breathe new life into old furniture]
Get Strap Happy
Use a leather punch to put a hole in each end of the natural-leather strips, then fasten them onto drawers with flat-backed brass machine screws in front and acorn nuts in back.
Above: IKEA Tarva chest, in Pine, $229, ikea.com. Chance handpainted sun hat, $255, chanceco.com, Tandy Leather natural cowhide leather strip, 2" by 50", $17, amazon.com; Art-Minds leather punch, $10, michaels.com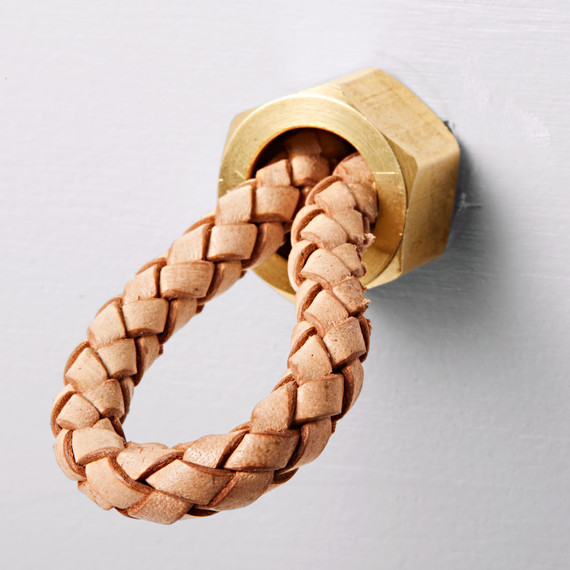 Add a Loop
Double a short length of braided leather, thread it through a brass wing nut and the drawer hole, then knot the ends together to secure it.
M&J Trimming braided leather bolo, 6mm, in Natural, $10 a yd., mjtrim.com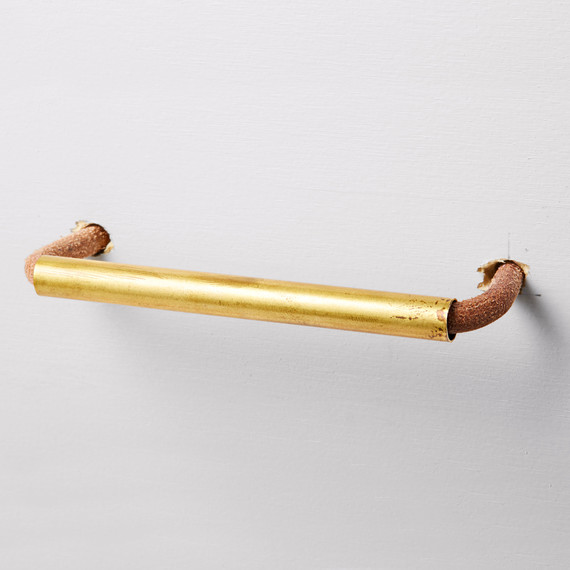 Go Long
Trim a brass tube to size with a tubing cutter. Knot one end of a thin leather cord, and feed it through a drawer hole. Add the tube, feed the other end of cord through a second hole, and knot it.
M&J Trimming round leather cord, 2mm, in Natural, $2 a yd., mjtrim.com; Metal round tube, in Brass, 12″ by 1/8″, $1.50, grainger.com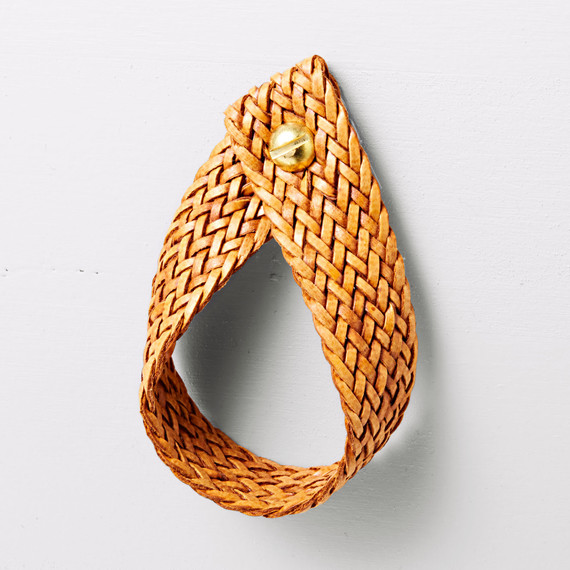 Do a Twist
Bend an eight-inch piece of flat leather braid. Push a flat-backed screw through it, and secure it onto the drawer with an acorn nut.
M&J Trimming two-color braided vinyl (similar to shown), 1.″, $8 a yd., mjtrim.com
WATCH: Martha rehabs an old dresser with drawer pulls