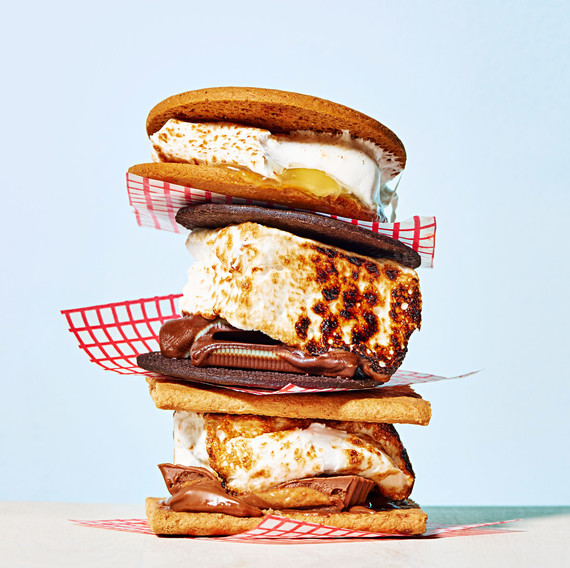 With all due respect to the holy trinity of graham cracker, milk chocolate, and marshmallow, we've got three variations on the classic combo that offer something for everyone standing around the fire pit (since, apparently, there are people who don't love chocolate).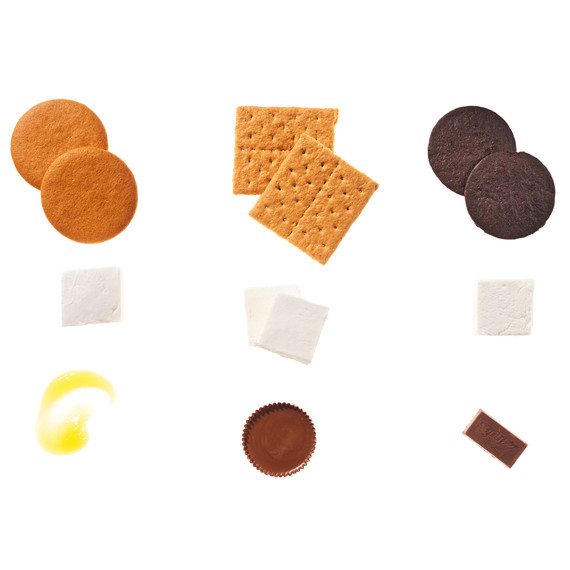 From left to right:
1. Ginger Snap + Marshmallow + Lemon Curd
2. Graham Cracker + Marshmallow + Reese's Peanut Butter Cup
3. Chocolate Wafer + Marshmallow + Andes Mint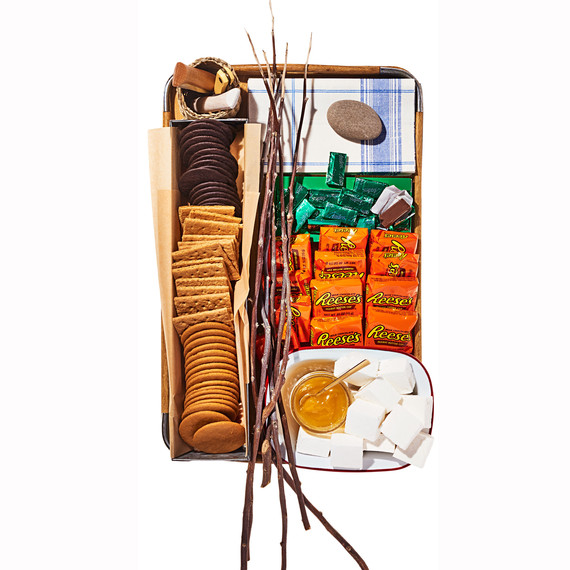 Trick out a tray so roasters can find ingredients easily and focus on more crucial matters, like debating the subtle nuances between "charred" and "burned."
How to Make a Bonfire Box
To streamline flameside fixings, load a tray with clear categories: your crunchies (chocolate wafers, graham crackers, and ginger snaps), your gooeys (Andes mints -- you'll need two per s'more -- Reese's peanut butter cups, and lemon curd), and your chewies (the marshmallows!). Don't forget napkins and skewers or sticks whittled to a point. That's why we've included a few jackknives, too.
THE DETAILS
Pie dish (for marshmallows), in Pillarbox Red, $59 for 4, falconenamelware.com. Nabisco Famous chocolate wafers, $5 for 9 oz., walmart.com. Lars' Own Swedish ginger snaps, $13.50 for 10.6 oz., amazon.com. Thursday Cottage lemon curd, $10 for 11 oz., amazon.com. Three Tarts vanilla bean marshmallows, $9.50 for 10, amazon.com.