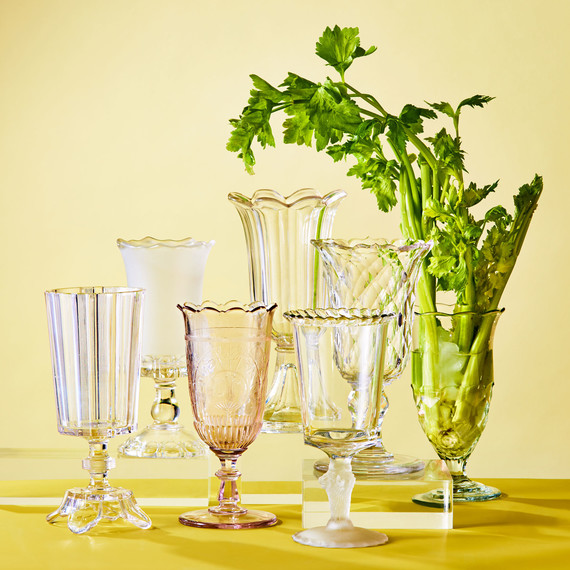 Celery may strike you more as a crudites-platter staple than an edible centerpiece. But back in the day -- the early 19th century, that is -- the leafy vegetable was such a delicacy and status symbol that a formal vessel was made just to serve it. Blown-glass vases from the U.K. (second from right), with their intricately cut details and popular motifs, such as the lion's-head stem (front center), are highly coveted by collectors. The patterns would most often reflect contemporary tastes, including the popular shapes of the aesthetic movement in the mid to late 1800s (far left). A tulip design, such as the early New England Glass Company vase from the 1830s (back center), can sell for around $100 in antiques stores and online.
(TRY: Our Best Celery Recipes)
When wooden molds were replaced by iron ones, manufacturers could produce a greater number of vases more quickly and affordably by the middle of the century. Today, clear pressed-glass versions from Pittsburgh, a city once known for its glassworks industry, are not hard to find. And sometimes, older vases that were once clear glass now appear pale brown or amethyst, such as the vessel second from front left. You don't need to host a fancy meal to put these fetching finds to use, however: Fill a few with flowers, herbs, or foliage for an elevated display any day.
(WANT: Something More Modern? Check Out Our Guide to Collecting Mid-20th Century Glass Vessels)