Our weeknight recipes take less than an hour of mostly hands-off time or cook quicker then that but may require constant stirring. Yes, there will be pasta, and, yes, it will be delicious. And on the weekend, maybe you have more time to cook, maybe you're entertaining?
Visit us every week for dinnertime inspiration.
Monday: Butter-Lettuce Salad with Egg and Potatoes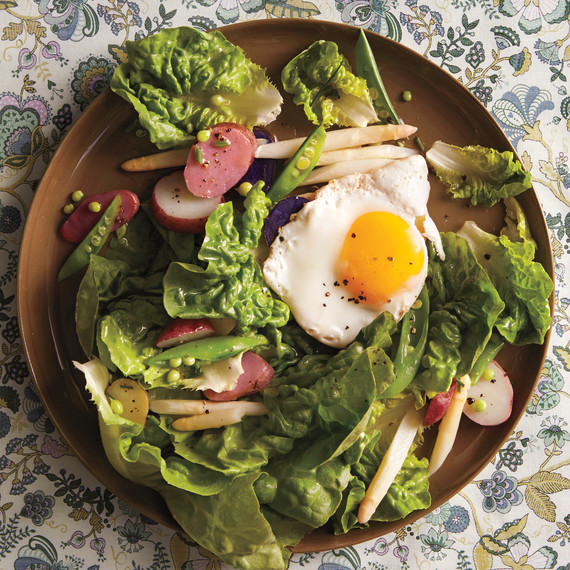 This easy-going salad works with an eggy topping, whether fried, poached, soft-boiled, or even an omelet. Potatoes plus eggs are always a winner, but the combo doesn't usually seem as fresh and springy as it does in this divine salad with asparagus and sugar snaps.
Get the Butter-Lettuce Salad with Egg and Potatoes Recipe
TUESDAY: Thai Coconut Chicken with Pineapple Salsa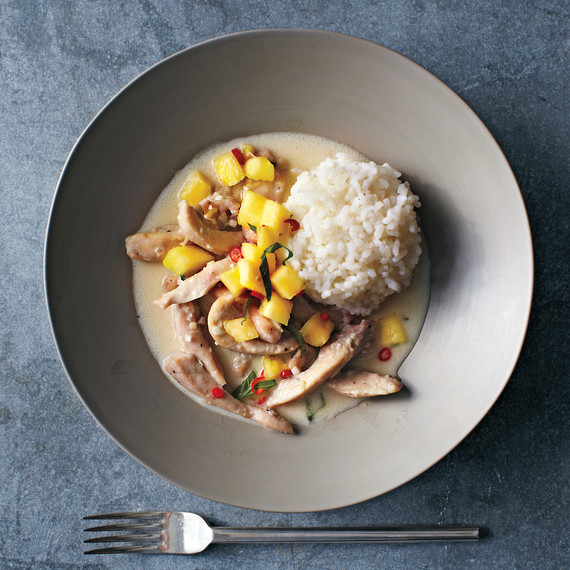 Better than takeout for sure: Enjoy a quick braise of skinless, boneless chicken thighs in a glorious mixture of coconut milk, fish sauce, and pineapple. And the salsa is made in a minute!
Get the Thai Coconut Chicken with Pineapple Salsa Recipe
WEDNESDAY: Poached Cod in Tomato Broth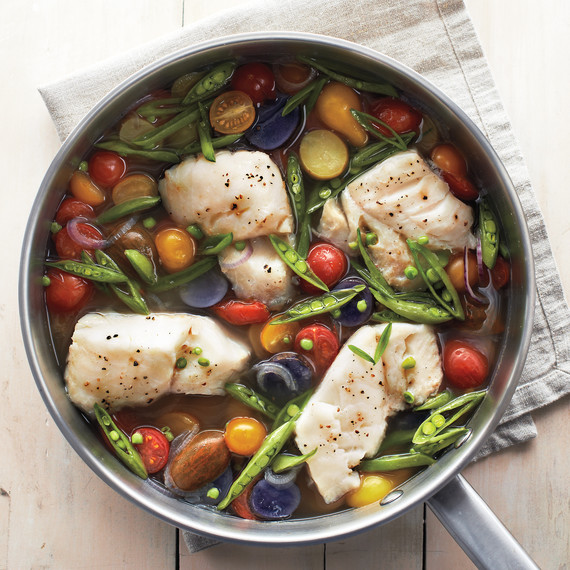 Delicate, delicious, and all made in one pot on the stove top. This brothy dish combines mild, firm-fleshed cod with a colorful mix of fingerling potatoes, sugar snap peas, and tomatoes.
Get the Poached Cod in Tomato Broth Recipe
THURSDAY: Bacon, Pea, and Fresh Herb Pasta
What's your favorite short pasta? We used the curly twisted cavatappi, but any short pasta will work in this light, flavorful dish. We used the fat from cooking bacon on the pasta (to amp up the bacon flavor), then added the cooked bacon along with the chives, dill, and parsley.
Get the Bacon, Pea, and Fresh Herb Pasta Recipe
FRIDAY: Lamb, Tomato, and Mint Kebabs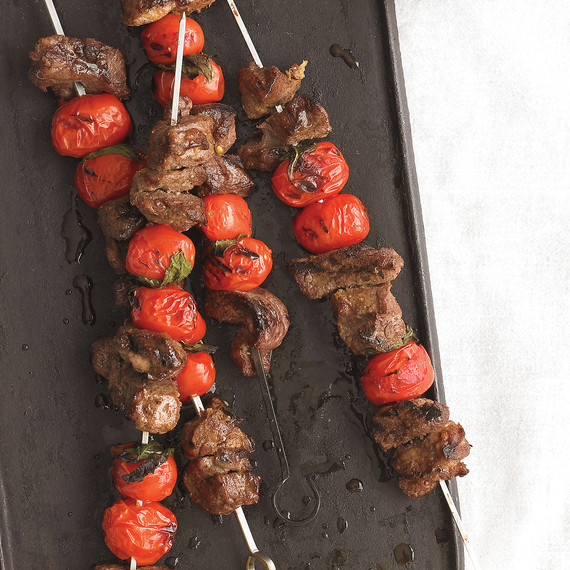 If you can slide it on a skewer, you can grill it, but some combos are better than others. This is a total winner, easy and delicious. If you haven't grilled lamb before, you'll really be pleased with these juicy chunks. Mint is the perfect partner, and gives these skewers a Greek flair.
Get the Lamb, Tomato, and Mint Kebabs Recipe
SATURDAY: Any-Topping Pizza
Because we all love pizza -- and this recipe is super-versatile. There's no need to knead this quick dough and no need for a pizza stone; a baking sheet works fine. And the toppings -- well, let everyone customize their pizza. Set out grated mozzarella, sauce, pesto, pepperoni, mushrooms, whatever you like or have on hand (we hear some folks like pineapple on their pie!)
Get the Basic Pizza Dough Recipe
SUNDAY: Indian-Inspired Grilling Party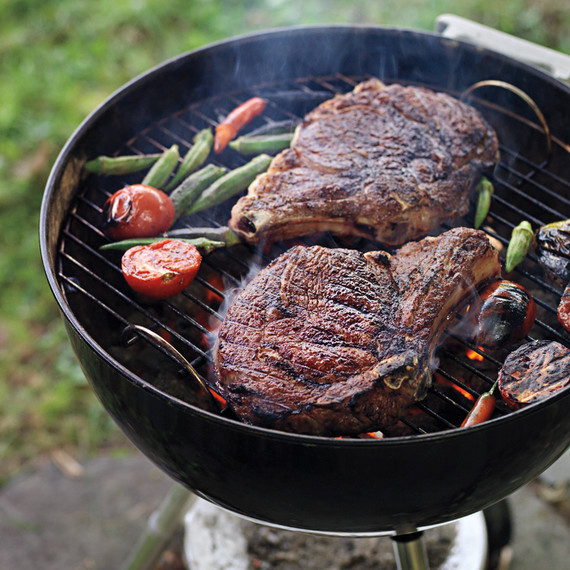 Bring a hint of Indian flavor to your next barbecue with this easy entertaining menu: Rib-eye steak, corn on the cob, and potato salad are enlivened with chiles, lime, and coconut.
Get the Indian Barbecue Recipes