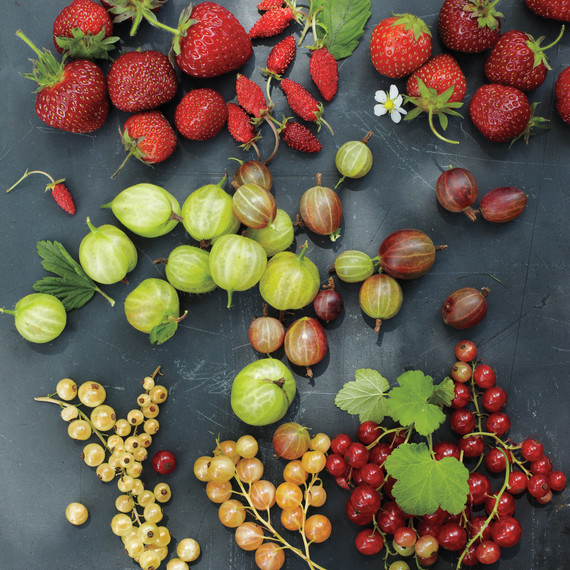 From strawberries and currants to blueberries and raspberries, these gem-like fruits are the ultimate summer treat.
Early Season
Strawberries, which often set their flower buds the previous fall, get the picking season off the ground in May or June. Tart gooseberries and currants soon follow to round out the first half of the summer.
1. 'Evangeline' Strawberry
These early-season fruits bear the iconic heart shape we expect a strawberry to have. Plants are vigorous and resistant to leaf diseases.
2. Fraise des Bois (Fragaria Vesca)
Though relatively unknown to many Americans, the slender fruit of this species is filled with flavor and grows from spring to fall.
3. 'Eros' Strawberry
This plump berry ripens midseason with bright flavor and a firm but juicy texture.
4. 'Pixwell' Gooseberry
A productive cultivar with smaller pale-green fruit that ripens to a plum red. The flavor is deeper and more berrylike than 'Invicta.'
5. 'Red Start' Currant
When eaten out of hand, red currants are very tart. But processed into jams, jellies, and desserts, their distinctive flavor comes into its own.
Get the Rote Grutze (Red Currant Pudding) Recipe
6. 'Pink Champagne' Currant
By crossing red and white currant varieties, hybridizers developed these blush-colored beauties, which are sweeter than red currants.
7. 'Blanka' Currant
This hybrid produces lots of pale translucent berries that look beautiful in the garden and on the plate.
8. 'Invicta' Gooseberry
Large pale-green fruit dangles from the heavily thorned branches of this hybrid. The plant is resistant to mildew and late-spring frosts.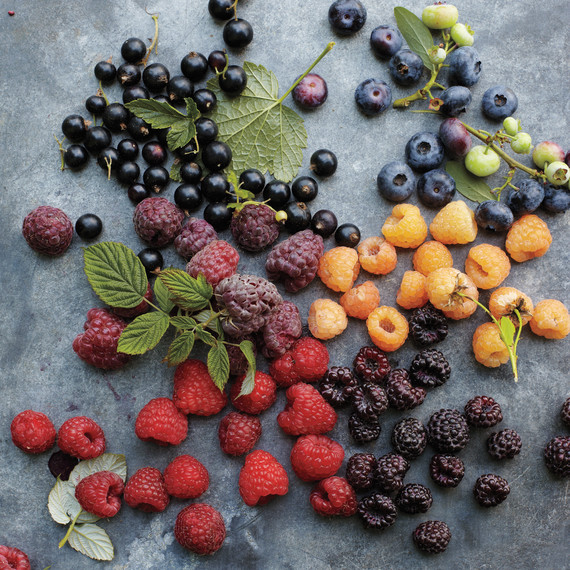 Late Season
The rich season for blueberries and bramble fruits, such as raspberries, begins in midsummer. Plan carefully to include varieties that will extend the season into fall.
1. 'Ben Sarek' Currant
Raw black currants need to be completely ripe to be palatable, and even then their strong flavor can be an acquired taste. But when made into jelly or sorbet, they are always delicious.
2. 'Chandler' Blueberry
This productive hybrid is self-pollinating (only one variety is required to set fruit), which comes in handy in a smaller garden.
3. 'Kiwigold' Raspberry
Derived from red varieties, yellow raspberries are the result of a natural genetic mutation. They are grown as much for their novelty and unusual color as for their mild sweet flavor. 'Kiwigold' is an ever-bearing type, in fruit from midsummer to fall.
4. 'Bristol' Raspberry
Black raspberries seem to have a richer flavor than some red varieties, but they can also be more susceptible to cold early in the season. The long canes need pruning to keep them in check.
5. 'Reveille' Raspberry
This cold-hardy cultivar starts the season off early with soft, flavorful fruit in a classic red-raspberry color.
6. 'Royalty' Raspberry
Purple raspberries are a cross between red and black hybrids. The large fruit is very sweet and soft.
Learn About the Berry Crops at Martha's Farm -- and Get Her Top Planting Tips